Welcome to Lakeroad Ferret Farm Rescue/Shelter, Inc.



Parker

• Parker found a Forever Home on July 10, 2013!
• Parker was a male. He left for the Rainbow Bridge October 11, 2015.

• Read his story by clicking here, or read his latest updates below.
October 11, 2015:
Parker doodle has earn his wings this AM. Fly high little one....mom loves you!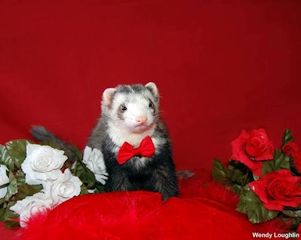 December 01, 2014:
Mom is getting ready for Christmas. Our home is all decorated and we have two trees up in the living room. One tree is all decorated in ferret ornaments. Does that mean Santa is going to leave us some gifts? We been really good around the tree and not take any ornaments off. Mom gave us our own ornaments to play with. We roll them around the house. This weekend we had our pictures taken. Here is our electronic Christmas cards for you.

Have a Merry Christmas!
Love - Parker and Bing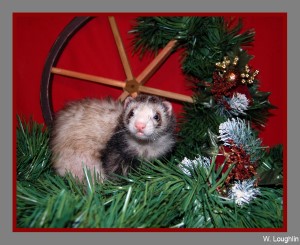 Halloween, 2014:
Happy Halloween!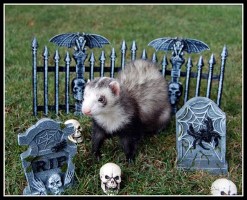 August 03, 2014:
Here is a video of Bing, Parker and a quick look at Magii shared with us by their Mom. Bing and Parker are LRFF shelter kids (Parker came by way of us he just never got here)


May 20, 2014:
Kids went outdoor today....Parker went wild. He had so much fun! Enjoy!
January 26, 2014:
Took this picture last night while Parker was playing in the livingroom in the basket.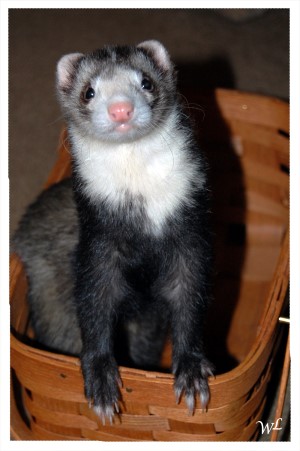 January 25, 2014:
Hi Auntie Brenda!
Oh Magii is a cool guy. We are the best of buddies and like to play in the tunnels. He's much more fun than Miss Patty. Miss Patty doesn't like to be jump on or chase....now I have someone to rough play with. We chase each other from one end of tunnel to another. Mom said he's getting better with his behavior problem. (biting) He has his moments when he thinks he has to bite. Mom and dad tell him no....he backs away. Mom and dad have also noticed that Magii is losing his yellow/orange tint to his coat.....he is getting white now. He looks so handsome. Last week, he figure out how to get back up the stairs from downstairs. (stairs are open in back) it takes us while to figure out how to get back up the stairs.....we just can look down. Now, mom does have to go down to get him.
Mom, was just checking out our health sheet. She can't believe that Miss Patty is turning 7 this year. She looks pretty good for seven. She is losing her eye sight...she keeps bumping into things. But does this slow her down....hell no! She blops around the house making her rounds and plays. Mom and dad look out for her if she starts to get too close to a object or wall and direct her away from it. Most time, she pretty good about getting around the house.
The terrible two's....will be three this year. We don't play with them.....mom said that they are too fresh.
Mom, started working on the flyer for clinic day this week. She wants to know if we are going to do anything special at the event, beside the raffles, auction, picnic. Let her know and she will save space on the flyer. In April, mom will go out for raffle items for table.
Mom, has been riding every weekend.....it's cold here. She has a indoor riding rink that she rides in the winter time. Looks like today will be nice and she might be able to get out on the trails for a ride.
Time for soup.....I hear the microwave beep go off....time to run.
Love Parker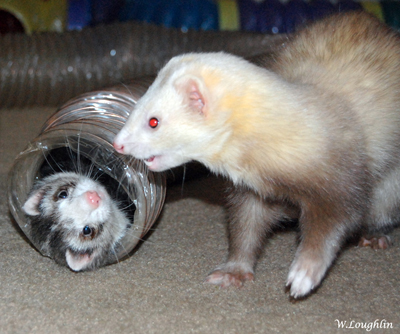 January 1, 2014:
Happy New Years to you and all the furkids! We had a wonderful Christmas and New Year. Mom, open her home to little one that was looking for a home just before Christmas. He came up from Long Island. Mom, said he needed a special home because he has a behavior problem. I don't see any behavior problems with him. He just fine with me. Mom, said he likes to bit. Magii is a 1 1/2 year old, champage, boy. He has been very good in our home. I think he likes it here.
Now, I have a new playmate. We wrestle and play tag in house....boy can he run. He is so much fun to play with then Miss Patty. Miss Patty doesn't like to get her coat ruffled! You know how girls are.....at least the priss ones. No rough housing with them. Now, I have a partner in crime....and I can blame all troubles on youngster!
Mom, took us outdoors to play in the snow. Here are some snow pictures from today. Miss Patty was sleeping in her tunnel. Mom, didn't want to wake her up.
I hope you like pictures.
Love Parker
November 26, 2013:
Here are some recent pictures of Parker. Miss Patty is curled up with Parker in the little bed. Fur kids are starting to put their winter weight on. They are getting excited.....turkey day is coming soon. They LOVE turkey.
I hope to get some Christmas pictures done within a week or so. We are finely getting some snow, maybe this weekend I will take furkids out to play in the snow.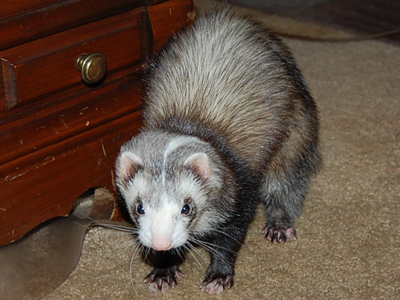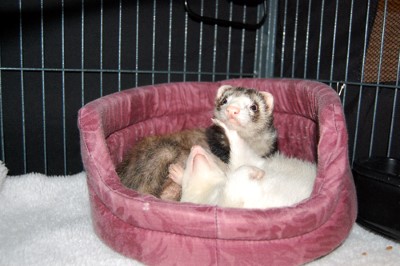 October 6, 2013:
Just want to give you some updates on Mr. Parker. He is doing just fine in his new home. He is such a little clown around the house. We enjoy his little antics. Our favorite is when he rolls over on his side and looks up to us with those sweet eyes of his.
This past weekend, I took him outdoors to play in the leaves. Oh boy, was he in his glory! I told him that I would have to bring him down to Aunt Brenda place to check out the outdoor play area.
Here is are some recent pictures of Parker....check out the ferret caboose!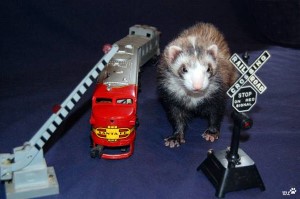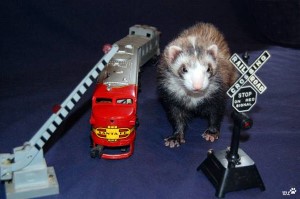 ---
Initial contact, Spring Farm Cares, July 8, 2013:
I DO have a little ferret coming in tomorrow afternoon as a result of an area that was flooded, but the girl has TRIED to locate an owner to no avail, she has had him a few days, I guess its a typical sable type one, she is bringing him in tomorrow afternoon, so I know the last several times I lucked out and did not have to send any to you, but this time it looks like a real go with needing you, so let me know what I have to do, I am leaving to take a 1/2 day today, as I have some repairs to do at home from all the rain, but I'll be back in tomorrow and I do check my emails every hour or so!!!
THANK YOU AS ALWAYS!!! JOANNE
Shelter Response, July 8, 2013:
I have Wendy added to this email we will take the little one, so connect with her and we will take the little one off your hands.
Spring Farm Cares Response, July 8, 2013:
BRENDA the email bounced back to me. Could you contact her I do not know why it bounced back??? I told her I am off this afternoon and the ferret is coming in tomorrow TUESDAY about 5ish in the afternoon, I am HERE UNTIL 6pm, so either TUESDAY Night at 6 or WEDS ANYTIME to pick this little guy up and I THANK YOU FERRET ANGEL AGAIN for this - BRENDA!!!
Shelter Response, July 8, 2013:
The email bounced back to me too, I have a call into her and left her a message.
Wendy's Response, July 8, 2013:
I just got in from stable. Let me know when it's good time to pickup the little one. I am on vacation this week.
Spring Farm Cares Response, July 8, 2013:
Ok I can let you know tomorrow when I'm back at work!! Thank you!
Wendy's Response, July 9, 2013:
Joanne
I am leaving the house heading to West Winifield to work my horse in the morning. I will be back into the house in the afternoon. If the little one comes in, just contact me via my cell number.
If I am still up at the farm, I will swing by Spring Farms to pickup the fur kid. I will have a carrier all set in the car.
If not, I will check my email when I get home.
Thanks - Wendy
Spring Farm Cares Response, July 9, 2013:
Brenda! Wendy got the little guy as soon as he came in! Figures both live blocks away from each other it worked out perfect he is adorable!!!!
Thanks much Joanne
Wendy's Response, July 10 2013:
He was found on Lorraine Ave. I live on Spruce Street...it's off from Lorraine. Lauren who found him lives 7 houses up from me. I live on the corner of Spruce street. I spoke to Lauren at Spring Farms. She found him a week ago in her re-cycle bin. She called Humane Society; she also had a huge sign at the end of her driveway on a telephone post "Ferret Found". Anyone coming down from the upper neighborhood would see this sign. She also was on craigslist looking for the owner and was in contact with someone down in Phil PA. She purchased a milk carton size Marshall food for him, while he was in her care.
I think this is a sign that he wants to stay in the neighborhood :-)
He looks to be around 2 1/2 - 3 years old. His teeth are pretty clean, one canine tip is broken off. I think that's due to biting the cage. When I put him into his cage, he was biting and pawing at the cage. He has now settled in and snooze in his hammock.
I can see how he got out. He is right on your heels. He stands in front of the door looking up. He is a sweetie! loves attention.
Here are some picture of him. Miss Patty in the turtle. My kids love that toy.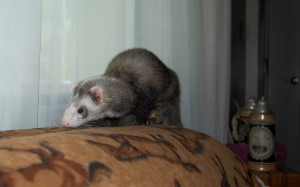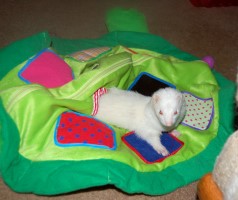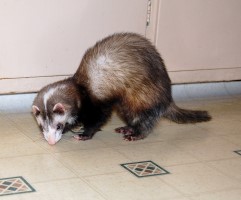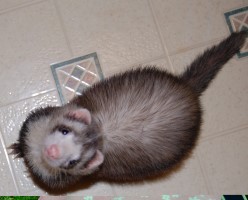 Shelter Response, July 10 2013:
Awesome news! So is he staying with you or do I need to find him a ride to Naples and an empty cage? Thanks Wendy for getting him into your care.
Wendy's Response, July 10 2013:
Can he stay with me Brenda I would be more than happy to give him a forever home.