Welcome to Lakeroad Ferret Farm Rescue/Shelter, Inc.
Possum's Special Additions, AKA Rants

Reporter Possum left for the Rainbow Bridge on February 13, 2012.
Reporter Sarah left for the Rainbow Bridge on June 12, 2014.

Reporter Daisy's special additions to the Newsletter

Rants from 2016, 2015, 2014, 2013, 2012, 2011, & 2010.
July 23, 2017:
Well blow me away with a feather! Hi cyber friends and shelter supporters.. we had a wing ding of a day yesterday!
A new family came to see us last Thursday, they are looking for a friend for their Gizmo.. OFD turned these folks on to us.. Mum got a couple of us out to hang with Miss Whitney and Mr. Joe; Sophia and Remi clicked with these folks. Then Saturday they came back with their Gizmo to see if he would click with one of them.
Mum let Remi out first, she and Gizmo did the I'll sniff yours, you sniff mine circling each other. They did the I'm going to be the boss thing too but neither of them were terribly convincing at it. All the humans stood around to watch the progress or not, ready to jump in and grab one of them if they got to beating on each other. Didn't happen!
They did okay! After a fair amount of time Mum put Remi back to give them both a break, Gizmo did the investigating a new space thing. Mum got Remi up again to let them once again see each other, Mum could tell they were both pretty tired so she gave them belly juice and set them on the bed together, a trick Mum uses to introduce our kids to someone looking for a friend.
It worked! Take a look at how that went. Remi finished her belly juice first so she went to helpen Gizmo with his. Gizmo and his Mom are coming back next weekend to see if another visit will confirm what Mum thinks.. that Remi will be happy in a new home with Gizmo as her friend.
I even got to show off my bounce! Speaking of bounce - gotta bounce
Lance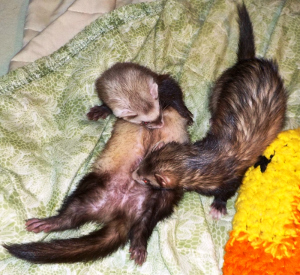 July 17, 2017:
HELLOOOOOOOOOOO cyber friends and shelter supporters, we want to introduce you to one of the newest shelter kids at the farm.. Buster … he was caught in a Have a Heart trap in a barn. Mum got a early morning call to see if she could help. Mum went to see what was going on, sure enough there was this ferret sitting in this trap with nowhere to go or get out. Mum got him freed, into one of the carriers she keeps in the van all the time for just this kind of call. The little guy came home with Mum she set him up with a cage, but no ID tag or name. Mum likes to give it time to see if the owners come forward to claim them. One week went by, no one called to say do you have my ferret so Mum named him Buster and had OFD take a look at him on Fuzzbutt day. OFD found he has something in his little body so Mum scheduled him to have surgery on June 29th. This is what OFD took out of our new little charge Buster. His masses were not cancerous, there is not likely they will come back, blue strings are out of his belly and he is back in his cage. Buster is a funny little man that makes Mum laugh a lot.
Oh! Oh! You have got to check out this link - a 3 min video that was sent to Mum… she keeps watching it.. it is off topic of ferrets but it has lots of different fur kids walking past the camera.. check it out! Enjoy!
June 16, 2017:
Good Morning cyber friends and shelter supporters. I heard Mum groan, and say "what are you doing up there"? I ran to see what was going on. This news reporting is hard work sometimes; catching up with happenings when they are happening! Phew!
That Jack is always getting into trouble, if he is not climbing up on things he is jumping into the playpen to harass the fur kid that is in there! Here is a picture of what Mum was seeing when I heard her say "what are you doing up there?"
Gotta bounce
Lance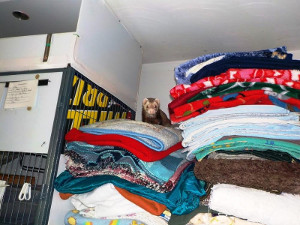 May 22, 2017:
Hey cyber friends and supporters, man did Mum have a busy weekend.. lots and lots going on.. some was getting ready for our Annual Ferret Fuzzbutt Tune-up and Picnic day. But the really important thing was Mr. T found a new 4-ever home. Mum did the home visit on Saturday, Miss Patty came to pick Mr. T up to take him home Sunday afternoon. You can read how he came to be at the shelter at the link above.
I got to meet some new folks yesterday, a Mom and Dad, and two of the little people came to see us, the 2 little people ride on Mum's Big Yellow Thingy. Miss Mallory was holding me for a bit. They were fun to hang out with.
Gotta bounce
Lance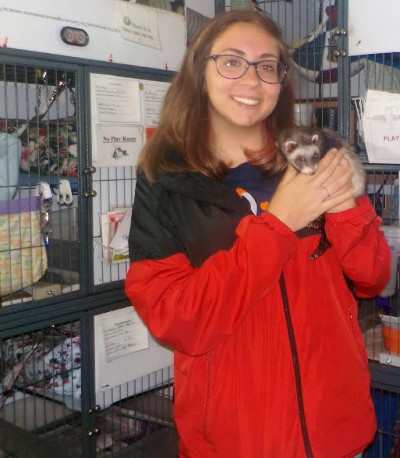 April 11, 2017:
Hey! Hey! Hey, cyber friends and supporters Mum asked me to stop bouncing long enough to give you a message. I am including a picture of Snowball sound asleep in his Snoopy bed. Mum was doing shelter duties when she looked up and saw his face sticking out of his bed. She grabbed the camera took a picture of him. He was out cold, he did not flinch when the flash went off. You can read his story here.
Last Saturday Mum had Daniel here helping, he loves hanging out with the Long Island kids, I am sending a picture of Daniel playing with Reggie. Reggie gets crazy when Daniel is here, and Daniel laughs a lot when Reggie is hanging with him. You can read their story here.
Now for some important news, our Annual Ferret Fuzzbutt Tune-up and Picnic is just 3 weeks away, if you want OFD to see your kids please let Mum know so she can send you the registration form. The deadline is just 2 weeks away. Mum needs to let OFD know how many hurt sticks he needs to bring with him that day. If you don't need OFD to see your kids, just come for the picnic and ferrets games and fun.
Okay gotta bounce
Lance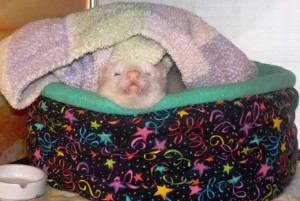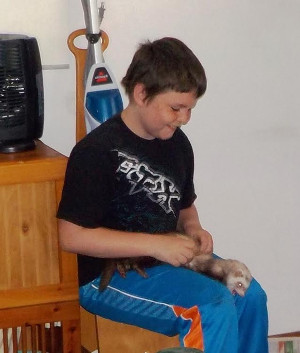 April 11, 2017:
Miss Tina B brought M & M back Saturday afternoon from the Tails on Trails event, Mum brought them up to their pen. When Mum shuts the shelter down for the night, she takes M & M down to the library. Mum came up to get them, she found Mario like this. They sure were pooped from their day at the event.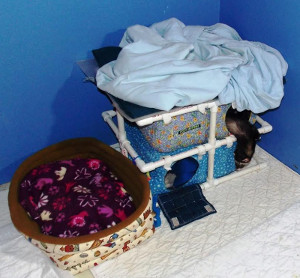 Hey cyber friends and shelter supporters, Miss Donna D. was here helpen yesterday she got to meet M and M - Mayhem AKA Maria fell in love with Miss Donna, she fell asleep in Miss Donnas arms. Miss Donna let both M & M crawl up her pant legs. They had a grand time hanging out with Miss Donna.
Now that M & M belong to the shelter Miss Tori can put them on the Website for us. There is no link yet for them.
Gotta bounce
Lance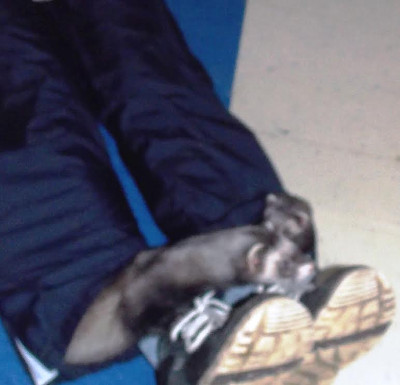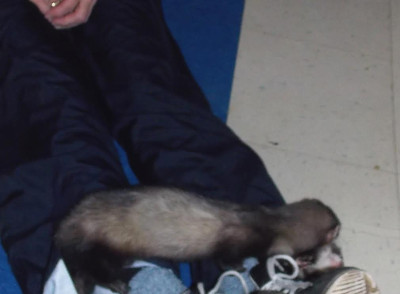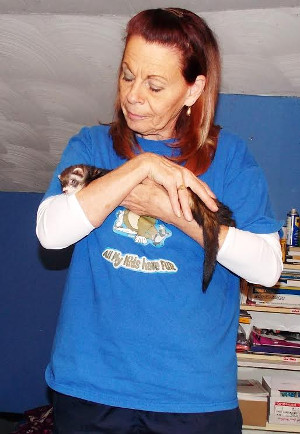 Hey cyber friends and shelter supporters - Miss Daisy taught me to say that - I want to tell you all about Mum's day at Genesee Community College (GCC) yesterday. Mum went to help teach the Vet Tech classes about us ferrets, I did not get to go. Mr. T, Bonnie and Clyde, Jax and Penelope, and Junior did get to go.. Miss Donna D. took care of the shelter while Mum was gone. When Miss Donna left, when Mum went to bed, all 6 of them filled me in on the day they spent in class with college students.
Mum got lots of pictures throughout the day. I've attached class pictures for you to see. Mum said she they were two great classes; very engaging and fun to work with. There was a new instructor for the class - Miss Dani - awesome person knows a ton about us ferrets, Mr. T gave me that information, he said Miss Dani kept telling Mum she was going to take him home. Mum says it was fun to have her in class, they worked off each other. Mum would explain a medical problem we've had here at the shelter, Miss Dani would put it into medical terms for the students. All the fur kids that went with Mum said It was a great day, they got lots and lots of love.
I am going to go do some bouncing - have fun looking at our pictures
Lance
Hey cyber friends and supporters, I would like to introduce you to Lance, he is a bouncy fellow with springs on his feet and a orange strip down his back. I am helping him learn how to do the news, I am getting tired, slowing down and ornery at times. Mum says I was born in 2007 - so I'm 10 yrs old - Mum says I can consider retiring from doing the news, so that is just what I am going to do. I will jump in from time to time but I think it is time to pass the news on to a younger more energetic ferret. Lance fits that bill to a T!
I thought this would be a good time to introduce you to Lance as well as the two newest volunteers that come help at the shelter. Daniel and Lexa both ride on the Big Yellow Thingy that Mum drives. They come on Saturdays to help. I am sending picture of the two volunteers and Lance.
Tata for now - I am going to go catch a nap
Daisy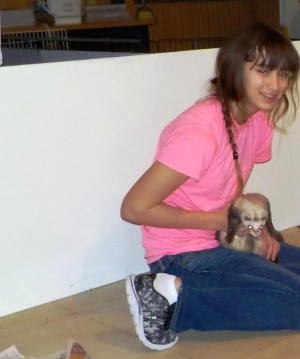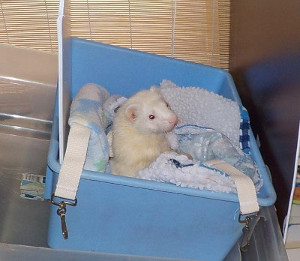 Happy, Happy New Year! A time to celebrate the new and leave the old behind.. Well not Mum, she is old but we want to keep her around!
We wish to thank each and everyone of you for all you did to help Mum keep us in food, bedding, medicine, toys, and the art work we use to show us off. For keeping our Facebook page running, our web site updated, the shelter running when Mum was on the road running us to Our Favorite Doc. All the things that help Mum do what needs doing around here to keep us going. She says we are her love, her life and her passion but we know without all the hands that help it would not and could not be the success it is.
Thank you for a fabulous year of love, friendship, support and loyalty, we hope what you have shown us will come back to you 10 fold!
Daisy and all the fur kids that live at the Lakeroad Ferret Farm Shelter.