Welcome to Lakeroad Ferret Farm Rescue/Shelter, Inc.
Boscoe & Sookie

• They found a new forever home November 17, 2012.
• Boscoe was a dark sable male. He left for the Rainbow Bridge July 16, 2016.
• Sookie was cinnamon female. She left for the Rainbow Bridfe June 18, 2016.


• Read their latest updates below.
July 8, 2016:
Hi Brenda: I wanted to let you know that BB is doing well. He is eating soup with the rest of our kids and has been integrated with Rocky, Panda, Dudley, and Squiggles.
On a sad note, Boscoe, who was the remaining kid from the guys that relocated England, crossed the bridge last Friday. As you may recall, we helped his cagemate Sookie cross two weeks earlier. Boscoe, seemed to be doing well with his remaining cagemate, Bear, but on last Thursday night his appetite was "off". Friday morning he only wanted a little soup, and when Lisa and I returned home in the early evening we found him unresponsive, he passed in Lisa's arms a short time later. It was very heartbreaking, because even though he was a 6 1/2 year old ferret, and had some health issues over the last six months or so, he seemed to be in pretty good shape. We think that possible underlying undetected health problems coupled with age and the loss of Sookie were too much for him to continue.
At this time we are working at introducing Bear into the gang of 5. We are taking it very slow, but we do not want to him to be alone long because he has never been a solo ferret. He seems to really miss companionship, so in the mean time he is getting a lot of extra cuddles.
Pete
June 18, 2016:
Hi Brenda: I wanted to let you know that Thursday afternoon Dr. Chris, Lisa, and I helped Sookie across the bridge. Sookie was one of the kids (Boscoe was the other) that you connected with us 3 1/2 years ago from the two guys down in the Hudson Valley that were relocating to England. As you may recall from our conversation with Dr. Edwards at clinic day, Sookie had been sick for quite some time and we knew that she was not going to be with us for much longer. You might also recall that she was one of the kids that came to camp about a year and a half (when we brought home Panda). She was a very good ferret (they all are) and will be missed. Fortunately, Boscoe has Bear as a cagemate and though they obviously miss her, I believe that they will be okay.
Pete


October 22, 2015:
Hi Brenda: Panda, Squiggles, Dudley, Rocky (new kid from Johnson City), Bear, Boscoe and Sookie are all doing well. Rocky was in to see Dr. Chris and he is in good shape and weighs in at just shy of 3 lbs. We figure that he is about 1 1/2 years old. Dudley (last year's Binghamton rescue) was also in, and he now weighs 3 lbs, up from the 1 lbs. 11 oz. he weighed when we brought him in a year ago. Panda, Squiggles, Dudley, and Rocky are all cage mates. This morning all 4 of them were asleep together in one of the soft hanging cubes. Panda and Rocky make quite a team when they are out and about. They are both very active, and love to chase each other around the house. Dudley and Squiggles (see picture) are a little more subdued, but will still join in on the fun. Bear, Boscoe, and Sookie are doing well, though Sookie will be turning 6 yrs. next week and never regained her fur following her des. implant, (except for a little growth recently). I hope all is going well over in your neck of the woods. It is great to see the postings Facebook. I still hope to get over to pay you guys a visit. Thanks for all you do for the kids.
December 24, 2013:
Hi Brenda: I apologize for being out of touch for so long. I wanted to get a quick note off to you to let you know that we are all doing well. The kids are all fat and happy and getting into all kinds of Christmas mischief. I hope all is well with you and all the furrbabies. I think of you all, especially this time of year.
Best Wishes,
Lisa, Buddy, Boscoe, Ella, Sookie, Bear, Milo, Daisy (the dog) and Pete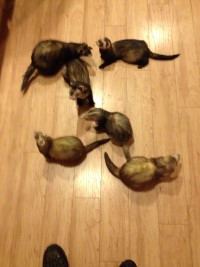 November 26, 2013:
Hi Brenda: Sorry it has taken me so long to get a note off to you. I've been meaning to let you know that all is well, and how much I really felt I missed out on not making it to the open house. All six of the kids are doing very well. We had Ella (girl we found last year in one of the apartments I manage) and Sookie and Boscoe (kids that came from the guys down in the Hudson Valley last year) in to see Dr. Chris for their annual about two weeks ago and they are all in very good health. Bear and Milo (that we adopted from Long Island last summer) are also doing well. Bear is the alpha of the six though he is very much a sweetheart. Buddy who we have now had almost six years is the senior of the bunch and though he is getting up there he is doing well and the des implant we put in last February is keeping him in good shape. Lisa got a little bit of a promotion from Wegman's and is now working down in Elmira. She has to drive a little farther everyday (35 minutes as opposed to 10), but she is much, much happier. As for myself, I am doing well, with not a whole lot of change in my life.
Thanks for checking in, I hope to be over for a visit at some point, though I am never very sure when that might be.
Pete
September 10, 2013:
Brenda: All six are doing very well. They are now all settled, and what little squabbling there had been is now over. Boscoe (from the guys in Hudson Valley) and Milo (from the women in Long Island) have gotten over their differences and are now "best buds". We greatly miss all the kids that we have lost over the last 18 months.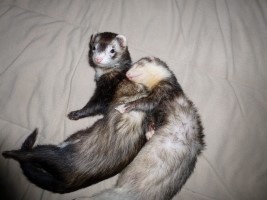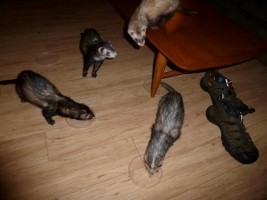 May 20, 2013:
Hi Brenda: I've been meaning to get an email off to you for some time to let you know how the kids are doing. It has been a pretty hard day today. Lisa and I just got home from Dr. Chris's a short time ago after having Chris help Ziggy, the Hudson Valley Rescue kid, cross the bridge. Ziggy was diagnosed with insulinoma, a number of months ago, and several weeks ago we discovered a significant amount of blood in his urine. He had been in and out of Dr. Chris's office and had been going down hill. The last week his appetite started to go and by Friday he was really fighting be hand fed. By yesterday we knew that he was ready to go to be with his brother Stinky (the other Hudson Valley kid). It has been sad letting him go, but Lisa and I know that we gave him a good home, especially since he was a biter and had been returned to the shelter at least twice. We also know that he was a senior ferret, and are happy to know that we gave him two very good years.
Brian (of Stewart and Sophie) has also had significant health problems as of late. Several months ago we noticed that he was having some problems peeing. We were fairly certain that he was adrenal, but after further x-rays and examination it was determined that he has developed a mass in his abdomen. We talked with Dr. Chris about doing an exploratory surgery on him, but decided not to because of his age. We really did not think it was fair to cause him to suffer if the results were not promising. We have him on pred. and he seems to be his normal self and doing fine. Though the size of the mass has increased his appetite is very good, poops are good, and his peeing has not gotten any worse. He is also still the boss of all the other kids.
Buddy will be six at the end of the summer and is now adrenal. About three months ago we put a des. implant in him and the hair that he lost off his butt has grown back and he seems to be doing very well.
Ella, the youngster that was found in one of my apartments is still a firecracker, and Boscoe and Sookie, the kids you sent our way from the guys down in the Hudson Valley are in fine shape.
It is my plan to be at clinic day this year, and depending on the weather I am hoping to bring up Boscoe and Sookie.
Pete
December 13, 2012:
Hi Brenda: We received your package yesterday and promptly hung the calender up in the kitchen. All the kids are doing well (as well as me and Lisa) and the new kids from down state have settled in, though there still some pecking order issues being addressed. Thank you for the gifts and treats.
Merry Christmas
Pete, Lisa, and the whole gang
November 26, 2012:
They have both been introduced to soup. Boscoe is now slurping it out of a bowl like the others, while Sookie has not quite figured out the bowl thing, but readily slurps it out of a dropper or licks it off the end of a finger.
November 19, 2012:
Hi Brenda: Here are the new kids. Boscoe is the Dark Sable, and Sookie is the light. They are beautiful, and very well mannered. Boscoe is very mellow and Sookie is more active. Both of them have excellent coats and have their winter weight. It is a real joy to know that they have been very well taken care of. Philip and his partner Eric were very good to them, and I know that it really broke their hearts to have to say goodbye to them.
Pete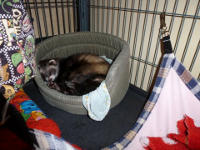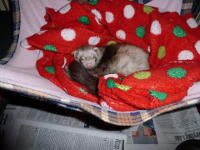 November 17, 2012:
Brenda: I wanted to let you know that Phillip (the guy who contacted you a couple of weeks ago) and his partner brought Sookie and Boscoe to us this afternoon. They are beautiful kid that have obviously been very well cared for. They are settling in nicely and so far seem to be doing well. I will keep you updated and send you pictures as they become more comfortable in their new forever home.
Pete
---
Initial Contact, October 15, 2012:
Good evening, my name is Dr. Philip and I am writing to request some assistance. My partner and I are in a terrible situation. I have been relocated to the United Kingdom and we are unable to take our two ferrets Sookie and Bosco. Unfortunately we are only allowed to relocate our three dogs to the UK and it is sickening us that we are forced to re-home them. A shelter is not option as these two part of our family and will destroy us knowing that they may be euthanized.
Both ferrets are recently vaccinated, with complete documentation. They are extremely tame and love to be handled and get along with our dogs. They have a two tier large metal cage and we will provide financial support for them to assist with their adoption.
Sookie is three years old cinnamon while Bosco is a two year old dark sable. If you would be as kind to offer us some guidance to make this difficult decision easier I would greatly appreciate it. This is not easy for us and again, I have tried extremely hard to have them relocated with us but its not possible moving overseas.
Kind regards,
Dr. Philip
October 17, 2012:
Hello Ms. Johnson; we are currently waiting for the final part of our Visa approval from the UK Home Office. We are located in Catskill, NY. I have attempted to contact the Hudson Valley but they have failed to respond. Please understand, this is extremely difficult decision for my partner and I as we truly do care deeply for Sookie and Bosco. We cannot bear to part with them but the UK is only allowing us to import a maximum of three animals per family. We currently have three dogs (12 yrs, 9 yrs and 6 yrs) and I cannot get family members to care for the ferrets.
We can drive them to your facility if you would like to meet them if that would make re-homing them easier? We would be more than willing to house them up until the time we have to leave the country. Just let us know.
Again, thank you for your prompt response.
Kind regards, Philip
Shelter's Response:
Hi Philip – we are filled to the gills here at the Shelter but I have friends that may take them for us. I am going to send him an email I will have him get back to you if he and his wife can help. I will get back to you if they can not. – Brenda
Philip's Response:
Hello Brenda- I understand. If they are able to assist that would be great. Again, there is still time as we are currently waiting on the VISA from the UK Home Office and it has already been 8 weeks so far. I am assuming that I should hear by the end of November.
Whatever we need to do to assist in the process, such as financial support, transportation etc. please just let us know. We just require that they are given a loving home and prefer that they remain together as they are bonded in a sense and enjoy each other's company.
Kind regards,
Philip