Welcome to Lakeroad Ferret Farm Rescue/Shelter, Inc.
Yuo, AKA Yoyo, AKA You-I

• Surrendered to the Shelter on May 29, 2013. He found a Forever Home on June 8, 2013!
• Yuo was a sable male. He left for the Rainbow Bridge September 9, 2015.

• Read about how he arrived at the Shelter by clicking here, or read his latest updates below.
September 9, 2015:
Brenda,
You-i was euthanized early this morning. He was worse last evening. I had planned to get an appointment with Doc this morning. But I was not comfortable with how poorly You-i was doing. I decided to go to Cornell to find out what the problem might be and if it was something that was "fixable". He had a very low HR (48), rapid breathing, distended bladder. His heart was no longer beating in the usual fashion (he had atrial ventricular block), he had some heart failure and I decided he needed to rest and pass on. I was there for his last moments, and he seemed to calm while I was holding him.
Reilly knew when he went to bed that You-i might not make it, but it was still hard when he woke this morning to this news.
Charlie
April 6, 2015:
You-i is doing well. Max is hanging in there. He continues to be more active. Weight is not coming up much, but he looks better.
April 6, 2015:
You-i looked a little off this evening. I heard a tiny squeak, but was not sure where it came from. Heard it again and it was him. He came over to me, but was slow and his eyes were not focusing on me. Tested his BG and was 42. He has perked up after quick little honey with good soup. He also got pred tonight.
June 30, 2014:
Anastasia is doing pretty good. I was holding her and Fred, keeping them just out of reach of each other. She was acting pretty good, then she had the nerve to reach out and bit Fred on the lip! What a stinker! Luckily she let go, and Fred was no worse for the wear. All the other Ferrets are doing well. Still have not been able to get Luna with the 4 pack. She likes to be a touch rough with that group, but many times it is just biting on the neck, not really "ripping" at all. Max just waits it out, then quickly likes to smell her butt! You-i has been getting a little more aggressive with her when she bits him. He used to run, now he waddles after Luna. No big ruckus, but we also watch them pretty close so no one is getting fuzzed. We just have to keep working on them.
January 14, 2014:
The business of ferrets that Reilly and I currently have!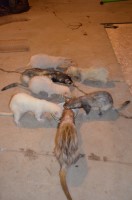 August 18, 2013:
Yes, that is You-I (Reilly changed his name) that is in Reilly's pocket. He is one big Ferret. There are many times that he only gets ½ way in the sleeper with the others because he does not fit. He tops out at 3 lbs 5 oz!
Charlie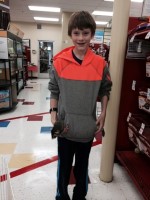 November 29, 2013:
Brenda,
Appears Max also has insulinoma. His weight is down from prior, has been a slow loss. Checked a sugar, and he was 69. Cannot "officially" make the diagnosis with that number, but it is close enough and he is now on prednisalone along with two times a day protein soup. Monster and You-i are both doing well. No obvious signs of low sugars.
Fred has recovered fully. The little devil escaped from the pen, not sure how he did it. He also is back to his rambunctious self, as he never stops when we have him loose.
Charlie
October 03, 2013:
Hello Brenda,
Everyone (well, Ferrets and kitten and cats) loved the soup. It is hybrid of yours and the Duck Soup from "North Coast Duck Soup". It has fresh (caught yesterday) Salmon, organic chicken, mix of Kibble, vitamins/supplements, Ferretone, papaya. Not sure what the true protein % is, but it is pretty high as I added 7 oz of salmon, 6.5 oz of chicken to 8 oz of kibble.
When I woke Monsterman, he sniffed it right away and was looking for the source. The only one that did not go to it quickly was Fred, and that is only because Fred is a nut about trying to escape. When cage gets open, he bolts for freedom!
I have to get some eggs, and the Lecithin. I am not sure on the Vit E, as in humans there is good science that shows taking 400 iu or more of Vit E each day puts one at risk for cardiovascular complications.
I am excited to try to get one to two servings of this each day for all of our Ferrets, and one serving per day for the cats. If I can "mass produce", I will give them more, as these critters really just need protein and fat to be as healthy as they should.
August 18, 2013:
Brenda,
We have made a 5 pack out of our 4 pack. Our original Friskie, Max, Alice and Fred have had a new buddy in Yu-I (big male found in the road, had all the tick bites and we adopted him Clinic Day). Was relatively easy. He appears to be enjoying this as he is playing with all of them, is pretty gentle, running and duking a lot.
June 8, 2013:
Yuo found a forever home!!
May 29, 2013:
Yuo getting a flea & tick bath.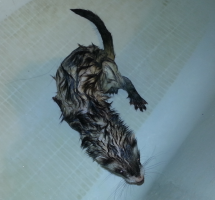 ---
Arrival Story, May 29, 2013:
Shelter contact with a Shelter volunteer:
Brie I just got a call from a woman in Greece – ferret ran in front of her car. She stopped to pick him up. Can you go get him, home him until we can get him into see Doc for vaccines? Then get him to Naples? Name of woman Leeann S Greece NY. Let me know if you can help.
Brie's Response:
Yes I can pick him/her up on my way home from lollypop. Ill call her right now.
Brie's Update:
I spoke to Leeann, will pick up the kid around 5:30-6pm. I'll send you a pick once I have the kid settled.
Brie's Update after pickup:
Alright, nameless munchkin is in bed. He did very well during bath time, and he displayed typical energetic use of the towels to dry off. It seems that when he's being held he is a total lump that doesn't appear to have any energy. However you set him on the floor and his energy meter goes straight up, he's inquisitive and active ;-)
My neighbor came over to help me with the ticks. I'd guess we pulled off more than 20 easily. Most were on his head, neck, back and shoulders. None on his belly, hindquarters, or tail. There were some on his face, two by his eye. I got most off but seeing as he was getting antsy I thought I'll tackle the rest tomorrow.
He likes ferretone and was not alarmed in any way to find it on his belly. I trimmed his nails, though they weren't really all that long.... I also introduced him to duck soup, it took about 2ml in the syringe before he decided he liked it and he very quickly polished off the rest of the syringe. Plus the remainder of the bowl.
All signs show that he was well taken care of before his little runa away in the wild so who knows maybe we'll find out he's an escape artist once he's in the shelter!
One last thing, Ellie helped me out for quite a while tonight so I was wondering if the girls could send her a thank you card. I can get them the mailing address on Thursday if they're willing.
Ah, my kids are ok. I think Chase was pissed that I didn't let him back out but I'm not letting him play with.....?Yuo? Pronounced 'you-oh'..... Ok that's what I'm calling him from now on.
Chase got soup and boomer got his flea and tick treatment and now, I'm really going to bed.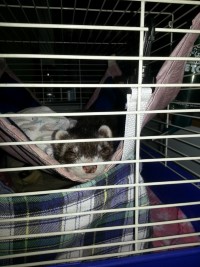 Shelter Response:
Good Morning, I passed on this report to the list everyone was emailing to get a report.
Check in the under the leg area connected to the body ticks love to burrow into that area because it is hard to see them.
Oh Brie YOU ROCK! Look at you go! I am so proud of you! Oh absolutely give us the information about Ellie the kids will send a special thank you. We will be sending the woman that saved him one as well.
Thank you so much for jumping on this and helping us!