Welcome to Lakeroad Ferret Farm Rescue/Shelter, Inc.
Sho

• Surrendered to the Shelter on April 19, 2012.
• Sho was a male. He left for the Rainbow Bridge November 24, 2015.
• Read about how Sho arrived at the Shelter by clicking here, or read his latest updates below. • Sho has a not so far away, far away mom in Moravia, NY.
November 24, 2015:
I had Sho in the kitchen with me while I was making the apples auce, he was just following me around. I picked him up to love on him asked him what was up.. he was struggling. I put him in his cage but he just laid there flat on the pee pad so I put him in the playpen so he could elevate himself to more comfortably breath. He was gone when I got home from work.
He was riddled with Lymphoma and it just got the better of him. When he was in to see OFD in October we found he had a shadow in the chest area over his lungs and heart. He was a happy little boy that will leave a very large hole in our hearts.

Sho's Sponsor:
Hi Brenda,
Thank you for letting me know. I've been expecting this for a while now, since I heard that he had cancer and it was making it difficult for him to breathe. I appreciate the work you do, and how difficult it is to make decisions when they have to be made. Thank you for continuing to do this and for making his life the best it could be.
Leslie
November 6, 2015:
Sho is doing a lot of coughing, I am guessing the mass doc saw on the X-Ray of his chest cavity is pressing on his lungs and making it difficult for him to breathe, I am afraid a decision is going to have to be made for him.
October 4, 2015:
The lump in Sho's throat is filling with fluid again.
October 1, 2015:
Sho is home, pooped but home. It is lymphoma, doc found dark contrast in his chest X-Ray so we have something growing in there over his lung and heart area. The lymph nodes in the upper part of his body are pea size, the one in his throat Doc was able to move about, the X-ray showed it was not encompassing his larynx so he did a fine needle aspirate. He was able to remove 9 cc of dark urine looking fluid from it. Doc said it will probably fill again but as long as we can aspirate then we are on good footing. He expects the lymphoma will take over but as long as he has a quality of life we can even add a 3rd dose of Pred if need be. Doc said if Sho had not already been on Pred the lymph nodes would probably be bigger. We have him home and keep him comfortable.
I was thinking I might not have seen/felt the lump, I was being over cautious, but as soon as Doc put Sho on the table he said "whoa that is one big lump". I spent and hour or so with Donna Z. while doc did what he needed to do. When I got back to the office they were just spinning the fluid so I had to wait a bit longer.
September 28, 2015:
I found a good sized lump in Sho's throat area, I am afraid it is lymphoma so I called Doc and got him an appointment on Thursday morning. If it is lymphoma then it could cut off his airway. I want Doc to take a look so I know how to treat, if treatment is needed.
June 23, 2015:
Sho has been acting funny, lethargic and not interested in play.. I put him on Pred he is doing much better. When I put Dancers soup in his cage he did not come down to have it, when I went back to check on him he was not able to stand, I put him down near his soup he began eating it.
January 14, 2015:
The bed Miss Ili got us for Christmas replaced the one Mum had in this corner of her space. It is unanimous, we all love this bed much better than the one Mum had up here.. It died. it was a big tiger bed and when Mum washed him his head fell off.
Mum sent him to the trash. Miss Ili this is the bested bed. Mum clicked a lot of picture of us sleep in that bed.. It is so comfy and warm we hardly notice her pulling the blankets back and taking our picture.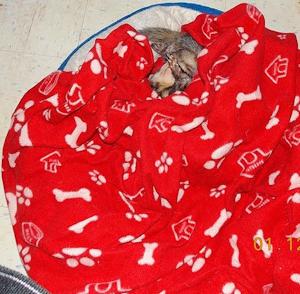 April 14, 2014: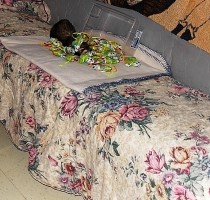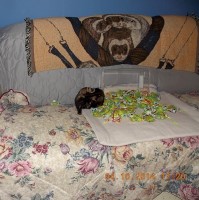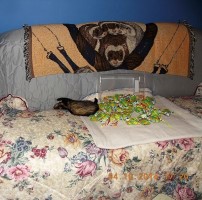 Sho enjoying the toys Miss Peach sent!
July 25, 2013:
Dear far away mom,
I got my bungalow you got me! Man that is sweet! Take a look Mum got it in my cage. Check out my digs. Thanks far away mom for help Mum take care of me, thanks for the awesome sweet new place to sleep.
I love you
Sho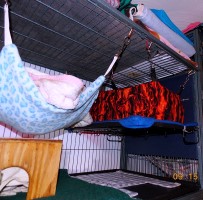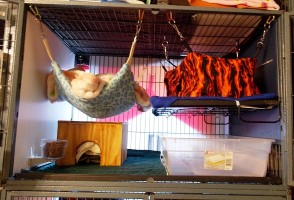 July 25, 2013:
Iliana was here to help catch us up, she helped hold Sho so I could get the 2 stitches out of his foot today. He is done with his broken leg and invasive surgeries.
July 4, 2013:
Sho's foot is still a bit swollen but the redness is going away so it looks like I caught that infection in time. He was alert and ready to get up this morning when I went to his cage.
July 3, 2013:
Sho's foot looks a bit like it is getting infected it is read and swollen so I started him on Amoxicillin this morning. He is back in his cage, he was trying to beat up Chip so I figure if he is feeling up to doing that he is feeling better enough to go back to his cage.
July 2, 2013:
Sho just had a big bowl of soup for breakfast, I have been getting concerned he is very quiet and I have not heard him eating. I got him to have some soup this morning so hopefully he will start feeling a bit more energetic now that he has some protein in him.
Sho is showing signs of improvement; I have been supplementing him with soup he sucks it right down. He moved from the bunk to the slipper and I see a divot in his food dish. I am not as worried about him today as I was yesterday.
July 1, 2013:
Donna and I got Sho to Jackie and Bob last night June 30th, Sho's appointment is at 8:30 this morning it is going to be an all day trek for them. They are life savers, if I were to take him my choice would have been be gone from the shelter all day or leave him and go back up to get him when I could.
Sho is home with no pin in his leg, Bob took him up to Doc. Jackie called at 11:30 to say they were home and she was bringing Sho to Naples. I have him up here in my space I will keep him up stairs for a few days to be sure he is eating drinking and not doing damage to his leg again. He must be in a bit of pain he has been in the bunk bed since he came home. I tried to hold and love on him but he wanted down got a drink and went back to bed.
April 28, 2013:
Trying to keep this boy contained is a challenge! The look on Sho's face when I said what the devil are you doing up there? The picture is priceless.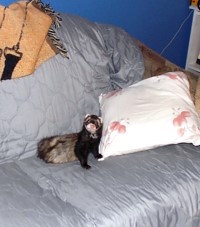 April 24, 2013:
I put Sho in the upstairs bathroom and he seemed to be less active in there. The only thing he had to climb was the tub; I do not believe he even tried. I noticed he is limping less; I got the paper work in the mail from Doc. Stitches come out in 14 days – note telling me I can remove them. Then we go back in 6 – 8 weeks to have the pin removed from his bone.
April 20, 2013:
Sho is home resting in the sick pen.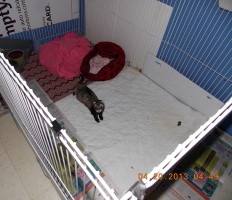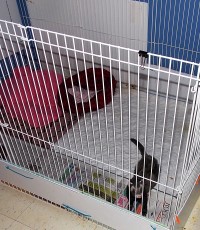 ---
Arrival Story:
Initial contact, April 18, 2013:
Hello,
My boyfriend and I called yesterday inquiring about our poor ferret Sho who is injured. Due to the expenses of the veterinarian bills and cost to help Sho to get better it is with great sadness that we are unable to provide the care he needs to be taken care of fully.
Sho has suffered a tibia spiral fracture on his right hind leg. We believe that our dog Layla played with him to roughly one day and we found him with his limp leg and took him straight to the animal hospital. We tired desperately to work with two hospitals and veterinarians to help us with a payment plan. Total cost for him would have been equaled to almost a thousand or more. Unfortunately, we do not have that much money to spare anymore and believe us if we did it would be well worth it. Although we greatly fear that our dog Layla which mind you this is quiet unprecedented for her to do, we want to take caution and make sure Sho can go to a home that is safe and free from dogs.
Sho is an amazing ferret. He loves to hide and explore, he will visit and loves to be the carpet shark and come into bed sneaking in to give a morning nib. He is quiet friendly and loving. He came into our lives by chance and was found by a friend of ours who knew we could give him a loving home. We love him very much, yet again with great sadness want to help him no longer suffer and get him the treatment he needs and found a special home.
I wanted to add also an andecote that over 13 years ago, you help out our family once with a little girl ferret named Sniffles who came from being abandoning in a field. Our family took her in and kept her but the original owners want her back. So my mother Ferris sought your center for help and you guys gladly took Sniffles.
I just wanted to say that it was greatly appreciated and I seek your help again for my ferret Sho. Please call either my number or call my boyfriend Ted. Thank you.
Yours Truly,
Brittany
Shelter Response, April 19, 2013:
So he is still walking around with this broken leg?
This is what needs to happen to surrender him. I need to know when you would need to surrender him I have several families on a waiting list.
I remember that, we got sniffles out of Naples in a hurry just to make sure she was safe. We are on opposite ends of the clock I am up at 3 in bed by 6 so email needs to be the mode of communication.
Owner response, April 19, 2013:
We are thinking as soon as today and or tomorrow.
To answer your question yes he has a broken leg still and we aren't letting him so much crawl around but giving him cage rest. We have medical records with x-rays and additional information forward to my boyfriends email and I also have pain medication and antibiotics set for a 11 days from the animal shelter. We have food (Marshalls ferret brand and duck soup) and his cage we would be more than happy to bring.
Shelter Response, April 19, 2013:
Surrender form is attached – this needs to be filled out and brought with him to Dr. Edwards they will take him today ASAP. sign form they will take Sho as a one of our shelter kids. He will get the medical attention he needs.