Welcome to Lakeroad Ferret Farm Rescue/Shelter, Inc.
Sandy

• Sandy found a Forever Home on May 21, 2014! Sandy was returned to the Shelter on June 18, 2014.
• Sandy was a brown sable female. She left for the Rainbow Bridge July 4, 2014.

• Read about how she arrived by clicking here, or read her latest updates below.
July 4, 2014:
Hi Ted
Sad news this morning. Sandy has passed away. Brenda said she had just become extremely depressed and totally refused to eat.
Sometimes older ferrets have a very hard time adjusting to a new environment, people, routine. Brenda has experienced this many times, and I'm sure she did everything possible to give Sandy a successful transition.
She and I are very saddened by her loss. Sandy was a sweet loving girl and I truly thought I could love her through the adjustment faze. When that started to sour, I was sure Brenda's expertise could pull her through.
We are so sorry.
Blessings, Donna

Original owner:
Hi Donna,
This news makes me so sad. I wish I hadn't had to give her up, and can't help but feel a bit guilty. I know you both tried your best for her and that's all I could have asked for. I'm just glad she was in good hands.
It may be too late, but what are you doing with her body? I know the end of August is a way off but I will be briefly in town if I can get her ashes or something.
Thank you for all you did for us.
Best,
Ted
July 4, 2014:
Sandy left for Rainbow Bridge this morning - she died in my arms as I begged her to give me a chance to show her I will love her for the remainder of her life. She just wanted her dad!
July 3, 2014:
Tori offered to have Mike call Sandy to see if she would respond to a male voice, he did bless his heart. She responded to his voice, she listened but I am not sure if it did any good. He said he would call again tomorrow if I needed him to. She is breaking my heart.
July 2, 2014:
Sandy is still refusing to eat. How that little girl keeps going is beyond me.
July 1, 2014:
Sandy little Sandy I decided to see if I could get her to take some soup tonight, she did reluctantly. She wants her dad and there is nothing I am going to do to change her mind. I breaks my heart to have to watch them give up and die.
June 30, 2014:
Jackie tried to get Sandy to eat, she licked a little baby food off Jackie's finger but not enough to say she ate. Jackie wrapped her in a blanket and held her while she and I got caught up on things.
June 29, 2014:
Sandy is giving up, I am forcing Carafate into her but she is still not eating. I am at a loss as what else to do for her. She does not even want me to touch her anymore.
June 28, 2014:
Sandy I have no idea what if anything there is to do for her, she eats very little there was a small poo in her cage this morning.
June 27, 2014:
Sandy is holding her own.
June 26, 2014:
Sandy sleeping up in Mum's space. She has had a rough start but it seems she is turning a corner and going to be okay. Sandy is still being reserved and quiet but she is at least eating. I am going to give her some different rooms tomorrow to see how she does.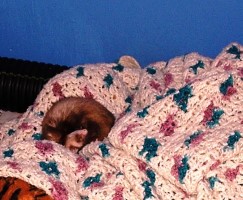 Original owner:
Hi Donna,
I'm sure Sandy is doing just fine but I thought I'd check in. :). Hope all is well. It really makes me so happy that you took her and gave her a home right away. She's very special to me! Knowing she has a new family is just so great.
Best,
Ted

Donna's response:
Hi Ted,
Sandy is doing fine, but she is with shelter mom, Brenda. She got a little too homesick and maybe a little overwhelmed at my house and refused to eat. Her tummy was quite upset. Brenda offered to step in as she has more home time to nurture her and room to keep Sandy separate for a while so she can adjust more slowly. Happily she is eating normally now and bouncing around like the joyful, sweet girl she is.
I hope you're settled and that all is well with you.
Blessings, Donna
June 25, 2014:
I left Sandy in the play pen all day I caught her eating (her food) first thing after I put her in there and then while I was mixing food late this afternoon she was going to the big dish of food and snagging pieces of that food running to take under the blanket to eat. I did not see what kind of food she was grabbing but at this point I do not care, she is eating and I am finding nice looking poops.
June 24, 2014:
AM - I left Sandy in the play pen all night she ate a considerable amount of food, I had to add more to the dish this morning. I so hope we have turned the corner with her.
PM - I got a picture of Sandy this morning while she was up here in the living room. I see she has some poo in her box tonight so she is still eating, I am thrilled she has decided to live.
June 23, 2014:
AM - Sandy I forced some Carafate into her with the hopes it will make her tummy feel better and she will eat the food she likes.
PM - SANDY IS EATING! I WATCHED HER EAT MORE THAN A COUPLE OF HER KIBBLE, after I set her into the play pen! I am so relieved, I thought for sure I was going to lose this battle!
June 22, 2014:
AM - I had Sandy on the brain this morning. She holding her own. I will be offering her more soup as soon as I am done with my dinner. She took soup this morning but still fought it. She just does not want to be here.
PM - I grabbed a handful of the food took it into Sandy she sniffed, grabbed a piece and started eating. I have it in a small soup cup so I can see how much she eats, I found more crumbs on the bed she is sleeping on so I hope this will help her attitude some.
June 21, 2014:
Sandy is still not interested in eating, I tried feeding her just chicken baby food she was no more interested in that than the soup.
June 20, 2014:
AM - Sandy will be getting fluids this morning ( pulled fluid bag out of fridge to warm some) she is dehydrated. I am kicking myself for letting her go stay with Donna. NOT because of Donna but because I know how fragile they are on surrender and so many changes in her little life in such a short time is too much.
PM - Sandy - I am not so sure, I got some soup and meds into her tonight, got fluids in her, she does not like soup, so she likes it even less with meds in it. I got the fluids done set her in her cage and she just flopped over on her side like a fish out of water. I stood there watching her for a minute, she did not move so I opened the cage to touch the spot I put the fluids in to see if I hurt her, she got up and moved herself into her sleep box away from me. I am afraid I am losing this battle.
June 19, 2014:
Sandy (new kid) is doing so so, She is not eating that I can tell, her poop is next to nothing. I kept her in smaller rooms by herself all day. Tonight she gets Mum's space for the night, I started her on Moxy this morning she is not fond of soup but she is getting soup with Moxy two times a day for the next 10 days like it or not. She took the 5 mls tonight with less fight than this morning. She will come around. I thought I might need to do fluids but she is not dehydrated.
June 18, 2014:
Donna Z called to ask if Sandy could come back. She is not feeling well and Donna Z is not home enough to keep a close eye on her. Ili and Donna Z met in Canandaigua late this afternoon to switch Sandy over to Ili and have her bring her to the shelter. Donna is returning her to us.
June 6,2014:
I am sure we will be fine. I can get her out with Otto, Ziggy, Zella, Adrianna and Dinah. There is a lot of sniffing and no hostility. Yesterday she snuggled in a blanket with Otto and Zella and went to sleep. She really likes burrowing around and digging in the plastic tote with rice in it. I also got her to lick a little Ferretone off her belly, so I plan to try trimming her nails tomorrow.

Sandy's new Mom to her previous owner: Hi Ted, Sandy is adjusting well. She has developed a liking for soup and looks forward to it. Monday she licked Ferretone off her belly while I gave her a pedicure. She's very sweet!
May 24, 2014:
Previous owner: How's everything going with Sandy? I hope she's still making friends!

Sandy's new Mom: Meeting Otto went very well!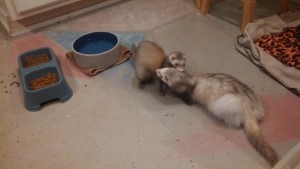 May 21, 2014:
Sandy has a new 4-ever home with Miss Donna Z and her crew!!
---
Initial contact, April 29, 2014:
Hi Brenda,
I have a 7 year old female ferret who is very loving and still quite energetic. Her companion died last year at age 8, and I have been unable to get her a new friend. I am leaving the country in about a month and unfortunately will be unable to bring her with me. I don't know how much time I she has left, but I would really like for her to be in the company of other ferrets, and have more free time than I have been able to give her lately. I know she is quite old, but I can't find friends to take her, and I refuse to go the craigslist route. Can your shelter help me (assuming she is vaccinated, etc.), or direct me to someone willing to take her on? She also has a near 6-foot three story cage, and several hammocks, that would accompany her.
Thanks very much for your time,
Ted
Shelter Response: If you are willing to get her vetted with both rabies and distemper vaccines, bring her and all her belongings with her we can take her at this time.
Owner's Response, May 5, 2014:
Hi Brenda,
I called Animal Ark Veterinary Hospital [(315) 635-2525] in Baldwinsville today. They told me that the ferret distemper vaccine is unavailable because the previous manufacturer stopped making the vaccine, and no other company has started again. I can get her an updated rabies vaccine, but the distemper is a problem. Do you have any advice?
Thanks,
Ted
Shelter Response, May 6, 2014: Let me call our vet, 2 of our fur kids in a new home went to get their shots and they have what they need. Let me get back to you with what they are using. The Rabies shot is NYS mandated but will not make a difference to the shelter kids, Distemper will, it can kill every kid in the shelter so we do not want to bring an unvaccinated fur kid into the shelter. I will call our vet this morning to see what they are using, and get back to you. Brenda

2nd email: I just got off the phone with our shelter vet. Dr Edwards is renowned in ferret care, see's many daily. This is what he is using for ferrets vaccine in his office at this time since we cannot get the Purvax vaccine.

Nobivac puppy distemper and parvo - dose is 0.75 ml.See if your vet has this vaccine in stock.
Owner Response, May 5, 2014: I just got off the phone with Animal Ark. Their vet is not comfortable with administering this vaccine. Is it possible to work with your veterinarian?
Shelter Response, May 12, 2014: Absolutely it is. When you call them tell them you are surrendering her to us and they will work with you to get you in ASAP - or did you have something else in mind?

Brockport animal hospital, Spencerport Road, Brockport NY 14420, 585 637 6190
Owner response: The only other thing I can think of would be to call Cornell University. Is there a waiting period between vaccination and surrender? I'm not sure what the whole process will be like for her.
Shelter Response, May 13, 2014: Good morning Ted...your email got lost in the 323 I have sitting on my computer - Okay let's do this - if you will leave the cost of a vet visit with me we will take your little girl in and take her to our vet.. are you agreeable to that? We will get an appointment made for as close to the day you are bringing her to us. Does that work for you?
Owner Response, May 13, 2014: This sounds like a really good option. Thank you for being so flexible! I just called Brockport Animal Hospital, and they said the ferret wellness check would be $43, distemper vaccine $19, and rabies vaccine $19, for a total of $81. Should I just bring this sum with me, and when would be an optimal time to bring her?
Owner Response, May 15, 2014:
Hi Brenda,
This is just a follow-up to my previous email. What do you think?
Shelter Response: Hi Ted, yes bring her to us with total payment and we will get her up to Brockport for the exam. When did you want to surrender her? You tell me when you can and I will tell you when I will be available to receive her. I drive school bus for a living so I am in and out all day.
Owner Response: Would Monday be a possibility?
Shelter Response: If you can be here between 8:30am and 1:00pm Monday works for us. Actually perfectly because we have a shelter friend coming to deliver papers and she lives 10 min from Brockport - Doc Edwards - I can have her transport her to Doc for check up - let me know so I can set that up with Doc and Donna Z.
Owner Response: Hi Brenda, that should work fine. I live in Syracuse so it's a bit of a drive, but I will try to be there before noon!
Shelter Response, May 16, 2014: Okay Donna will be here at noon, she said she would take little one up to Doc for us (what is her name?) I called Doc's office and she has an appointment on Monday at 2 - so we need her here as close to noon as possible please.
Owner Response: Her name is Sandy. I'll be there as close to 12 as I can. Anything else I need to know before Monday? See you then!
Shelter Response, May 17, 2014: Good morning Ted. Sandy, I like that name. Anything that belongs to her and enough food to get her through a month so she has time to adjust to our mix. See you on Monday. Brenda
Shelter Response, May 19, 2014: Ted are we good for today? Still planning to be here by noon?
Owner Response: Hi Brenda I'm still coming. I'm working on getting the cage into my car at the moment. It's a little tougher to get in there than I thought so it might take some time to disassemble. I'm still aiming for noon though as best I can.

2nd email: I'm still wrestling with the cage... It's a big metal thing that doesn't fit in my car so I'm trying to take it apart. Some of the screws are close to stripped though so I'm having some trouble. Working as fast as I can!
Shelter Response: Bless you, see you about noon, be safe. Don't bother with the cage just bring her without it .. put what you can in the car and leave it at that. Brenda
Owner Response: Ok Brenda! I'll bring hammocks and food and cash to cover the bill.

2nd email: Hi Brenda, GPS says I'll be there at 1230. Sorry for the delay. The cage slowed me down. FYI my cell is ***

3rd email: Hi Brenda I think I am very close but not sure exactly where you are. If you could call my cell that would be great!
Shelter Response, May 20, 2014: Doc called me last night to say Sandy was in excellent health, had some dirty ears but other than that she is in great shape.. she had no reaction to the vaccines. Now here is the good news, it looks like Donna fell in love with her and has decided she wants to keep her to see if she will fit in with her crew.
So Sandy it appears has a new 4-ever home already and you got to meet her new family.
Owner Response, May 20, 2014:
Hi Brenda!
I'm so happy about all the good news. Great health and a new forever home with lots of new friends is as much as I could have hoped for before I left the country. Just seeing how devoted you and Donna are really put me at ease. Thank you so much for your help, and for the work you do in general. I'm not sure what I would have been able to do had your organization not been around. Thanks to you I don't have to leave with a heavy heart :) I'm just so glad this worked out so well.
All the best,.
Ted