Welcome to Lakeroad Ferret Farm Rescue/Shelter, Inc.
Remi

• Surrendered to the Shelter on February 27, 2016. She found a Forever Home on July 30, 2017!
• Remi is a dark silver female.

• Remi had a far away Dad in Germany!




• Read about how she arrived at the Shelter by clicking here, or read her latest updates below.
August 14, 2017:
Things are great! It seems as if Remi has lived with us forever. She and Gizmo sleep together daily and play like they've been doing it their entire lives. They also both get solo playtime with Joe and myself, which we think is really important. We have her vet appointment on Wednesday. She is currently napping on Joe's chest.
August 2, 2017:
Shelter: How are things? It is - the picture you sent - the posturing on both of them is "you're too close" Awesome - are they getting time out alone? That is important.

Good I think. They played a little bit but sort of avoided each other. I hope that's normal. Remi is adjusting well I think. She is playing with us, eating/drinking lots and has been a pooping machine!
July 31, 2017:
Shelter to Doc: Good morning Doc - I wanted to thank you for sending the Lagas family to us. They took Remi home with them yesterday. See attached.
Remi was due for vaccines this year, she does not have records in Brockport she was vetted at Palisades Vet hospital in Orangeburg NY . I will be calling this morning to let the girls know the bill for Remi exam and vaccines are to be billed to us. The family offered to get her in to see you since they are closer and I am working I agreed.

Shelter to Forever home family: Doc's office has the information that you have Remi - all set you can make her appointment anytime - again let the shelter cover the bill. Thanks

Forever home family: Thank you. She's got an appointment on August 16. Doc Edwards was booked up!

Shelter: Great news - he is always booked up! I guess I had better get the appointment for the two that need surgery when I get the last 2 weeks off before we go back to work in September ;-)
Thanks for the update. Brenda
July 30, 2017:
She had a great night. She just woke up when Joe was sneaking in to take a picture of her. She was sleeping on her back with her feet sticking out from beneath the blanket.
She and Gizmo were both in exploring modes yesterday when we had them spend time together. Hopefully today they'll be more interested!
Here is a picture of them bonding over the food and water bowl.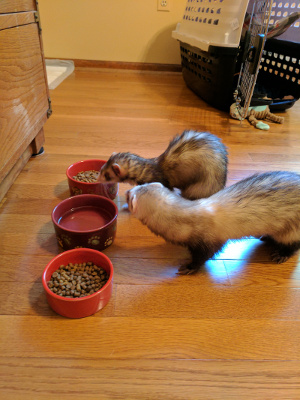 July 30, 2017:
Remi left for her new home, She and Gizmo seemed to play well together again yesterday.
July 28, 2017:
Forever home family: Thanks for the info on the carrier.
Attached you'll find pictures of the areas that ferrets are allowed with little supervision (kitchen, living room and ferret room). We do allow Gizmo upstairs in our bedroom periodically but that's only with us present.
I don't know what time we'll arrive on Saturday yet. Joe is not sure whether he needs to work or not. I'll let you know as soon as I do.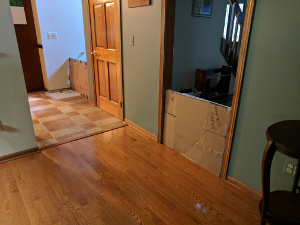 Shelter: The double doors do they go directly outside when opened? Dish washer? Had one of our kids dish washed because they let them in the kitchen.. the cage you have looks like the older one, you should be able to remove the bottom from this one and put on top of yours - AC in the house or do you open windows? Remi is a climber and a digger she will get out the windows if you open them.Recliners/rockers? One of our kids was cut in half because of a recliner..
Beautiful house - thanks for the pictures - Brenda
July 27, 2017:
Forever home family: We would love it! Is it one that we would stack on top of our existing one or is it it's own entity? I will send you a virtual tour of our house later today. If you feel the need to come out you are more than welcome! And along those same lines, if you feel that we need to visit more before we take Remi home, we can do that as well. Do you want us to fill out the application? I will bring the contract on Saturday. Whitney

Shelter: Depends on the one you already have. If the one you have is the old style with the screws then you should be able to put this one on top if you have the one with the buttons you push in to dismantle then you will need to use as stand alone. As long as you agree not to push these guys to become friends and follow the directions for acclimation then I am good with this Saturday. I am planning to send her home with you on Saturday if she and Gizmo do as well as they did last week. They will not be able to be in the same carrier though. Sent that separate because I could not figure out how to get it out of Google docs. Application is more important, that should be there by now. please get that one filled out then we can do the contract if Remi is still interested in being Gizmo's friend.

Forever home family: We definitely won't push them. We will probably be overly cautious because I don't want either to be upset or harmed in any way. We talked about transporting them home and we know we need to get another carrier. We plan on picking that up along with the locking food/water bowls.

Shelter: Okay good. My recommendation - get one either 28" or 36" high - once these kids acclimate they will travel in the carrier together these will be big enough to travel with each other and have what they need. This is the brand I find that meets my standards, and holds up to the constant use. Doskocil Pet Taxi.
July 26, 2017:
Forever home family: We have a single Ferret Nation cage, do you and Joe want to take that with you when you pick up Remi? If so I will scrub it up. - I have not bothered with it because the family that had it smoked, it stunk so I wanted to let it air out. I will pull it out in the sunshine in case you decide you want it. Let me know.
July 26, 2017:
Shelter: Hi Whitney - I was going to ask if you and Joe would get Remi to OFD; we will cover the expense. As for Remi going home with you on Saturday, that was not on my agenda, generally we do a home visit prior to the fur kid leaving here.
If however you are willing to send me pictures of your home so I can do a virtual visual I will reconsider letting her leave with you on Saturday. I am attaching our adoption contract for you to read over and be aware of what we expect. Let me know - Brenda

Forever home family: Morning Brenda. We are so excited to bring Remi home on Saturday. I was thinking about Remi's vaccinations and we can get them done if she needs them. We are much closer to Dr. Edwards than you. Let me know what you think. Have a great day!
Whitney
July 22, 2017:
Shelter: How did Gizmo do going home? Did he crash once you got started? Remi has not stirred and inch. Here are some of the pictures I took of them both. I am thrilled he was so receptive to playing - the real trick is going to be in his space I am sending this so you can read it. I don't believe we are going to need to worry about issues but I want you to be aware of them.

Forever home family: He's been sleeping since about 10 min down the road. We had such a great time and Gizmo wanted me to tell you thank you helping him find a friend! The pictures are adorable. We will definitely get him used to ferretone on his belly. Looking forward to coming back in a week!
Give our love to Remi,
Whitney, Joe and Gizmo
June 16, 2017:
Gizmo's family got here about 11, Dave was working on the railings when they got here. The fur kids meeting went well, see attached. Gizmo was thrilled to have someone to play with, Remi was not so sure. There was no aggression from either of them. We gave them a short break between then tried again. Whitney is coming back next weekend with Gizmo to see if it works as well one week later.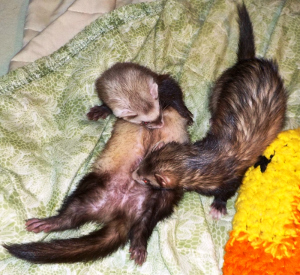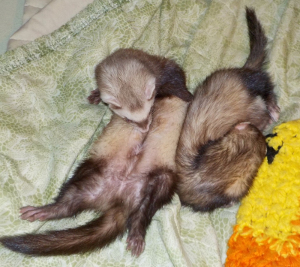 July 14, 2017:
Initial Contact, forever home family: Hi Brenda. My husband Joe and I are interested in adopting a brother and/or sister for our fuzzy little guy, Gizmo. A few years ago we reached out to you and visited when we wanted adopt a friend for our ferret, Uriel, that we had then. Uriel has since passed away and we got a new little guy back in October.
Since Gizmo is about a year old we think he'd make a great transition to having another ferret or two living with us. I read on your website that Sundays are visiting days but I'm wondering if we could come sometime next week.
My husband has taken a week vacation and we would love to make a day of visiting with ferrets! We can come Thursday (7/20 - Sunday 7/23)
I know we need to visit more than once but I'd love to get a friend for Gizmo before I have to go back to teaching in the fall. Please let me know what day works best for you. We are really looking forward to getting a friend or two for Gizmo. Thank you - Whitney

P.s. I attached a picture of Gizmo :-)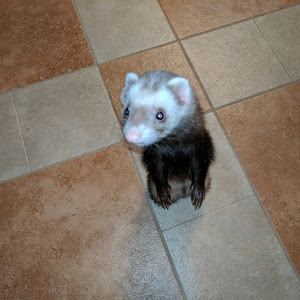 Shelter Response: Whitney and Joe,
Please forgive me - I read this late last night, thought I would get back to you first thing this morning and totally missed your email among the ones I was answering this morning - I am so sorry. I am sorry to hear you lost Uriel. We can make that happen if you are willing to come between my bus runs. Thursday works I am doing a summer run, I am back home at 8 am I must leave to go back to work at 2 pm. If that time frame works for you, it works for me. Sunday the 23 is open as well. I don't remember where you folks live, can you remind me please. We can try to make that happen. Again I am sorry this did not get answered sooner. I dropped the ball! He's a beauty!
July 6, 2016:
Hello Remi and Brenda,
I am doing fine over here, I am actually currently working on heading back home to the states in Oklahoma. Sorry I haven't responded so much, I've been just a tad bit busy over here. I hope you're having fun and not getting in so much trouble. Thanks for the Fathers day wishes and a happy late Christmas and New Years to yourselves.
For Brenda:
Unfortunately, I also will need to probably stop the payments, at least temporarily, while I get myself situated back home and I may adopt as well. Also unfortunately, if I do adopt I'm not sure I could adopt Remi due to the distance between our locations and would likely have to adopt around home. I do hope little Remi understands and finds a good home soon. I wish you, Remi, and the rest of those little carpet sharks the best.
Sincerely,
Johnathan
July 6, 2016:
Dear Miss Bert,
Mom got our fountain set up this morning. Take a look, Leo is having some treats while Mum gets things put together and water in the fountain. Mum says I will get my turtle when she strips my cage and puts clean bedding in there. She will get a picture of it in my cage (with me in it?) when she has it done.
Thanks for helpen Mum take care of me/us, you're the best!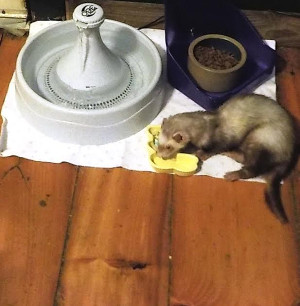 June 7, 2016:
From Remi's far away Dad:
Hello, Remi, little girl,
Good that she's getting some help, I'd come help if I could but I'm kinda stuck out here unfortunately. Considering it's a couple of days after that goal of June 4th, how's it coming along?
Far away Grandma is doing well, she's getting some nasty teeth work taken care of. Far away Step Grandpa is as usual either working or being lazy and watching sports or fishing out at the lake. Far away Great Grandpa and Great Grandma are doing well too. Great Grandpa got another stint done so he's doing better and Great Grandma is back to doing her water exercises. Trying to stop Great Grandpa from doing so much yard work and chores, and to make my little brother do it but my little brother can't be there all the time due to school and great grandpa likes to spoil his grandchildren.
Haha, so you like being a little mountain climber huh? Always off looking for adventure silly girl.
I got you're letter in the mail today telling how much trouble you give Mum and also asking for a picture. I'm going to attach a digital picture of me, with the Berlin Bear, if that's OK. If you need physical picture from me, I do not have any of those on hand nor any recent back home. I may be able to swing getting a Polaroid if you need it.
Love, Far Away Dad.
John
April 20, 2016:
From Remi's far away Dad:
Well I bet you can't wait to play out there little girl and soak up some rays. Does Mum know how long it might take to finish? I hope she's getting some help, though, I'm sure she could handle it herself she seems like a pretty strong gal. Also, I got your letter in the mail the other day and sorry I didn't reply sooner..I get pretty busy out here sometimes but thinking of you hopping around and playing over there and the thought that I'm helping you have a more joyous and better life brings joy to my busy and often hectic work over here. I hope you're not causing Mum too much trouble, I know how crazy you kids can get.
With love,
John

Remi's Response:
Hi far away dad, I hope Mum gets it done soon, I got here in winter so I've never gotten to play on the porch… I think I will like it. She got a friend to come nail the sub floor down with a nail gun, Mum does not have a nail gun.. she was going to screw the sub floor down. It is nailed and done in 30 min. Mum has good friends. She does, when she needs it…like the nail gun...Mum got the first coat of paint on the lower walls Thursday, it needs a second coat once that is done she is going to start gluing the tile down. She hopes to have it done before clinic day on Jun 4 .. she says she is not going to hold her breath on that one. LOL
Nope far away dad, Mum tells us when we get a far away family that the family has things they have to do in their lives we are just a small piece of that life.. when our families have time they will drop in to say hi.. so I understand. Awe far away dad, you make me do the happy dance. Do you like doing what you do? How are far away grandma and grandpa doing? Mum has learned to put me in rooms I can't do much damage, then when she is home she will let me hang out in a room that I do get into trouble in, when she is in that room, that way she can take me down off the counter top, out of the window blinds, Stop me from climbing the front of the cages.. Mum has 4" drainage tubes all over we can run through and climb up but I prefer to scale the front of the cage like a mountain climber.. Mum holds her breath till she gets to me to take me down..
I love you far away dad, Remi
March 30, 2016:
Remi - so much for my barrier to keep kid off my desk.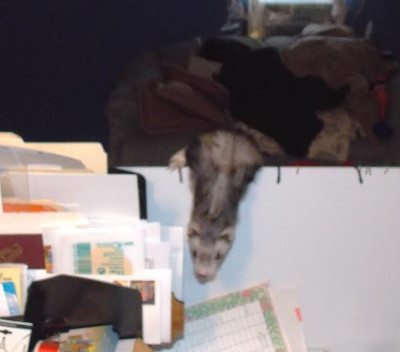 March 19, 2016:
Remi is a pistol she is lightning on legs, not much phases her. She will run to my feet I bend to pick her up by the time I get my hands to the floor she is on the other side of the room. She loves that game, my back not so much.
February 28, 2016:
Remi is a kid, she is taking the change in her life in stride. She is eating soup on her own.
February 28, 2016:
Remi got to try some soup.. she liked it.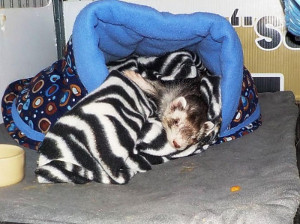 ---
Initial Contact, Owner, February 7, 2016:
Good Morning,
My name is Kaitlyn and I have a beautiful Ferret named Remi. When I got Remi I was a mom of one and had time to spend with Remi, I now have another baby both under two and my dog Bentley. I believe my little one is allergic to Remi, of course we are getting her tested but they think it is the animals. I love Remi but I have to let her go and want her to go to a nice place. Please let me know if there is room. Unfortunately time is of the essence.
Thank you,
Kaitlyn
Shelter response:
We will have an opening by the end of February, where are you located? This link will explain all that is required to surrender your ferrets to us http://www.ferretfarm.org/PrivateSurrender.html . The ferrets must be current on vaccines with documentation.
New York State requires ferrets to be vaccinated with the rabies vaccine yearly, a more important vaccine is distemper. The distemper shots that are given to the ferrets before leaving the breeder are null and void as the FDA label states this vaccine does not work on kits under 8 weeks of age. The kits being moved from the breeder to the stores are 6 weeks when shipped.
Our web link includes ferret knowledgeable veterinarians available to get this done if you do not have a veterinarian of your own. http://www.ferretfarm.org/QandA.html#vets
Current means 8 months or longer before the ferrets need to be vaccinated again. As the web site states everything that belongs to the ferrets comes with them up to and including the cage.
We do not separate cage mates so it is imperative that if you decide you are surrendering your ferrets to this facility you keep us informed so we keep an appropriate opening for you. We work on a first come first serve basis.
The shelter directors work schedule varies on a day to day basis so we need to determine a time that fits both yours and her schedule.
Surrenders generally take 45 min to a hour to complete.
I look forward to hearing from you.
Owner's response:
Hi Brenda,
Thank you for getting back to me, I am located in Haverstraw, NY Rockland County. Naples is very far for me, so I have to find something closer. Do you have any recommendations?
Shelter response:
To the best of my knowledge we are the only ferret shelter available in all of NY your neck of the woods and mine.
Owner's response, February 20, 2016:
Hi Brenda,
I am sorry for not being in touch but I have been trying to figure away to get up to your farm. Do you still have room for Remi?

Additional email, February 21, 2016:
Good Morning Brenda,
My girlfriend has a daughter in Geneseo college and she is going up there this coming weekend. Now the route is the same to get to your farm except she goes to exit 7 off of I 390 and your farm is exit 2, is there anyway someone from the farm could meet her by I390?
Please let me know.
Shelter response:
Hi Kaitlyn, That would depend on the time and day.. I am not exactly sure where exit 2 gets off on I-390. We might be able to connect but I need much more information before I start asking volunteers to help. We also need to discuss her medicals as well, is she current on vaccines with documentation?
Owner's response:
Good Morning Brenda,
My girlfriend has a daughter in Geneseo college and she is going up there this coming weekend. Now the route is the same to get to your farm except she goes to exit 7 off of I 390 and your farm is exit 2, is there anyway someone from the farm could meet her by I390?
Shelter response:
exit 2 gets off on I-390. We might be able to connect but I need much more information before I start asking volunteers to help. We also need to discuss her medicals as well, is she current on vaccines with documentation?
Owner's response:
I am going to take her to my Vet tomorrow just to get her checked, yes she is current on all Vaccinations, but I want to send you a current Vet exam also. exit 2 off of I 390 is in Cohocton. I map quested the drive it is 12 miles from your farm.
Shelter response:
That vaccine documentation needs to come with her please. Perfect thanks. Okay that means depending on the time of day I may be able to meet up with your friend. Cohocton is just a hope skip and a jump from us...
Owner's response:
ok great. Let me find out what time she will be in Cohocton.

Additional email:
Brenda,
She will be there on Saturday around 5. Do you know an exact location she can go to off of I390 in Cohocton?
Shelter response:
If I remember correctly when you get off 390 on exit 2 the ramp shoots into like a service road, if you make a right off the ramp onto that service road that takes you to a cross road, directly across the cross road is I think a church, that is where we generally meet up for transfers.. right in that parking lot of the church.
I am sending the surrender document I need you to print, fill out and send with Remi.
Owner's response:
ok, so we are on for Saturday the 27th at 5, do you know the name of the church?
Shelter response:
Saturday at 5 works - we are on for Saturday 27th at the church parking lot at 5 pm. I am driving a black van with shelter decals on the windows. I don't know the name of the church, it has been several years since I've had to do a meet up… but the building sits right on the edge of the road behind a sidewalk and I park under the tree at the mouth of the parking area to the left of the building . I will be very visible.

Additional email, February 23, 2016:
Kaitlyn, what food are you feeding Remi, what stuff is coming with her so I know what I have to clean out of my van before I pick her up? The carrier she is coming in is staying with her?
Owner's response:
Good Morning Brenda,
Marshall Premium Ferret Diet, dry food Some Ferret Soup, She has a big cage, yes her carrier is staying with her. I never received the release document.
Shelter response, February 23, 2016:
Good morning Kaitlyn,
I am checking in to be sure we are set for the meet up in Cohocton NY at 5 pm on Saturday 2/27/16 to pick up Remi.
Shelter response, February 27, 2016:
Remi is here and settled in the playpen for the night. I wanted her to get some stretching room after her long trip.
Owner's response:
That's great,
Thank you God Bless