Welcome to Lakeroad Ferret Farm Rescue/Shelter, Inc.
Piglet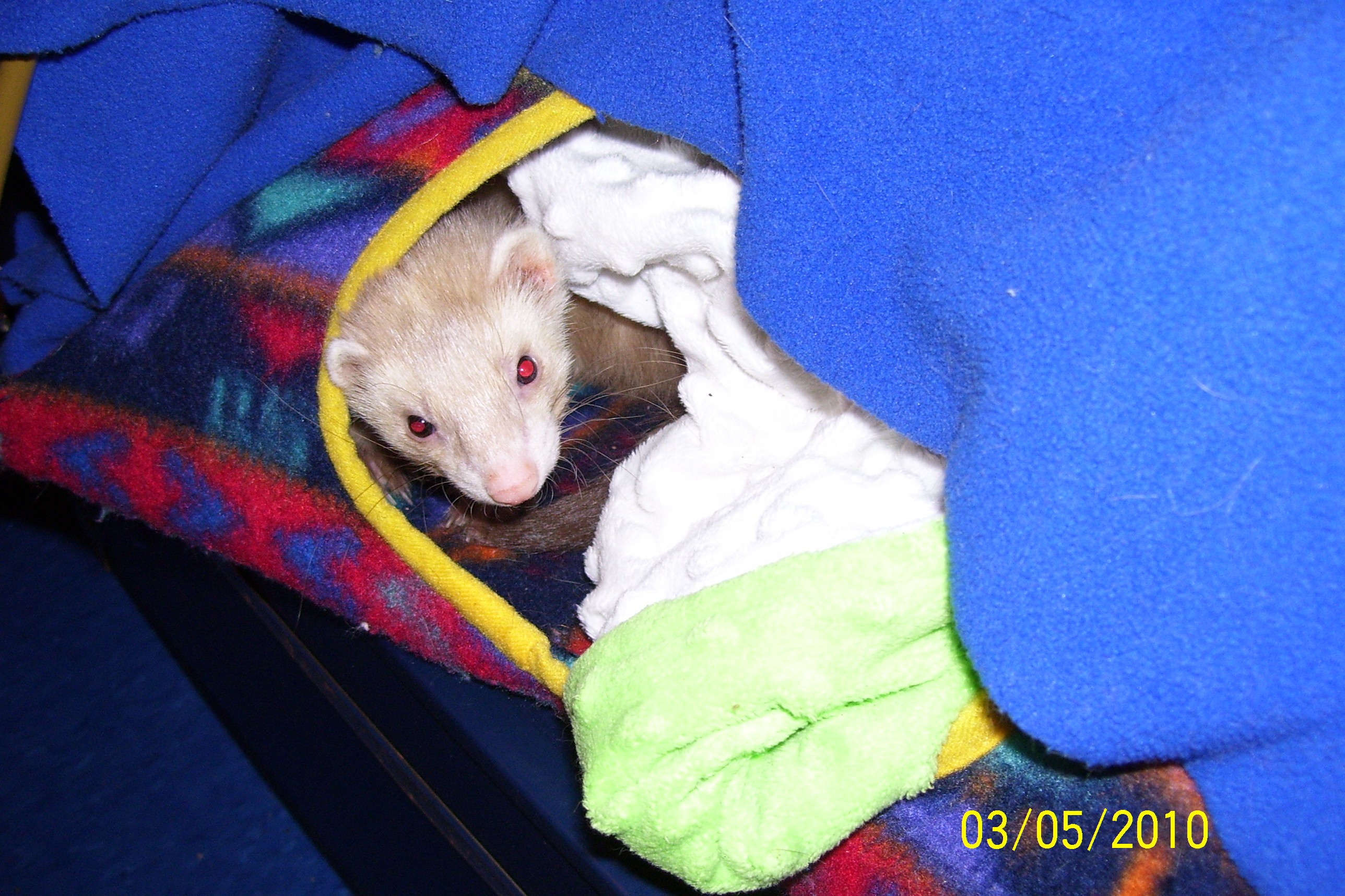 Date of Birth: January 2010
Piglet earned his wings March 10, 2010
Updated: March 18, 2010
Dear Piglet,

I received your wonderful card and gift yesterday from Heaven. You are a special little boy to pull that one off. To say I was surprised and pleased to hear from you is an understatement.

Yes I am still sad you had to leave this earth so soon, but I am pleased to hear you are happy and well waiting for me to join you. YOU must be a very special little guy to be allowed to send something back to earth for your shelter mum. Have some pull up there do you? I am pleased.

You will live in my heart for all my days here on earth; I look forward to holding you when my turn comes to join you.

I love you little guy, I miss you. Shelter Mum!
Updated: March 11, 2010 Piglet Makes It To The Bridge
The sun shines brilliantly on soft green grass, and an opalescent rainbow can be seen in the background. Sugar, a lovely dark sable, was dancing around, unusually bouncy, even for her. Honey, a cute chocolate, was looking quizzically at her.

Honey- What's up Sugar? You're awfully boingy today. Would you stop that, you're making me dizzy.

Sugar- Another FML ferret is coming, so there'll be one more at the campfire.

Honey- Oh no, not again. Poor humans. We've had several come in lately. What's so special about this one?

Sugar- Bouncing not quite as much. Don't you know that all FML ferrets are special?

Honey- Did they bring any stuffies? I so covet those.

Sugar- You have enough stuffies to fill a cave, you silly fuzzy.

Honey- How'd you know? Did you find it? A worried look on her cute face, she twitched her whiskers.

Sugar- No Honey. No worries.

Honey- You've been hanging around those Aussie ferts again.

Sugar- Well, they really know how to party. I'm thinking of inviting them to the next FML get together. I want our new friend to meet all the good folks here.

Honey- I think our humans would be happy to know all of us FML ferrets get together for a campfire and marshmallow roast every week. I don't see what they like about those fluffy white things, but Ferretone makes anything taste good.

Sugar- Too true. Let's go say hi.

Honey- No, let them meet Lady Jasmine, she explains what happened to them so well, and get settled in here first.

Sugar- Okay, but I can't wait until the next campfire. She shouted to the four winds. Welcome Piglet! You're going to love it here.

Piglet, who was being greeted by the gentle Lady Jasmine, heard a welcome on the crisp air. He smiled, but cast a saddened look over his shoulder, in the direction he'd come. Then they turned, and went dancing off toward the green fields of joy for the welcome party.

Sandy and the Dook City Gang
Rainbow Crew; Chelsea, Valentine, Jasmine, Tasha, Boris, Taz, Sugar, Honey, Popov, Katie, Kovu, Miss Hiss and Misha
Updated: March 10, 2010 Later in the Day
I have tried to respond individually to those of you that send heart felt condolences, cyber hugs and kind words to me for our little Piglet.

I can not; I am struggling to stay on task and to remember that there are others here that need me to focus. The tears I shed are many, the pain I feel is excruciating! I have to say this little one stole my heart and has taking a huge piece with him on his journey to Rainbow Bridge.

I feel like my heart has been ripped out of my chest, I know this will pass however I sometimes just wonder why the young ones have to die so soon after I get them here. I know that is not something that I will ever get an answer to, but these are the ones that really really hurt!

Thank you all for thinking of me, for caring so much for me and the fur kids. Without you we would not be able to do what we do for these babies, I was blessed to have little Piglet in my care for 7 days.

Thanks everyone.

Shelter mum Brenda
Updated: March 10, 2010
Our little Piglet earned his wings this morning. I got him up at 4 am put him out on his big mat to investigate his bigger world.

At 4:30 I left my desk (2 feet from him) to check to see if he was still on his mat. Piglet was glassy eyed, unresponsive and not breathing. I got my stethoscope out to check for heart beat, their was none.

My guess is (now) that it was not a drop that caused his paralysis; it was a heart issue that caused a blood clot. The first clot causing the paralysis on his left, the second one (this morning) caused his death.

To say I am heart broken is an understatement… Fly high little Piglet you will be missed.

Shelter mum Brenda
Updated: March 9, 2010
Thank you all for your participation in this contest, little guy and shelter mum found the suggestions wonderful…. Possum picked the winning name!

Drum Roll Please >>>>>> Piglet is his name>>>>>>>>>> I offer the name Piglet- someone small, who eats a lot, is timid and wants to be brave- kjc

Piglet had an appointment with our favorite Doc at 3 in the afternoon on Friday the 5th, Miss Jackie is took him up.

When I took his picture this morning (Friday) he was much brighter and more responsive than he had been yesterday.

I expect he will do very well once he gets settled in. Doc put him on Pred and clavamox 2 times a day. He is eating drinking and pooping well, he is not incontinent. His paralysis is on his left side, which is what makes him list to that side, Doc and I both feel he was dropped at some point in his young life. It is less than a week and he is already showing signs of a kit, he still falls over (left) when he tries to move about but it is becoming less as the days go by. I do hope with exercise, love and attention he will get better and be up and running like a kit should be. He spends his days up in mum's space in the sick pen. I have throw rugs in there for traction. Piglet gets up to use the pee pad so he is doing wonderfully. Thanks again for the kind words, name suggestions and love you sent his way.
Shelter mum Brenda

As for the new ferret, my name suggestion is Reese. With his coloring it made me think of champagne, and then my favorite type of wine, a riesling. Well, Reese is kind of short for that and to me, he looks like a Reese!

Caren

Lucky (too obvious!), Cocoa , Benji, Adam, Milo, Kinglake (this is the name of a town in Victoria that was completely destroyed in the Black Saturday bushfires last year, but the people and the town are bouncing back...just like this little boy is doing) Love, Nikki

My entry for the contest name is Zhanshi (means "fighter" in Chinese) Sue

ADAM cuz he is getting a new life! DJ

Mum he is precious he looks like one we had come in from Katrina I suggest LiL Man that was his name ... We Love yall .. Gingers faraway family..

Mike saw his picture and thought Huxley was a cute name for him. Nicky

Awww, he's a CUTIE!!!!

I like "Durk". Just different than "Dirk". Sue

I suggest the name Lucky because he is might lucky to be with you. Yu take such good care of the shelter kids. Eileen
I offer the name Piglet- someone small, who eats a lot, is timid and wants to be brave- kjc

Hello this is Genevieve I think the new kid should be named Frank.

OOH a contest! I think I would name him Cinnamon because of his fur color! :)

How about Sweetie-Pie? That is such a sweet, trusting little face. Laraine and my 5 fuzzies.
>How about DD's Mikie, as in Mike. Donna

Ham, short for Hamish - Hamish is an archetypal male Scottish name. The name is uncommon outside of Scotland, Australia and New Zealand. It's English equivalent is James, which is a variant of the Hebrew name Jacob. The name Hamish originates from the lenited form of the Scottish Gaelic name Seumas. The lenited vocative case form is spelled 'a Sheumais', pronounced 'uh HEM-ish'. The first syllable of Hamish itself is normally pronounced like the English word "hay".

Hamish is often used as a name for a Scottish person in fiction, or when a person's name isn't known but their nationality is apparent from the speaker's accent, similar to Jock. Pete

Poor guy! He looks kinda like my voodoo. J

He looks like a Spencer or a Dexter to me! very sweet. Danielle
Updated: March 5, 2010
Update on newest fur baby here…approximately 12 to 14 weeks old

Little boy no name arrived Thursday am from Auburn NY. He was at Pet Depot when the staff there found him to be lethargic and unable to use his hind legs. (They could give no explanation for this) he was taken to Cayuga Veterinary Services in Auburn NY for a medical work up. The Veterinarian was unable to determine what was causing his inability to use his hind quarters, they were able to get him to be responsive, to eat and drink.

It was determined that the little guy could not go back to the store to be sold so he is now with us here at the Lakeroad Ferret Farm Shelter.

His first hour here he ate 2 bowls of duck soup then was put in the sick pen up in my space to rest. I fed him soup again at 6 pm. The little guy is eating kibble and leaving his tent to go potty so I have determined he is not incontinent. He responds when I touch his left leg, he does not when the right leg is touched.

He has an appointment with our favorite Doc at 3 this afternoon, Miss Jackie is taking him up.

When I took his picture this morning he was much brighter and more responsive than he had been yesterday.

I expect he will do very well once he gets settled in.

We are having another contest on a name for this baby, so send us your names! Shelter mum Brenda
Updated: March 3, 2010
A new paraplegic kit coming in sometime today or tomorrow. I don't know why he is paraplegic but I was told he would have medical records coming in with him. He is coming in from Auburn Pet Depot, I was told if they could not find a home from him they were going to use euthanasia, that is unacceptable so he is coming here!