Welcome to Lakeroad Ferret Farm Rescue/Shelter, Inc.
Mr. T

• Surrendered to the Shelter on September 23, 2016. He found a Forever Home May 21, 2017!
• Mr. T is a sable male.

• Would you like to Sponsor him?
• Read about how he arrived at the Shelter by clicking here, or read his latest updates below.
June 22, 2017:
Brenda,
Just wanted to give you a Mr. T update. He is doing absolutely wonderful. I am so lucky to have him in my life. He loves to come downstairs and explore every nook and crazy of the house. Downstairs is his favorite place to play. We've tried to go outside a few times but he doesn't seem to fond of the outdoors. He very happy and very playful.
Patty
May 22, 2017:
Mr. T found a new 4-ever home. Mum did the home visit on Saturday, Miss Patty came to pick Mr. T up to take him home Sunday afternoon.
May 21, 2017:
Patty contacted me this morning to see, if she could come get Mr. T today, she got here about 2....she took one of the cages that we had in the garage. I was going to send the single ferret nation home with her but that was not going to fit in her little car. She took one similar but folds up flat.
December 12, 2016:
Dear Mr. Butch and Miss Debbie. Mum let me get into the presents you sent. Holy Moley you sent lots and lots.. We are such lucky fur kids here at the shelter. You guys hooking up with Miss Sandy is the best! We love our new things, thanks for helpen Mum take care of us.
Mr. T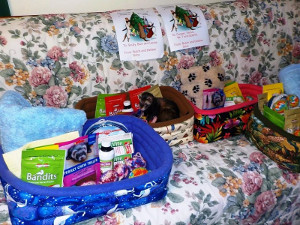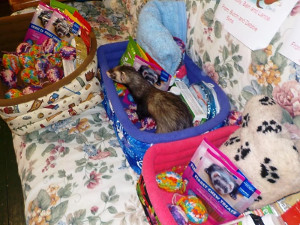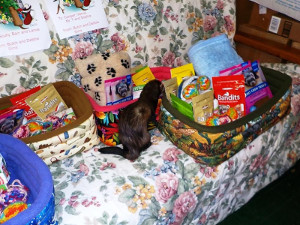 December 10, 2016:
Mum let us get into the box you sent to us from the Angel tree. Mum got pictures of us checking out the stuff in the box. She had to set a bottle of ferretone in the middle to get our attention. Thanks so much for all the filters for all our fountains. Thanks for helpen our Mum take care of us.
Mr. T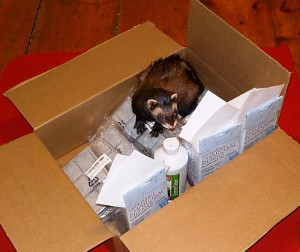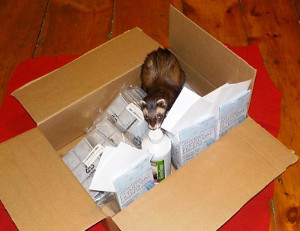 December 4, 2016:
Dear Miss Anna, we love the Christmas box you sent us! Mum took lots of pictures of us checking it out.
We love you!
Mr. T


October 2, 2016:
I got Dr Sandra's opinion about Mr. T this is what she sent.
If it is a parasite - I would be suspecting cuterebra. Does this look anything like what you saw? the pattern on this ugly thing is what I saw under the microscope, I went on line to look it up watched some removal, this is what was in him. She suggested I use some revolution on Mr. T I did. What I found out is they need to be removed alive because when they die they give off toxins that kills the host. Dr Sandra sais this little boy is one lucky little guy to have survived that dyeing in him. She suspects I killed it by putting the antiseptic on the wound.
Then said " One more disease to add to your mental encyclopedia"! :) that is for sure!
September 29, 2016:
I was poking at Mr. T - last night pushing the puss out of the wound, when a foreign something popped out.
I put what popped out under the microscope but I can't tell if it is a piece of something off a plant or a dead bug of some kind. I am going to take it with me to OFD to see if he can tell what it is. It seems to have many segments to it. I expect the wound should now clear up and heal since that piece is no longer in his little body. I got a bit of puss out of the wound the morning. He is taking soup and Moxy with no fight now. He feels like he has put on some weight.

PM Update: I took another look into the microscope at that piece I took out of Mr. T this morning. Tonight when I got him up to do his meds I poked at the wound some more to get more puss out of it.. Oh my I got the surprise of my life - I pulled more of whatever that is - out of his wound.
September 27, 2016:
Mr. T is a tiny little man, very dark sable boy. He had what looked like a blister on his leg when Brie picked him up, OFD said it was an infected pimple. OFD popped it, cleaned out the infection. We are treating with Moxy and keeping the wound clean per OFD instructions. Mr. T got to spend the night in the playpen, when I get home from work I will put him in the rooms with me to hang so I can get a feel for what he will and will not do. He took the Moxy with soup out of a dropper this morning.

PM Update: Mr. T's infected leg, I was squeezing puss out of the wound on his leg this morning. It is nasty, I got more out of the wound before I put him to bed, I expect uncomfortable. He gets a second dose of Moxy tonight I will clean the wound again with antiseptic before I put him back to bed.
---
Initial Contact, Owner, September 23, 2016:
Hello.
My sons parents found a ferret roaming in the street in Victor, NY. Then they brought him back to there house in Greece,NY. They cannot keep him/her. I was hoping that you could help. I posted a craigslist ad with no success. I have contacted lollipop farm and I am planning on bringing the ferret out there tonight. If you could help I would appreciate it. I would rather you take him. They need the ferret gone by today, and I also live in greece, and naples is a pretty far drive for us. Please let me know. Thank you.

Shelter Response:
We will take him - if you take him to LPF he will likely euthanized - let me get in touch with one of our volunteers that lives in Greece.
Carie - I am sending this on to Brie one of our volunteers that lives up your way - I am headed to work, I will not be home until 5. We will take him. Please do not take him to Lollipop Farm. Brie will reach you if she can before I get home. I have called her leaving a message. Please reply to all - so we are on the same page.
We will get him to Naples one way or another.

Owner's Response:
Thank you so much!!!! I am so happy to hear this. I have been searching for a ferret rescue online for awhile. I didn't know where else to take him. Please let me know. Thank you again!
I will not take him to lollipop. I will wait to hear from Brie. Thank you again!

Brie's Response:
Hello I'm Brie. I can come pick up the ferret. What is the address and best time for pickup? My phone is:

Owner's Response:
Hello. My name is Carie. My address is ***. Around 4pm would work because my husband needs to go pick it up and bring it here. As far as I know there is no cage, so I believe my husband was going to find a box to put him in. Let me know if this works for you.

Brie's Response:
I will be there.

Owner's Response:
Ok sounds good. Thank you so much.

Brie's Response:
Carrie, I am your neighbor, I could almost walk to your house.... :-) I will bring food, water, and an animal carrier.

Owner's Response:
Oh wow that's great! I can have my husband bring him to you if you want he has to go pick him up anyways if that makes it easier. My son's friend lives right around the corner from us. I can't handle him I have extreme allergies to small animals with fur so that is why my husband is picking him up etc.

Brie's Response:
It's not a problem for me to stop over.

Brie's Update to Shelter Mum:
I have picked up the little boy. He is alert and active, does not look underweight and has a nice dark sable fur coat. There is a patch of skin on his neck that looks round and has new hair growth, and a fluid mass on his front left elbow joint. During the drive home I saw him going through throwing up motions. Though he did not cough or throw-up.
No signs of fleas or ticks. The family that I picked him up from were nice, the mom works with GRASP so she has the heart of a rescuer.
To get into the back story, first, there are two families. One, in victor. The other (Carie's), in Greece. Mr. T was found on a construction site, it seems that Mr. T had managed to get into one of the new houses. The Victor father brought Mr. T home where the family got him snuggled into an aquarium with a towel.
Enter the Greece families son, friends with Victor family and that is how Carie got involved. She posted a "found" ad on Craigslist but no one came forward. Since the Victor family couldn't keep Mr. T they had considered letting him back out into the wild. Carie stepped in and did her research, finding us.
These families were not aware that ferrets are carnivores and tried feeding Mr. T lettuce and cucumbers, but he wouldn't eat. I'm keeping an eye on him to see if he show's interest in kibble and water. I will be getting duck soup into him shortly after I send you this email.
Side note: during the drive home I thought, "this dude is ripe. He smells like a ferret just out of PetSmart"....he smells like more than one ferret I guess?
The vet appt is set for Monday at 3pm. I can drive him down to Avon Monday night if you or someone can meet me. Otherwise Mr. T will be staying with me until next weekend.