Welcome to Lakeroad Ferret Farm Rescue/Shelter, Inc.



Merlin, Mombo & Princess



• Surrendered to the Shelter April 15, 2010.
• Merlin was a champagne male. He left for the Rainbow Bridge on February 6, 2012.
• Mombo was a silver male. He left for the Rainbow Bridge on April 7, 2013.
• Princess was a dark eyed white female. She left for the Rainbow Bridge on January 14, 2012.
• Read about how they arrived by clicking here, or read the latest updates below.

• They have a not so far away, far away Grandma in Port Jervis, NY.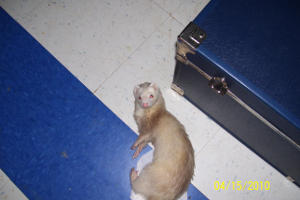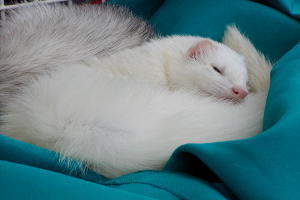 April 7, 2013:
Mombo was here exactly 3 years this month before he left to join his Sissy Princess and his brother Merlin at Rainbow Bridge.
He will be missed and even tho he was not with me in body he always was in spirit! I loved all my fur grandkids! Im sorry for you most of all because with each one that goes to rainbow bridge is another break in your heart! God only sends angles to care for his creations and he sure knew what he was doing when he created you ! Thank you for taking such good care of them God Bless!
December 24, 2012:
Dear Grandma,
Thank You, thank you, thank you, thank you! Thank You, thank you, thank you, thank you! Thank You, thank you, thank you, thank you!
I love my presents and so does Mum!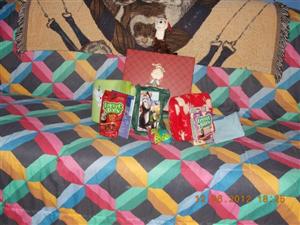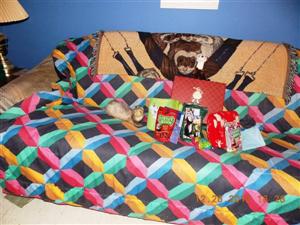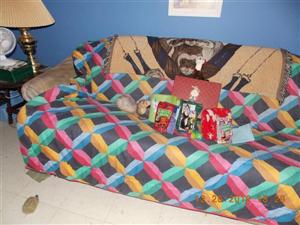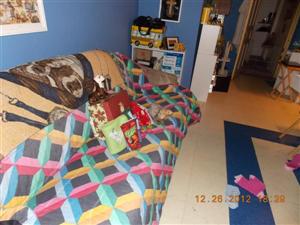 December 17, 2012:
AM: Mombo was up and about off and on all day yesterday, I have kept him up stairs in Mums space he has been eating kibble and his soup so I think we can take a deep sigh of relief. I really thought we were going to loose that little guy. His color is improving by the hour so as long as that incision does not open and start bleeding again I think he will be fine. He went back to his cage in the shelter this morning he got through the night with no bleeding.
Mombo is looking good this morning, I am so thankful we averted a catastrophe. - Brenda

I am breathing a deep sigh of relief now that i know hes on the mend and looking forward to mailing his christmas present out. Do i mail it to the post office like payments? You have certainly earned your wings more than once by helping the furkids. God bless you! - Grandma Bensley

PM: Mombo is doing fine, poo looks great, he is peeing well and eating. No more signs of bleeding. I put soup in his cage for him this afternoon but when I got home it was still untouched, however when I put his evening soup in there with meds I prodded him to get up and he did. His color looks much better than it did this weekend. - Brenda
December 15, 2012:
I am relieved to hear that the vet could fix it! When I saw the email from you I was afraid to open it in fear of him being gone. I am getting ready to send the package out to Mombo for Christmas where do I send it again? Thank you so much for keeping me informed I look forward to hearing from you in the morning. Sending my love as always! - Grandma Bensley

I did something last night I do not normally do, I put a kid that just had something removed back in his cage – I checked him first this morning – there was blood all over the cage and Mombo - he and the cage were a mess.
I stopped everything to get him bathed and looked at. That foot is bleeding profusely I have him set up in the bathroom for now, Stevie will have to wait until I get this bleeding under control. I got some new skin on him but I did not realize what I bought was a spray so getting that on that tiny foot without getting him in the face was a challenge. I am not sure how much I got on the foot - it spays like bee spray, a fast thin stream. - Brenda
December 14, 2012:
A good day at the farm, I called Brockport to find out if Mombo needed surgery or an office visit to remove that pea sized cauliflower thing on his paw. Doc called me back about 10 to say he could do it in the office and Mombo could go home right after. I called Jackie to see if she could take him in sometime next week, I did not want him uncomfortable for 2 weeks. Jackie said she could and would but why not today? She called Brockport and they gave her the 4 pm slot that was open.
I got him set up and in the carrier before I left for work, so when Jackie came to get him he was ready and waiting. I expected I would be up well past my bed time waiting for them to come back.
Jackie and Mombo walked back in at 10 minutes after 5! Her car has wings! Actually she got there early and Doc took Mombo in early so Jackie was headed home just a bit after she was to be there for the appointment. J Mombo can now stand on his foot without discomfort, when I looked for the bill I found a message at the bottom of the paper I sent with Mombo's information from Doc. The message reads: Happy Birthday to our favorite bus driving shelter mom. He did not charge us for the procedure on Mombo's foot.
October 16, 2012:
Wow what a day! These girls come to help and they work me to the bone!
We got the gang of 8 into their new digs and moved Mombo down!
July 6, 2012:
Good afternoon Brenda! Dropping a note to say hi and and send my love and check on Mombo ! I was on your web page looking to see if there was a way i could pay you my monthly payment but i could not find the way ! Then i got reading all the messages back and forth between us and sat here crying ! I wish i was rich i would send you all kinds of money ! Thank you for being Mombos Mum he certainly won the lottery there! Love Grandma Bensley
February 6, 2012:
Merlin earned his wings on February 6, 2012 Doc called last night just before my bed time – after our discussion I could not make myself come back to the computer – Merlin is gone – that was a decision I made – with Doc's input. Doc was giving Dex and fluids Merlin was not responding to anything we did to help him – his breathing was labored here at home - it continued to be at the hospital – it was clear that he just had no desire to go on feeling the way he was feeling – I had hoped that keeping him going until Doc could help would make a difference – I did not want him feeling like that any longer. Doc did the blood work up this is what he found: Nitrates - I was writing fast and abbreviating so I may be incorrect on the names - reading was 94 he told me what is should be I did not write it down – it should have been lower much lower Globulin – 6.7 again elevated Sugar 162 stands to reason he was getting Dexamethazone his sugar was 89 when I checked it when I found him not feeling well last week. Phosphorus - elevated I did not get the numbers Calcium – elevated again I did not get the numbers Doc said his system was shutting down – it was time to let him rest. So to say I had a crummy day yesterday is an understatement – I hate it when I have to let them go without me there to hold them – I had a restless night. Merlin's illness came out of the blue and sudden – not being there for him to hold him really hurts.
January 14, 2012:
Princess earned her wings very early this morning. She left cuddled in a blanket on my chest.
December 30, 2011:
Miss Peach, Mum let us get into the box first! Thanks for thinking of us! - Merlin and Mombo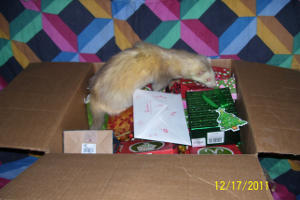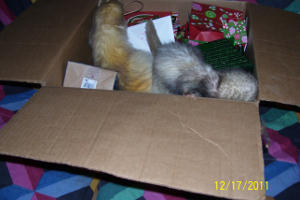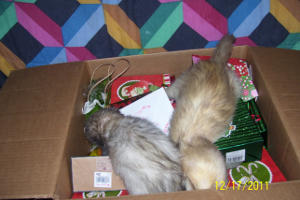 December 18, 2011:
Hi Grandma – mum finally got our pictures with the presents you sended us – thanks for making our Christmas special!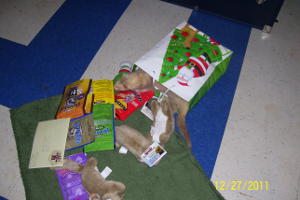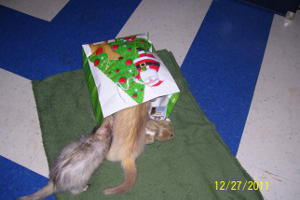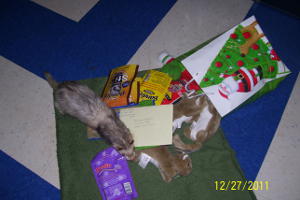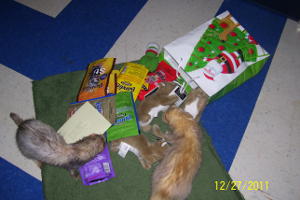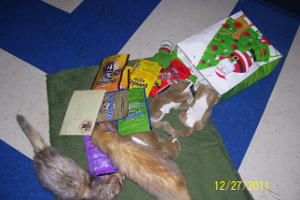 December 14, 2011:
Thank you for including me, Miss Patty! - Merlin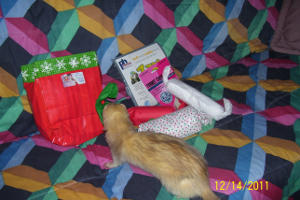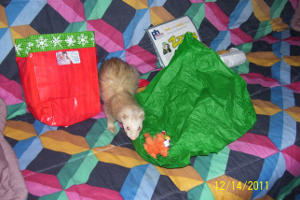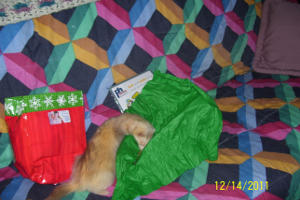 November 20, 2011:
Hi Arretta – I hope you got home safe – that was a very long day for your son and you – please forgive me I have forgotten his name again – I do hope he got some sleep on the way home – God Bless you for your patience – I had forgotten just how busy and demanding a 3 yr old can be on your time – you are a saint. I have attached the pictures I took of you both – they came out great – I would like to add them to Mombo's web page if that is okay with you – I will not do that until I hear back from you – I know you said yes before you left but I want to be sure that it is still okay. It was nice meeting you – again I want to thank you for your contribution to keeping our country safe – you are a far stronger person than I. Brenda
Christmas, 2010
Thank you grandma!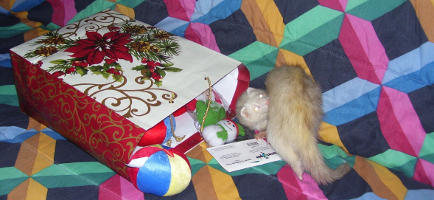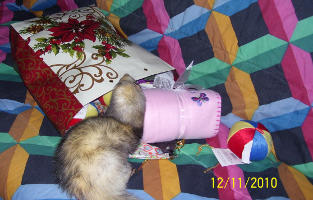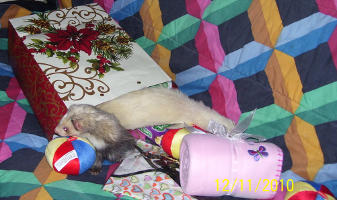 October 5, 2010:
Good morning Brenda, I have just sent out the paper money for you this month. I hope all is well with you and my grand-kids. I was so sorry to hear that Princess has insulinoma I know what it does I have been through it in the past with my own ferrets, the fighting with getting the meds in and watching her try to keep up with the others and falling over it was heart breaking for me and I'm sure it is heart breaking for you as well watching these kids go through sickness. I will continue to send my prayers and my love for the grand-kids including all the kids you have there. Is there any kids that will not receive Christmas gifts because I don't want any of them to go without presents. I want them to all feel wanted even if its only a small piece of my love. Thanks Brenda Love Grandma B. They are doing well – matter of fact they are out on the porch for a few more minutes - Oh my she is doing great – she takes her meds 2 times a day with no problems – we mix them in her duck soup – she loves duck soup. She has adjusted well to the meds - weasel dancing with the boys happily – she had me belly laughing the other day jumping in and out of the rice dig box. Awe thanks. I am putting together the Christmas giving tree kids – when I get them done I will send you who is on it - Brenda
September 16, 2010:
Good afternoon Brenda, It is a nice day today I hope you and all the kids are enjoying it very much. Give Mombo, Merlin, and Princess a kiss and hug for me and I send my love to them. I was wondering Brenda when the time comes to go to rainbow bridge what is done with them. I'm not sure if anyone has asked this before so I was wondering if they could be buried home. I know its a funny question but all my ferrets are buried together and it would be nice if they were buried with the rest. I see that the check i send to you on the 4 did not get cashed yet, did you receive it yet, if not then i will have to find out what happened to it. Before we know it Christmas will be here and the kids will have fun opening their gifts. Is there anything special they need or you need? Have a good day Brenda. Love Grandma Bensley
---
Initial Contact, March 23, 2010, Jen:
Hi my name is Jen. I am in need of help placing my babies but I just don ' t want them to go to anybody. I am not home enough to play with them enough like they should be. It breaks my heart that they are not getting the attention that they should get. I have a 4 story cage filled with beds and toys that are theirs. I have Mambo who is a boy a little over a year and Merlin who is a boy a little over a year also and then Princess who is older that I got from someone who didn't want her because she was blind in one eye. I checked out a lot of rescues and your place looked the best for my little ones. If you could please help me in anyway please write me. Thank you for your time Jen.
March 23, 2010, Brenda:
You are aware you are almost 5 hours south of me? This is what I require if they are to come here to this shelter: They must be current on Rabies and Distemper vaccines with documentation. Everything that belongs to them must come with them, toys, blankets, including their cage. Enough food and water to get them through a minimum of 4 weeks so it gives them time to acclimate to what I use here. Do they all sleep in the same cage together? What food are you feeding them now? When would you want to surrender them?
March 23, 2010, Jen:
I am located in port Jarvis, I don't mind if I got to travel as long as its for a good place fore my babies. I have everything but the rabies and distemper shots for them. Do you give them there if I pay for it?
March 23, 2010, Brenda:
No I do not; you must be a licensed veterinarian to do vaccines, I am not a veterinarian. Brenda
April 2, 2010, Jen:
Hi its Jen again with my three babies: Mombo, Merlin, and Princess that I wanted to take to you. I got all the shots done today so if you could write me back please so we can make a date on when I can drive to you that would be great thanks again Jen
Brenda's reply:
Good morning, When did you want to bring the kids? I will need documentation of both vaccines for all 3 kids. If the documentation is not with them they will not be able to stay when you get here. Please be sure the documents are all current and in order before starting out for the shelter. We need to discuss what day, date and time. Thank you Brenda
Jen's reply:
I was thinking may this Monday if ok with you. I have both documentation vaccine papers for all three. I live like 4 and a half hours away so id prob leave in the am sometime what time is best for you so we can be on the right track
Brenda's reply:
I will be working on Monday I am available from 10:30 to 1:00 can you get here between those hours? I drive school bus so I am in and out all day. Let me know. Brenda
Jen's reply:
Hi I will be leaving here in the morning on Monday and will get there around 12pm .see you then.