Welcome to Lakeroad Ferret Farm Rescue/Shelter, Inc.
Malice, AKA, Mario & Mayhem, AKA Maria

• Surrendered to the Shelter on March 3, 2017.
• Malice, AKA Mario is a male.
• Mayhem, AKA Maria is a female.

• They have a far away Mom, Trish, in St. Peters, MO! They have a not so far away, far away family in Canandaigua, NY!
• Read about how they arrived at the Shelter by clicking here, or read their latest updates below.
July 30, 2017:
Mario went missing for hours, by the time Marcia got here I was sick to my stomach and was getting a headache. I had looked in all the places I could think of many times over. Thankfully Marcia heard him in the drawer under the stove. I looked there but did not see him. I am not sure how he got in there, I have boards secured to the floor in front/under the stove and down the side of the stove. I will need to look into that this morning - M & M and Shasta have been banned from the kitchen. 2 long MIA's is too much for one week. I got him put away just before Joe and Whitney got here.
May 17, 2017:
Today was moving day for Ricardo, Angel, Scully, and M & M - Ricardo has been struggling, I've been thinking of moving him up here to the sick pen, and moving M & M down stairs, this morning when I was cleaning Ricardo's cage I found poo in his food. It is time to get him out of the cage and into the sick pen.
I got him up here, I moved Angel into Ricardo's cage she is going to need meds soon so she may as well be on the meds bank. She is on soup only but the last few days she seems to be falling over. I need to do a BG test before I start her on meds. I don't want to do them when I am on the run, I've been on the run for days now. I moved Scully into the cage, Angel was in - he has been in the playroom the longest, he is the one that gets moved into the ferret room. That opened up his cage to take M & M down to put them in that cage.
April 11, 2017:
Miss Tina B brought M & M back Saturday afternoon from the Tails on Trails event, Mum brought them up to their pen. When Mum shuts the shelter down for the night, she takes M & M down to the library. Mum came up to get them, she found Mario like this. They sure were pooped from their day at the event.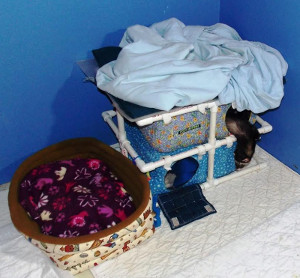 April 11, 2017:
Shasta was out yesterday I could not catch her, M and M were in the same room. They checked each other out and started playing. I will not put them in the same cage but I will allow them to play together. They are out right now running around tussling and chasing each other.
March , 2017:
I have been giving M & M play areas at night because Mario can't be out and about up here while I am sleeping. They got the playroom last night, I did not find anything knocked over or broken so it looks like they did okay.
March 20, 2017:
M & M are officially ferrets - Mario was up on the desk last night, then on the bathroom sink. I took them down stairs to the library and brought Gus up here with me. When I brought M & M up in the morning I had not yet cleaned their pen so I left them in the living room - what a mistake. My desk was cleaned off. Thankfully I had no liquid on the desk. They are spending the night in the library again tonight.
March 12, 2017:
Miss Donna D. was here helpen yesterday she got to meet M and M - Mayhem AKA Maria fell in love with Miss Donna, she fell asleep in Miss Donnas arms. Miss Donna let both M & M crawl up her pant legs. They had a grand time hanging out with Miss Donna.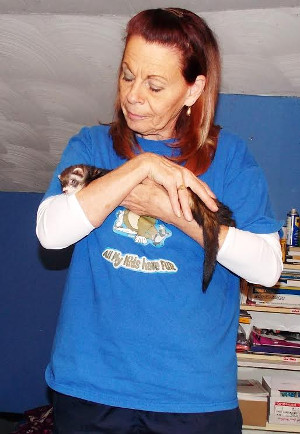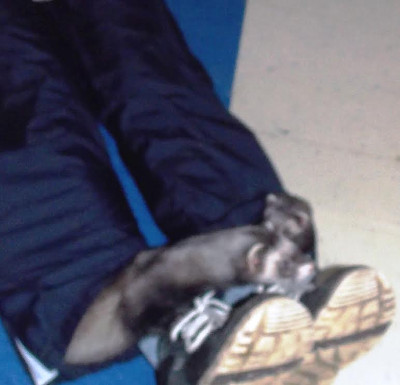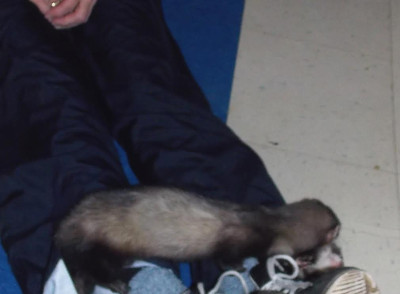 March 8, 2017:
I got word that M & M have been released as of 3/2/17 they now belong to us, I was told there are people that want to adopt them. I told Laura to send them our way.
March 7, 2017:
M &apm; M are becoming ferrets, Malice was at a dead run, saw me moved and dove under the sofa just like a ferret. Mayhem is beginning to dance.
Email from Ontario County Humane Society, March 7, 2017:
Brenda,
The ferrets have been turned over to us as of 3/2/17. We have had interest in adopting them and wondered if you would like the persons information. Also, did we have you sign something when we turned the geese over to you? I can't remember and want to make sure I have all my I's dotted and T's crossed.
Laura
February 27, 2017:
M and M got to spend the night out of the pen, they dropped in to see what I was doing, they did not torment. Mayhem is like I puppy she follows everywhere I go.
February 25, 2017:
M and M are doing very well, I lied they are not eating the soup on their own, I found it dumped under the food dish. I am feeding them soup with the dropper, both are taking a minimum of 15 mls last night they did much more than that.
February 23, 2017:
M & M both took their soup/med without a fight last night. Malice finished up the bowl of soup on his own . Mayhem took the entire dropper without any argument. Awesome looking poops in the pen this morning, I do believe we have them well and stable.
February 22, 2017:
AM Update:I have all the cages cleaned I can get one more cage group up before I leave but I will do that after I get M & M packed in the van, so I can just drop the ones that are going to be up over the barrier in the upstairs hall way. I had to give Mayhem fluids again last night, she still fights me with the dropper of soup. Malice took 10 mls of soup last night. He is doing really well. PM Update: I still have to give M & M their soup and meds. Doc was pleased with their checkup. His first words when he saw me in the waiting room where, did you get a call from OCHS about the abandoned ferrets? I pointed to the carrier and said yup that is who you are seeing today.
February 21, 2017:
M & M are leaving me wonderful formed looking poo. They are eating. I am relieved. Laura called from OCHS said they need an itemized invoice from me for their care, medications and vetting, from the day they were dropped off on Feb 15th to March 2nd. I figure March 2 is the date the owner is going in front of the judge.
They are gathering all the reports I've sent as well as costs incurred to take to court with them. The April 29th event we have been invited to set up at; is OCHS fund raiser, that is how they can pay for the animals that are cared for but folks like me and the horse farm that took the 14 horses a year ago that were removed by Animal Control.
I am going to get meds into M & M then get ready for bed.
February 20, 2017:
M and M are holding their own. Malice had his face in the food dish, is looking a bit better. Mayhem was gagging and drooling so I decided her BG was probably low because she is not eating. I gave her a Dex shot this morning she had her face in the food dish this afternoon. I've tried to get pictures of them eating, but they stop eating if I get near them when they are out. I need to document for OCHS everything I do for them. I would guess they feel like every time I touch them I am poking them with needles or cramming meds down their throats, when they see me coming they go back into the bunk.
February 19, 2017:
The 2 new ferrets are back on fluids, still on Carafate, I've started them on Amoxicillin and soup. Their poo has gone from good color and solid to slime green. Slime green is better than the slime black we were getting when they first got here.
The Carafate is keeping the ulcers at bay. They are eating some, each has decided to eat the ferret food I have in their pen instead of the cat food. Mayhem is picking at the 8 & 1 ultra ferret food, (just a step above the cat food) I keep that on hand just for this purpose, Malice is picking at the Marshall's food. I say picking because they are eating maybe 4 pieces, they come to the dish about 3 times a day.
I was able to get 5 ml of soup into them this afternoon Amoxicillin included to the dropper. I am hoping the Moxy added to their list of meds, will help settle the bacteria they have in their digestive systems due to all the stress they have had to deal with.
I just got another 5 ml each into them before I head to bed.
February 18, 2017:
The kids are eating! Malice - is looking really good, Mayhem - is looking a bit better. I am guessing that Malice is the boy and Mayhem is the girl. I woke suddenly when I heard crunching, I grabbed the flashlight I keep at hand - found one of them with their face in the food dish. I am not sure which one was eating because I did not get up.
This morning the little girl had her face in the 8 in 1 food while I was sitting in the pen with them giving them meds. The Marshall's food has some davits in it so I am guessing the little boy is eating that, that was the dish of food I saw the ferrets face in when I used the flashlight to see what was going on.
I will continue with the Carafate, I have the fluids warming but I am not sure I will need to do fluids this morning. I give them the meds let them settle for the 15/20 min as prescribed, before eating then do fluids. I am relieved they seem to be on the mend. I am still giving the new kids Carafate but they no longer need fluids. They are looking better and pooping good looking poo so they are eating. I really thought we were going to lose them.
February 17, 2017:
AM Update: I got the two new kids scheduled to see OFD on Wed for check up and vaccines, Ontario County is going to cover their vet bill. They are still not eating, I've been doing Carafate for the icky poo, I started them on fluids, 20 cc each. They still have some fight in them neither of them stayed still for the fluids.. that is a good thing.
I got a call from Laura; office manager for Ontario County, she was able to give me a bit more information on the two. What I did not know was the person that tossed these kids into the dumpster did so with them in the cage. The person was found and has been charged!
Now I understand why Laura told me to send them the bill for the vet.. because these kids are a court case.. They are not ours they still belong to Ontario County H.S. , until the judge releases the custody of them to us after the trial. Laura was able to see what looked like food on the bottom of the cage (pictures they took to document) she says it looks like cat food. I went out to get a handful of our barn cats food for them maybe they will eat that.

PM Update: the 2 new kids are not eating. I am now force feeding - I have a pen up here with them in it with a dish of mixed food more marshals than the rest, Purina One kitten, and 8 in 1 cheap crap I keep on hand for this purpose.
---
Initial Contact, Owner, February 24, 2015:
I got a call from Ontario County Humane Society - Laura - they had 2 ferrets that were found in a dumpster in Bloomfield, ACO brought them here to us. I have them in the playpen for the night. I've contacted the family interested in Lance to see if they will take these 2. They could not have been out for long they are in pretty good shape - both sables - one male one female.
Leslie, Shelter supporter, February 19, 2017:
Hi Brenda,
I wanted to pass this along to you. Today I read in the Syracuse paper that a woman had been charged with abandoning two ferrets that she let loose in an apartment complex parking lot. Someone who saw her rescued the ferrets and called the Ontario Humane Society, who picked them up and launched an investigation.
Anyway, I wasn't sure if Lakeroad had an agreement with Humane Societies in the area and wanted to let you know about these guys. I'd guess that if you have room for them, Lakeroad would be a better place for them than a general shelter.
Thanks for the work that you do.
Leslie

Shelter Response, February 20, 2017
Thanks - yes they are with us. They will remain in limbo/in our care until the trial - once that is over they will become Lakeroad kids
News article, February 16, 2017:
Bloomfield, NY — The Ontario County Humane society investigated an animal abandonment complaint early Wednesday morning.
Sharon Anemaet, 40, of Bloomfield was arrested on Friday after she allegedly abandoned two ferrets at a dumpster at 8 East Main Street in Bloomfield.
Anemaet was charged with two counts of animal abandonment and cruelty to animals.
A witness was able to capture both ferrets before they were injured or harmed by cold weather.
Anemaet was arraigned on these charges in East Bloomfield Town Court and has been committed to the Ontario County Jail in lieu of bail.