Welcome to Lakeroad Ferret Farm Rescue/Shelter, Inc.
Leo & Venus

• Surrendered to the Shelter on August 28, 2015.
• Leo is a sable male.
• Venus is a dark sable female.

• Would you like to Sponsor these two?
• Read about how they arrived at the Shelter by clicking here, or read their latest updates below.
August 23, 2017:
I called OFD to get an appointment for Josie we need to get that nasty thing off her back, Star took her place with the abscessed tooth last month. We were able to get her in for surgery tomorrow, she needs to be there at 9 am. Miss Donna D. is going pick her up and bring her home Friday.
I was going to see if I could get Leo in too but the Pred seems to have kicked in, he has put on some weight, and the poops are starting to look normal. - go figure.
August 22, 2017:
Kids are bulking up for winter, getting their wither weight and fluffy fur, Leo on the other hand is skin and bone. His poops are awful, I've had him on Moxy, then Moxy and Pred now Pred 2 times a day and it is not making a difference. It is time to reach out to OFD.
March 7, 2017:
I spent the day keeping up, then getting Angel and Leo switched into the others cage.
December 24, 2016:
Dear Santa Butch and Debbie, Mum let me get into the presents you sent us for Christmas.. wow oh wow you sure sent us lots of awesome stuff. Thanks for helpen Mum take care of us.
Thanks for picking us to be your Christmas fur kids
Venus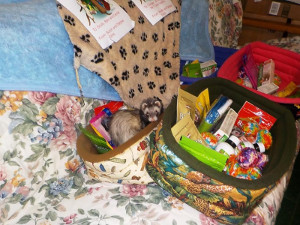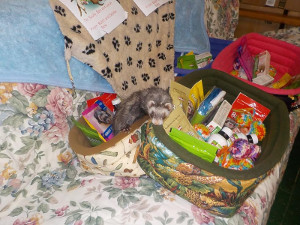 August 10, 2016:
I am supplementing Venus and Leo with soup only to keep them from stressing from the change in their lives. So far so good.
August 8, 2016:
When Leo and Venus came in August last year, they came in together but they have not ever been a bonded pair. I kept them together because I did not want to add another full cage. This morning I moved Leo to the cage Damian had been in - I would put them in the play rooms together but only the big rooms so Venus could find a place away from Leo. They now each have their own cage, I will see tomorrow if I can continue to put them in a room together. That may change once they get used to not having to live together.
July 19, 2016:
I decided since Leo and Venus are not exactly friendly cage mates in that they will sleep together in the same hammock I put them into the larger cage giving Venus more room to be away from Leo.. They came in together but do not act like a bonded pair.
July 6, 2016:
Dear Miss Bert,
Mom got our fountain set up this morning. Take a look, Leo is having some treats while Mum gets things put together and water in the fountain. Mum says I will get my turtle when she strips my cage and puts clean bedding in there. She will get a picture of it in my cage (with me in it?) when she has it done.
Thanks for helpen Mum take care of me/us, you're the best!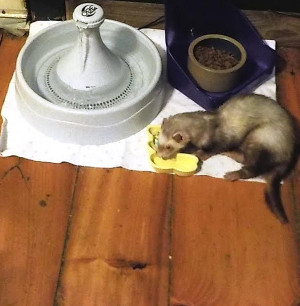 March 5, 2016:
Today will be moving day for some kids, I am moving Fred and George over to where Jenkins was living (pink meds card) then moving Leo and Venus into the ferret room where Fred and George were living.
December 14, 2015:
Last week kept Mum really busy with packages coming in daily for us. We want to share with you, us opening our presents that have come in. The Sims Family Santa's sent us all these presents! Thanks for helpen our Mum take care of us!
Leo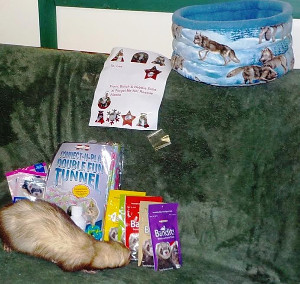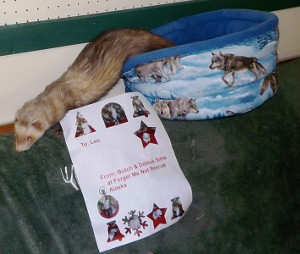 October 25, 2015:
I lost Big Mike and Venus for a while, got Leo and Slinky mixed up and in the wrong cages...I remembered I had been doing kitchen stuff this morning so I checked the cupboard sure enough Big Mike was sleeping in the colander, I found Venus in a room that I did not expect her to be in so that is how I got Leo and Slinky mixed up. I thought they were in a different room...changing tags on cages this morning was not being done consistently.
August 29, 2015:
I have attached pictures of the new kids that came in yesterday; Leo and Venus. They did not come in with food, I have seen Leo eating, I have not seen Venus eat. It may be I just did not catch her at the food dish. She looks bright in the picture I hope she is going to adjust. There were living in cedar shaving, so being here just added a few years on their life getting them out of that toxic stuff.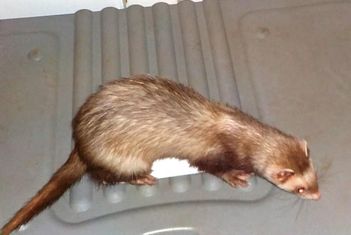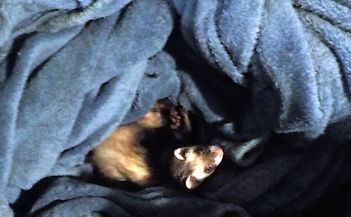 August 28, 2015:
The new kids are here, a girl and a boy. The case worker got lost and went 60 miles south out of her way. She finally called and we got her back on track, she just left. I called OFD this morning, we have an appointment for the new kids on Wed at noon. I needed to get them in this coming week because we go back to work on the following Tuesday.
---
Initial Contact, August 25, 2015:
Hello,
I don't see a number for you, so I'm sending an email. My name is Jo Cuson and I work for an agency called Safe Harbors of the Finger Lakes. We work with individuals that have been affected by domestic violence, sexual assault, child sexual abuse, and elder abuse. We're a Non-for-profit located in Geneva NY and serve Ontario, Seneca, and Yates counties.
I have a client that is in a horrible situation, and needs to give up several animals. Included in these pets are 2 ferrets (If you deal with other exotics as well, please let me know.) Both of these ferrets are very friendly and interact with humans a lot. One male and one female. The owner believes that they are in need of shots and it is not possible for my agency or her to get that taken care of. I read your surrender policy, and am not sure if you have any move room at all. I have called other shelters, but they will not take the exotics. They don't want the rats, hamsters, mouse, or ferrets.
I'm sort of out of options and not sure what to do. I'm hoping that you have room for them, or at the very least could point me in the direction of someone that could take them.
If you could please send me a message or give me a call, that would be wonderful. Thank you for your time.
Shelter Response, August 25, 2015:
Our surrender policy is only for families that no longer want to be responsible - we will take the ferrets as is to help get this family out of this bad situation.. give me a call we can discuss how this is going to happen.. I have a family that will take the rats possible mouse I can see if I can find a home for the hamster if need be. We make room for these situations.
Hi again Jo, I just got off the phone with KC and her mom they will take the 3 rats. Mom and KC will be here on Friday to meet you and receive them. Thanks again for going above and beyond to help these critters. - Brenda