Welcome to Lakeroad Ferret Farm Rescue/Shelter, Inc.
June

• Surrendered to the Shelter on November 11, 2016.
• June is a male.

• Would you like to Sponsor him?
• Read about how they arrived at the Shelter by clicking here, or readead his latest updates below.
February 12, 2017:
Hey cyber friends and shelter supporters - Once again we got a message from SCAT Inc; they were having their own Lonely Hearts Club this Valentine's Day. Miss Sharon asked Mum to send her the names of 3 of us that would like to have receive Valentine gifts. Mum sent the three of us newest fur kids that have come to the shelter. The Box of things SCAT Inc sent got here this week… Mum got pictures of us checking out the stuffs. Thanks Miss Sharon for helpen our Mum take care of us… Here is their Facebook page.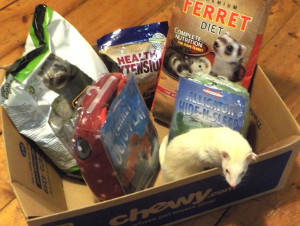 December 2, 2016:
June is doing great, bouncing around like a ferret.
November 25, 2016:
I found him sleeping up in the bungalow and hammock, that tells me he is feeling much better. He is out and about this morning in the ferret room.
November 24, 2016:
June was showing some signs of interest in moving. Not a lot, not for long but some. This morning June had his face at the bars of his cage waiting for me to get him up, a first. I put him in the playpen he has been using all this time. We headed up to Doc at 6 got in for the first appointment. When we were put into the exam room I opened the carrier for June, he popped out and started skirting the entire perimeter of the room. Poked his head back into the carrier to be sure it was still there and back to investigating the room. A true ferret. When Doc walked in I told him this was the most movement this kid had done in the 2 weeks he has been with us.
Doc did his hands on exam, put him on the scale, did a check over with stethoscope. June has gained 15 oz, his color has improved to pink instead of washed out pale. He left a pile of poo in the corner for Doc to see, color, size and consistency was excellent. I told June that he could have shown this improvement a day or two before; to save me a very early road trip to Brockport. We discussed the meds he is on, we are backing him off the Pred to once a day for the next 3 then once a day every other day until Thursday. I will continue the Moxy until Thursday 12/1/16 all meds will be done that day.
We opted for no blood work, X-rays - I did not argue, maybe I should have but it seemed silly to put the kid through more poking and prodding when he was feeling so much better. We did not do Vaccines because of all the meds he is on, but I am taking him back up over Christmas vacation to get them done if we do not have a setback and need to go sooner. When we got home I let him have some run time in the library. Take a look at the pictures I took. I hope I made the right decision. He was a ferret today not a dishrag.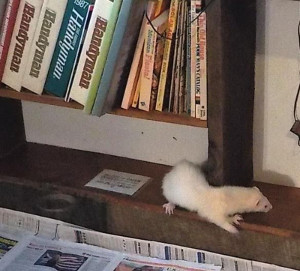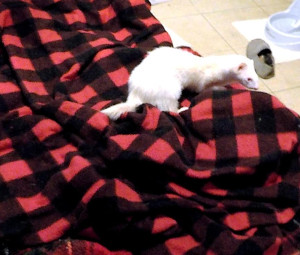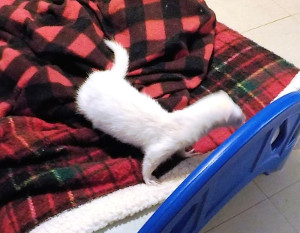 November 23, 2016:
June is showing signs that he is interested in moving and looking around. I hope we can get some answers before we head home.
November 22, 2016:
June was moving more like a ferret this morning, looking around the playpen checking things out. Not for long but he was acting like a ferret. That is encouraging.
November 21, 2016:
I am planning on taking June back to Doc on Wed first thing in the morning. He is eating but not doing much of anything else. This is not a quality of life, we need to find out if we can fix this if not we need to make a decision.
November 19, 2016:
June is doing okay, his eyes are a bit brighter than they have been, still a bit lethargic but he is back to eating and taking his soup and meds. I am not going to breathe easier until he starts showing more movement.
November 18, 2016:
June was awake and responsive this morning when I got downstairs .He had many good looking poops on his pad. He ate a full bowl of soup with meds then put himself back to bed in the playpen. Full tummy tired. I got 20 cc of fluids in him before he had his soup. I can tell he is starting to feel a bit better because when I put the needle in he does not want to stay still. Same with temp. Prior to yesterday he would just lay there and take it. I am not sure we are out of the woods but we certainly seem to be progressing to the healthier side of life.
November 17, 2016:
Doc wants June back to the hospital. When I called OFD I was told to put June back on Pred, start Moxy and continue fluids. Get him up there when I can. When I put him away in the cage at 10, after I had done 20 cc of fluids, he looked dead, he wasn't but he sure scared me. About an hour later I went to check on him he had his face in the dish of kibble. I immediately went to get him a bowl of soup got some Pred in it left it in his cage. He went right for the soup. Tonight when I got home he had his face in the kibble, I got him up to do fluids got him a dish of soup with Moxy in it he ate it all. I put a second bowl of soup in the cage for him. He had more spunk and sparkle in his eyes tonight than I've seen in a week. I am hopeful.
November 16, 2016:
June looked a bit more alert but you can tell he is still not feeling well.

PM Update: June has stopped eating. Up until late morning June would eat a bowl of soup whenever I set it in front of him. The 11 am dish of soup was not touched. There is one very small looking poo in the corner of his poo pad when I got home from work tonight. He had no interest in getting up to have soup when I did meds at 5. I am not sure what we are going to do, I have him on injectable pain meds now. Doc emailed this morning to find out what is going on with June. I just sent another report to him. I took a picture of him late morning this is how I found him.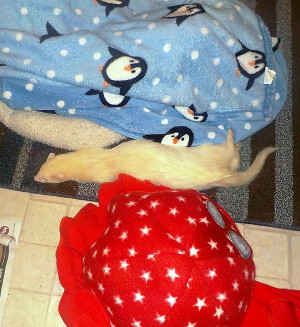 November 15, 2016:
June is really feeling crappy, he was stretched out flat on the floor in the playpen this morning. I hope when I call Doc in the morning he will agree to do some blood work on this kid so we can figure out what is going on. IMHO he is suffering but Doc wants to finish out his 5 days of Pred.
November 14, 2016:
June is so so, he is still eating, drinking, eating soup when offered. His temp is down to 102.7 - I spoke with Doc, he said keep doing what you are doing.
November 13, 2016:
AM Update: June is hanging in. he is eating, drinking but not moving around much. I put him in the playpen this morning with his soup. His eyes tell me he feels like crap.
PM Update: June is still not interested in being a ferret, he is eating, drinking but sleeping a lot. He will eat his soup with meds on his own. I took his temp this morning it was 103.2 so the Pred is keeping the temp in check but it is also suppressing his immune system so I was told to watch close that he does not develop other problems.
November 12, 2016:
Kevin and Christine got here about 10:30 with June. It is clear June does not feel well. He is eating, has good poops but has little interest in doing much but sleeping. Doc has him on Pred 2 times a day for the next 5 days. He ate a full bowl of soup with me holding him.
November 11, 2016:
I did speak with the family with the sick ferret in Niagara Falls, I was on the phone with them when Chris got here at 8. I told Chris go look at the white board see what's on the list you can do without me until I get this crisis settled. The little one had a 106 temp was on meds but was not responding to them, they could not afford to do any more medicals for him. The family said they would take June to OFD and surrender him- I told them I would call the office to be sure we could send him in. Doc said yes. I sent surrender form to Doc by email with what information they shared with me. I called them back they were getting him packed up and ready to leave for Brockport. I guess he got to Brockport about 11.
---
Initial Contact, Owner, November 10, 2016:
Hi my name is Brooke me and my husband's 11 month old ferret is really sick he has abdominal pain and a fever we took him to the vet and got him antibiotics and anti inflammatory pain reliever. They want to run bloodwork and xrays and they want to charge us 500 dollars just to tell us what's wrong with him. We recently fell into some financial hardship my husbands landscape business is slowing down for the winter and I just got let go from my job due to budget cuts and our landlord let the house we've lived in for almost 5 years go into foreclosure and we have to be out soon and every place in the area wants at least 2000 to get in. We have 3 pet ferrets the one that is sick he was given to me by a girl that couldn't keep him anymore and didn't want him to end up in the spca. we have only had him for about 7 months but we love him so much he is such a good boy and I do not want him to suffer but if this is a situation that requires him to have vet care I can't afford it right now due to all the things going on right now financially. I've applied for a pet care credit card and got denied. If you have any advice or information that could help us or if it came down to it we would rather surrender him and get him the care he needs rather than have him suffer we would only consider this as a last resort as we do love him a lot and we can afford his care in the future. Our number is ******* thank you.
Brooke and Kenneth
Niagara Falls, NY
Shelter Director to Dr Edwards, November 11, 2016:
Doc - You have a kit coming in - below is the message I got this morning - they are turning him over to us for you to vet as needed.. temp last night was 106 this morning at 8 still at 105 with 2 doses of antibiotic they did not say what kind. Surrender form is attached.
Thanks Brenda
Previous Owner, November 11, 2016:
We just got home from dropping June off at Brockport animal hospital. If you could just let me know how he is or if he passes away and what was going on with him because if I could have prevented it I have two other boys I'm keeping a close eye on because I don't want that to happen to them. I understand are the other 2 ferrets as young as June?
June is a very good boy he was very very loved in our home and always will be.
He is usually very energetic and he plays ruff with other ferrets but he loves to be around others he don't like being alone and needs a lot of out of cage time.
He never got really big my other ferrets grew big June on the other hand has stay the same size for a while he was very tiny as a baby. He was our little short cake and we will never forget him.
If you get the chance to meet him he will leave paw prints on your heart please give him every and anything he deserves the world and the chance to have it. That may be what was going on...Did you tell your vet that? How much did you use on him? Did you get the revolution from the vet?
He loves to eat especially egg yolk. I appreciate everything you've done for us you can give him the healthcare and attention he needs right now that I just can't afford and If I could I think you could give him the best care.
Please keep me updated If he pulls though I would like to send him gifts and donate for Christmas and I would also attend any fundraising opportunities for your shelter so keep me in your mailing list thank you for everything your help is appreciated more than I can even explain.
Brooke and Kenneth
Niagara falls, NY
Shelter Director:
Okay. Our shelter gives our ferrets 8 to 10 hours out of the cage, when June gets here he will have 8 playrooms to investigate. Here is a picture of one of our ferrets, he is a paraplegic, but he still gets himself up on his bed. He is still a baby, they do not get larger or get ferret fur until they are about 1 year.. He has 6 months to grow into his body and lose his kit fur. You will be able to watch his page once he is here. He will be on our website.
No doubt in my mind, I've been doing this for 25 yrs, and not once have I met a ferret I did not like.
He needs to be updated on his shots and I just put a revolution flea and tick prevention on him about 3 days ago.
He is in the very best hands there are; if Our Favorite Doc (OFD) can't fix him, no one can! 1:30 pm - I just got off the phone with Doc.. June has been given 20 cc of fluids, a shot of Dexamethasone and has been dropper fed soup. His temp is just a bit over 103 at this time. Doc is going to keep him overnight to see if he improves if not we will do X-rays to see what if anything is going on inside that little body.
That would be perfect - I will let you know what I know when I know it. We know he is staying in the hospital for the night depending on how he does overnight he may be able to come home tomorrow. Brenda