Welcome to Lakeroad Ferret Farm Rescue/Shelter, Inc.



Ginger



• Surrendered to the Shelter May 10, 2008. She left for the Rainbow Bridge on October 24, 2014.
• Ginger was a silver female. DOB in 2004.
• Read Ginger's updates below.

• Ginger had a far away family in Lebanon, TN. Thank you for helping Mum take care of me!

Ginger was living in Newark, New York with a family that could no longer take care of her. I was told she was a biter, however she has not bitten me since she came in. Ginger just needed a human to understand and love her. Run time was an issue at the home that had her; so I would guess Ginger was just not getting out of her cage enough to be happy. She is a now happy little girl!
---
October 24, 2014:
Dear far away Dad, I got permission to from the gate keeper on Rainbow Bridge to let you know I left this afternoon while Mum was at work. I want you to know you were the best far away dad in the world. Thanks for taking such good care of me for so many years.
Be happy and know that I love you even on Rainbow Bridge.
Ginger
October 24, 2014:
Ginger, I found her upside down sleeping in her own poo this morning, I dropped what I was doing and gave her a bath to clean her up. Where I put her after her bath is where I found her when I got home from work this afternoon. She is gone.
October 4, 2014:
I gave Ginger the full upstairs last night she waddled into the bathroom and settled into the bunk in there for the night. She is like the energizer bunny she keeps on moving.
August 28, 2014:
What a day, Tori pulled in shortly after we got to OFD - we beat the staff and open hours so while we were waiting to get in Tori pulled in, we had all of Gingers things ready for her so she grabbed and ran after a short discussion with us.
August 1, 2014:
I had to dunk Ginger in the sink this morning she needed her little feet cleaned off. I am pulling together her vacation bag so I have her packed and ready for the trip to meet up with Tori on Monday the 25th.
Patty (panda) Mary Ellen, myself, Jenkins, and Frenchie have an appointment with OFD. Ginger is going up with us Tori is going to meet us there to grab her. She will keep her until I am back from NM.
December 24, 2012:
Thank You, thank you, thank you, thank you! Thank You, thank you, thank you, thank you! Thank You, thank you, thank you, thank you!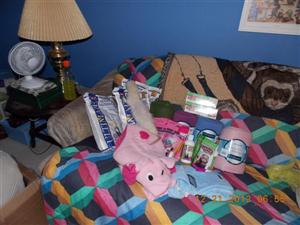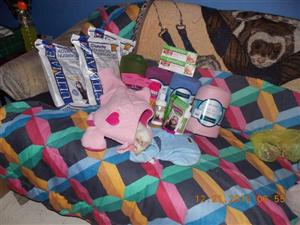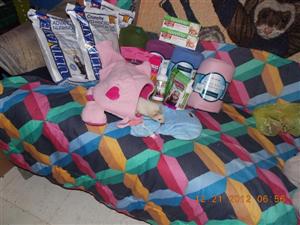 December 18, 2011:
Thanks far away dad for all my presents! - Ginger