Welcome to Lakeroad Ferret Farm Rescue/Shelter, Inc.
Daisy May, AKA April

• Surrendered to the Shelter on July 25, 2008.
• She found a forever home on March 22, 2009!

• Daisy May was a sable female. She left for the Rainbow Bridge October 2, 2013.

• Daisy May was sponsored by a shelter friend in Greenacres, FL.

• Read her latest updates below.
Daisy May was found out running around in Churchville, New York. The story I was told is the kids that lived next door to her kept finding her out side running around, so they would take her back to her owner. Finally one day they found her, took her back and the adult that owned Daisy May. The owner told the kids to stop bringing her back she threw her out she did not want her anymore. The kids told their mom so mom called the local animal control officer. The ACO took Daisy May in, they had to pick 20 ticks off of her, she was looked over by the local vet. Animal Control in that area is not set up for ferrets so I was contacted luckily we had one of our shelter friends here when the call came in. Daisy May was brought to Naples by our shelter friend Cathy R. the next day.
---
October 25, 2013:
April left for Rainbow Bridge on 10/2. She was a blessing to us for many years and is sadly missed.
Donna
April 5, 2010:
Mum reminded me that I haven't sent an update on April & Sunny for a while, so here it is:
You know we lost Magic at the end of January. Sunny, his cage mate, was missing him and the snuggle up closeness they shared. Fortunately, he had developed a strong support network with his other playmates. With a little re-configuration of the cages, Sunny is now sharing a 4 story cage with the other guys - Petey, Preston, Ripley, Junior & Beamer. His "sunny" disposition is back full strength. April, our little tomboy, has joined her sisters in the "girl cave". She is enjoying a closer bond with Sugar, Ricki & Dixie. With the unfortunate passing of B'loo, the girl cave expanded to 4 stories also, so everyone has plenty of room for private space if they choose. April still enjoys a special relationship with Ripley during playtime and sometimes he's allowed to spend the night. That's all for now.
Blessings, Donna Z
March 25, 2009:
Today we are back on track. Daisy played with my guys, again climbed in the cage as yesterday. I'm not letting her stay there - 1. Because I think 8 in there is pushing capacity & 2. It's too soon to trust everyone together when we're not watching. She's very outgoing and congenial. Her only problem seems to be a slight aggression toward B'loo. No surprise as he is the weakling - the one with the neurological problems & possibly going adrenal. If she doesn't accept him, we can work around it as he is pretty content to spend his out time alone. Because he doesn't climb, he can be left out whenever.
April 9, 2009:
The kids are doing great! Daisy May is now April Daisy. I didn't really intend to change her name at all. I just wanted to call her April. She answers to April, so I guess it was her idea. Anyway, she is fine with all 7 of my original cast. I'm beginning to see her developing a bond with the other 2 girls. I let her stay in the blue cage with them over night once after she went in on her own, but I think that was too much. She doesn't like B'loo (weakling) and for some reason, she doesn't like Sunny & Magic. Apparently it didn't take her long to claim territory.
Christmas Gifts, 2008:
For Daisy May, from Brenda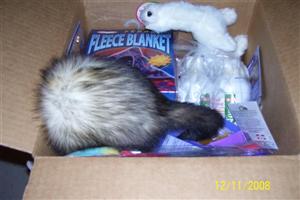 For Daisy May, from Priscilla