Welcome to Lakeroad Ferret Farm Rescue/Shelter, Inc.
Daisy

• Surrendered to the Shelter December 12, 2011.
• Daisy is a female.
• Read about how they arrived by clicking here, or read their latest updates below.

• Daisy has a not so far away, far away mom in Skaneateles, NY.
Daisy has adrenal disease, she is 8 yrs old 96 in human years, so she will stay with us at the shelter for the remainder of her life. Daisy was once one of the ferrets that did not have many play rooms she could be left in unattended. She has slowed such that now she can be left pretty much unattended in any room we put her in.
---
September 9, 2017:
I moved Daisy and Gus over to the medically challenged bank. Neither of them are on meds but both are elderly Daisy being 10 yrs old and Gus is showing signs of slowing down. I expect they will be on meds not too far down the road.
February 14, 2017:
Daisy is showing some real signs of being on life's edge as well, very thin, her cataracts are so bad she sometimes runs into things.
December 4, 2016:
Dear Far away Mom - I love my Christmas! Thank you so much for getting me Snoop bedding I love Miss Sandy's stuff. Mum took lots of pictures of me checking it out.
I love you
Daisy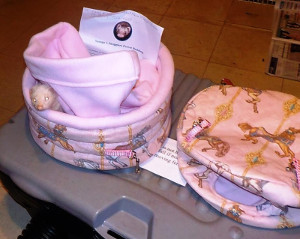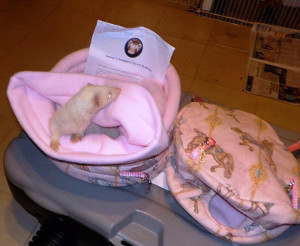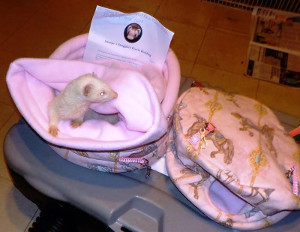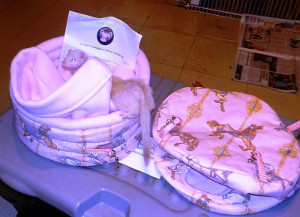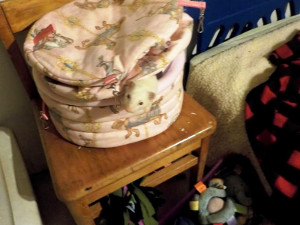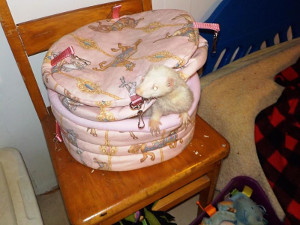 February 26, 2016:
I tried a new tact I let Daisy in the playroom last night. Generally she does not even get the playroom when Marcia is here to help. Daisy gets into the playpen on her own. I did not find any cages knocked over, she was not in the PP when I got down there so I guess she is going to be okay to leave in there when the pen is empty.
January 11, 2016:
Marcia brought Daisy's Christmas!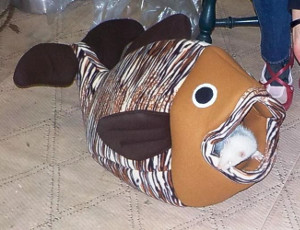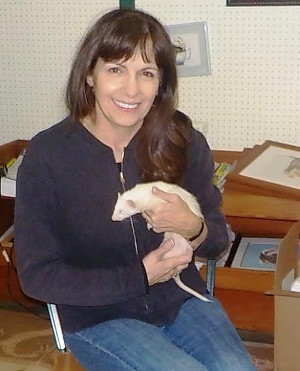 April 11, 2015:
We had a great day catching up with Marcia. Marcia pooped Daisy out. I had set Daisy in the kitchen knowing Marcia was due in anytime. When Daisy heard Marcia's voice she went crazy. She knew right away who was here. Marcia and Daisy went from room to room picking up after the messes the kids had left. I got two more cages covered with the stats boards and the cards attached with Velcro dots. 2 more cages to do and all cages are done.]
December 21, 2014:
Patty's boy in the present Marcia got for Daisy.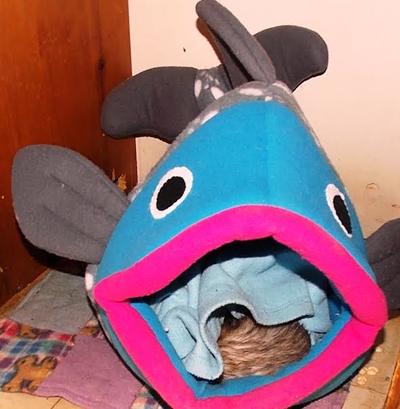 December 15, 2014:
Marcia brought Daisy the coolest sleep sack, Daisy had a blast running in and out of it, snagging toys and putting them in the sack. I will try to get a picture of it tomorrow.
August 2, 2014:
Another safe place for us to play and sleep!
Daisy here! Mum made these boxes special because of me, you see I love to climb as much as I love to jump so one day I scaled the front of the cage got to the top and could not get back down. Sooooo Mum built these sleep boxes on the top of the cages so we do not have to scale the front of the cage to get to the top. We can run through the tube in the back of the cage, then up into the other tube that takes us all the way to the top. Mum has beds and blankies up there, a litter box too because we are too lazy to go to the floor to go potty. We even take toys up top to have in our beds. This is me, I get into the trash to play with what Mum puts in there, food bags are great fun!

Off and running
Daisy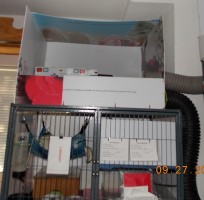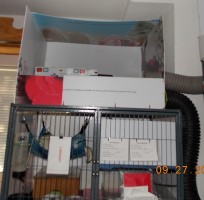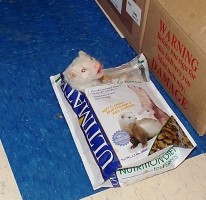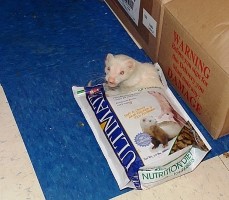 July 5, 2014:
Applications to be considered for staff positions on the Master Largo Newsletter

Dear Daisy,
Let us first express to you our most deep condolences on the loss of your partner-in-crime, Sarah. Sarah lived downstairs from us CNY girls and was Jenkins' next door neighbor so we can fully empathize with the sadness you are feeling right now.
On a more practical note, Sarah's passing has meant that you are now head of the Master Largo Newsletter. Putting the newsletter together every single month is such a tough job, even for two fuzzies. You have to gather up all the info to go into the newsletter from Mum, then it has to be organized and prioritized as to what gets discussed first, then second, and so forth, then there is the job of getting it all typed in. It always was very entertaining to see you and Sarah tussling for control of the keyboard. Once everything was in place, then comes the hardest job of all, pushing the SEND button so that all our Shelter Friends can get a copy and find out how things are going here at the Shelter. As this was THE most important job of all, we are sure you were the one to perform that task each month without fail!
We, the CNY girls and our royal brother Jenkins cannot even begin to imagine how you will be able to handle it all on your own, so we four put our fuzzy little heads together and have come up with a plan. We would like to be hired as your staff. Daisy, of course, would be Editor-in-Chief and Sandy could be her secretary. Frenchie and Rizzo could be the roving reporters. Frenchie's beat could be the playroom and Rizzo's beat could be the library. And as a team they could sneak up to Mum's space for the extra sensitive, secret, investigative reporting:

Rizzo: Pssst! Hey, Frenchie! How is everything? What do you see up there?
Frenchie: The coast is clear! I tugged on Mum's blankets a few times and she didn't budge. That means she's asleep.
Rizzo: Great! You take one slipper; I'll grab hold of the other. We'll sneak them down and hide them each in separate hidey places and then have fun watching Mum go crazy looking for them in the morning.
Then, of course there is our Royal brother, Lord Jenkins, III who could handle the society pages for you. He knows people in high places and he would certainly be the one to land those sweet spot interviews with only the best members of Ferreton Society. As a peer of the Realm, he could have access to the swankiest events, the best parties, all the red carpet affairs; he might even get an interview with The Queen!! She and Jenkins dad, the second Dook of Ferreton, are besties you know.
As we know you would probably like more in depth information before making so important a decision, we have enclosed our resumes:

The CNY Girls
Pros: We've been here at the Shelter since 2012. So we really know our way around the Shelter – all the in's and out's, all the secret hidey places!
Cons: Yes, many and all successful! You see when you give folks that cute, fuzzy little innocent look, you can get away with anything!

Lord Jenkins, III
Assets: Next in line as the Dook of Ferreton, friends in very high places, I pitch a wicked googlie.
Liabilities: Liabilities?! What liabilities?? We royals hire staff to do that!

The CNY Girls and Lord Jenkins, III thank you for your time and consideration in this matter and we look forward to your reply.
Sincerely,
Frenchie, Rizzo, Sandy, and Lord Jenkins, III
November 16, 2013:
Hey far away mom I got my paper that works like money, thank you.
I got Mum really angry at me last night, she was going to let me stay up in her space with her but I was not in her space more than 5 min before I jumped in the sick pen to beat up on Ginger. Oh boy Mum was angry with me, her face got all red and her eyes popped out of her head. She took me down and put me in the bath room to spend the night alone. Snowy got to spend the night with Mum. I love you! - Daisy

Far away Mom's Response:
Daisy, glad you got my envelope and tell Mum I got the coupons and calendar. Meant to let her know sooner. I forgot to include $ for the calendar but will give it to Mum when I visit next.
You are a naughty girl for beating up on Ginger. I know you can't help yourself but you are going to have to try or you won't be able to stay with Mum in her space anymore!
I love you, too and am looking forward to seeing you again in a few weeks!
Your far away Mom.
February 16, 2013:
To Daisy
You leave off my sweet Lord Jenkins, you hear! My boy is royalty and he's got friends in high places. LOTS of friends in the highest places there can be!!! Honestly, I do not understand you! You are Daisy, the Flying Ferret! Everyone knows you. Everyone loves you. Why you have to taint such a good reputation as that with bullying tactics, I will never know!
You do such a good job with Sarah doing the Master Largo newsletter so that proves you can be good if you want to be. Speaking from direct experience, I can tell you, you will never regret the choice.
If, however, you are determined to be Lady Ferret Wrestler, I will buy and send you a stuffed ferret Mum can put in your cage. He won't mind getting beat up on. In fact, he will love it!
Love (just as much as your far away mom gives you), Lord Jenkins' Far Away Mom Mary Ellen


To Jenkins' far away mom Mary Ellen
Dear Miss Mary Ellen I wish to apologize to you and to Lord Jenkins, it was not my intention to bother, disrupt, or cause distress or harm to your boy Lord Jenkins. You see I have this part of me that believes the grass is always greener on the other side of the barrier, play pen wall, or gate. Now, Now do understand that Mum has many times over told me that is not true but I must make sure just because I can. When one has the ability to go where one wishes one goes, don't you know? Mum has repeatedly told me that one day I am going to find myself in a fix I may not be able to get out of and Mum may not be around to help me but when my spirit says go I must. Daisy
February 15, 2013:
As I was shutting down the shelter last night I moved kids about; not thinking I put Daisy in the play room, Jenkins in the play pen – it took less than 30 min to hear screaming coming from down stairs. I followed the distress calls and found Daisy had gotten into the play pen and was beating up on Jenkins. Daisy got put back in the dining room for the night.
January 31, 2013:
We do not normally get these kinds of pictures because I would have to have a camera hanging on my neck 24/7 but I put Daisy in a spot I know she will get out of, had the camera in my hand and waited.
It took her about 10 minutes to decide I was not paying attention to what she was doing so she started working on her challenge to get out of the pen.
I took 19 so if you wish to see more let me know I can send them as well. Included is a picture of her cage with all the tags she has on it for the places she can not be in, she can get out of those rooms she gets over 29" barriers in a heart beat.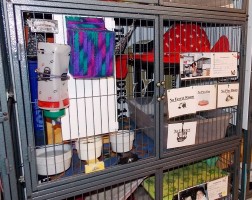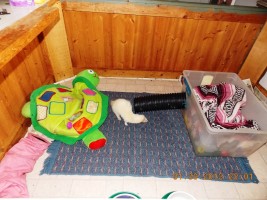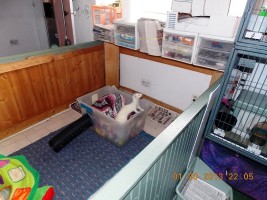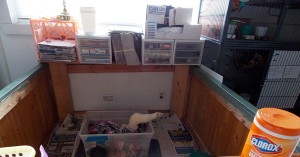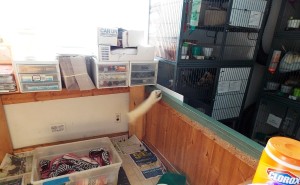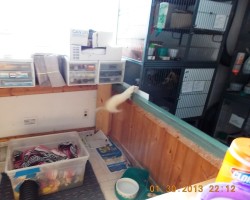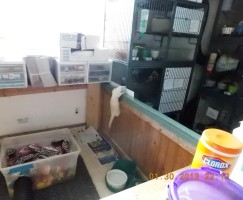 December 21, 2012:
Here are the pictures we took Saturday. Thanks for all you do for us!
– Brenda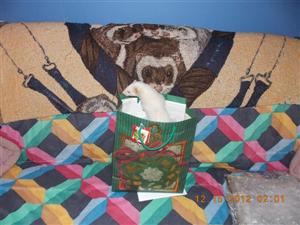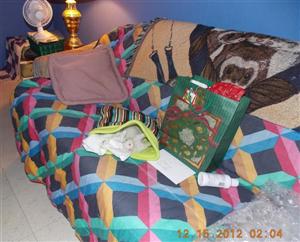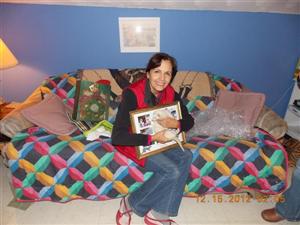 January 3, 2012:
Daisy now has a not so far away, far away mom in Skaneateles, New York!
December 24, 2011:
Miss Millie – mum let me open the boxes you sended up – take a look: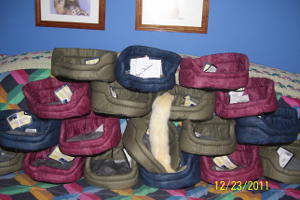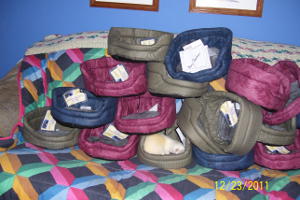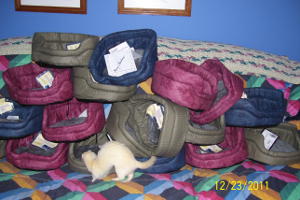 December 19, 2011:
Thanks Miss Priscilla for sharing Christmas with me! - Daisy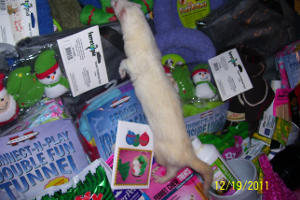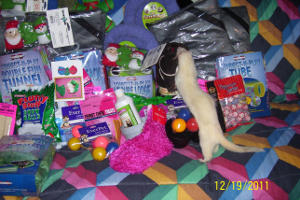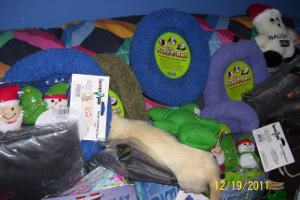 December 13, 2011:
The new kid Daisy is doing great she feels like she has put on a few ounces – she is not as skittish as she was when she came in – she will come to the barrier when I tap on it for her to come to me, she still does not like ferretone but that will come with time. Daisy appears to be eating our food mix that is good the stuff they were feeding her is not an acceptable food in my opinion.
Daisy has learned that I will love her and play with her all she has to do is ask, we stated out playing with the puppet because I was told she bites, she has not bitten me at any time since she got here, she did lunge at my hand when I had someone standing in front of her cage with me. In my experience that tells me that the person Daisy was afraid of and was willing to hurt them before they hurt her was a young female. She has not shown this behavior since that person was no longer in the shelter.
---
December 3, 2011, Initial contact, Arielle:
My name is Arielle. I have a ferret that needs a good home. Her name is Daisy. She is approximately 3 years old. She just had her rabies and distemper shots today. The reason I am interested in surrendering her is she's a biter. She's nice as long as you hold her, but as soon as you put her down, she goes after your feet. I have tried everything and nothing has worked. The worst problem is I don't trust her. I do believe with some work she will make someone a nice pet. But because I don't trust her it's hard to work with her. I am currently pregnant and don't want an animal that bites in the house when the baby arrives. I hope you can help me. Please contact me by email or by phone. Thank you.
December 4, 2011, Brenda:
You have had this little girl all 3 of her years? Do you have the documentation of proof for her shots? Ferrets chase feet, that is their way of engaging play – especially feet without shoes – your running from her has made this a game – it is a ferret game. What have you tired with her to teach her not to bite your feet? Because you made this a game with her she is going to chase feet however babies do not run from ferrets – so Daisy is not going to bother your new baby for a good 18 mo – until the baby is walking.
I may have an opening – the reason I say may is because one of the fur kids is failing – so his cage may be open.
Please answer my questions – we can go forward – Brenda
December 6, 2011, Arielle:
I've had her for about 2 1/2 years. The food I buy for her is triple f farms. She is the only ferret we have. I do have documentation of the shots. I never run from her. I will be sitting on the floor playing with her and if I stop for one second, she is after my feet. I have tried scuffing, hissing, saying "no", a light tap on the nose and even a little shake, to imitate her mother, all while being scuffed. Then I tried the anti-bite bitter sprays. And no help! We have to wear our shoes just to get her out and she still bites them. I am willing to surrender her as soon as you have an opening.
December 7, 2011, Brenda:
Get her to me - ASAP – bring me a months worth of food I do not have what you use in my mix and do not have access to it – Brenda
Arielle's Response:
What is your exact address and I will bring her up just as soon as I can this week. What are the hours I can drop her off as well? What is your exact address and I will bring her up just as soon as I can this week.
Brenda's Response:
Everything that belongs to Daisy must come with her including her cage – if her up to date current documentation is not with her when she gets here she will not be able to stay. During the week does not work – I am a school bus driver – I am in and out all day long – After noon before 4 either Saturday or Sunday Address 7835 State Route 21 Naples 14512.
Arielle's Response:
Can I have my husband bring her to you on Saturday? He will have all the required items. Or anytime after 5 on Saturday?
Arielle's Second Response:
I'm sorry I just got the before 4 email. I can ask my husband to bring her.
Brenda's Response:
Saturday works fine.

Note:They did not show up Saturday. No call or email telling me what was going on – late Sunday afternoon they showed up with Daisy.