Welcome to Lakeroad Ferret Farm Rescue/Shelter, Inc.



Cocoa & Zelda

• Surrendered to the Shelter on March 31, 2014.
• Cocoa was a female. She left for the Rainbow Bridge on April 2, 2014.
• Zelda was a female. She left for the Rainbow Bridge on October 15, 2014.

• Read their story by clicking here, or read their latest updates below.
• Zelda has a very far away family in Honduras.
October 16, 2014:
I have some sad news for you, Zelda left for Rainbow bridge yesterday, she developed an ulcer and I could not stop it from bleeding. She died in her sleep peacefully.
Thank you for helping us take care of that sweet girl.

Response from her far away family:
Hello ,thanks for your news and I am very sad to hear that. At least she had some time of the ideal life.. It is always good to know that any little animal has had a chance to experience the perfect calm and contentment especially after a hard time previous to this , she was looked after and cared for it never takes much and means so much.
As it happens this last weekend nearly saw the loss of one of our dogs however with great aid of a vet hospital in the capital and the great kindness of a complete stranger who donated her dog to give a pint of blood for a critical transfusion we were able to save him and he is on the road to recovery.I know only too well how the loss of an animal friend can effect us.
Take care and enjoy all the small furry friends you tend now and all those of the future.
keep up with the good work. Carol and Phil
October 15, 2014:
AM: Zelda is not responding to the meds, she has a ulcer that I cannot contain.
PM: Zelda left for the Rainbow Bridge this afternoon.
September 1, 2014:
Zelda has discovered N-Bones and decided she likes them! She has come so far since she got here in March.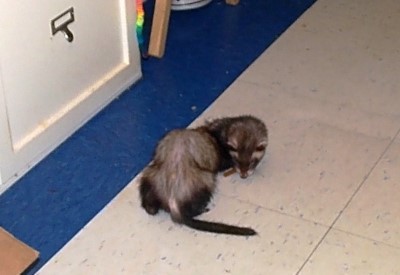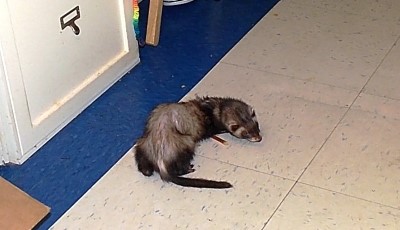 August 21, 2014:
Dear far away Mom and Dad. I am doing so much better these days that Mum has been allowing me to come up to her space and spend my out of the cage time. Here are some pictures Mum took of me this afternoon.
Mum got us all weighed yesterday - I have gained 1/2 pound since I came to live here. I hope you are well. Thanks for helpen Mum take care of me.
Zelda

Response from Zelda's far away family: Hi Brenda and of course Zelda, I enjoyed the photographs immensely, Zelda looks very snug curled up with her toys. I am glad to hear she is thriving and trust the same can be said for the rest of the furry gang in residence there and of course yourself.
Many thanks warm thoughts to all , Carol and Phil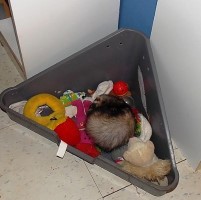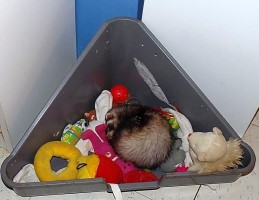 August 14, 2014:
Zelda's health has improved enough I am going to start letting her out of the play pen and letting her come up here to the living room some as well. Because she is blind I need to keep her in areas that are not too large with many things for her to walk into. So today she got Mum's space and she seemed to do well. She has some weight on her and her coat is really nice and soft. She has improved so well since she came to us back in March.
May 19, 2014:
Dear Brenda thank you so much for the info and pics of Zelda. I think what you do is quite wonderful. You seem to give each small fur client your heart which at times must be very difficult and yet always so rewarding.
Zelda has at last found a welcoming place and I hope she can have contentment with her small animal desires fulfilled.
Here in Honduras we have rescued over the years a few cats and dogs which have been welcomed into our family nothing to compare with the scale of your generosity of spirit, your total commitment to rescue all that need it is inspiring.
I will endeavor to continue to support you at intervals in the future when it is possible to do so.
thank you very much for your email,
your sincerely Carol and Phil

Dear far away family, Mum told me you have chosen me to be your far away fur kid and she also said you are really really far far away from Naples NY - 3,460 miles away to be exact. WOW how lucky am I to have a family to love me from that far away!
My name is Zelda I have not been here for that long I came in March 31, 2014with my sissy Coco but she died shortly after we got here. Coco was very sick and medically neglected. Mum says she will send you pictures of her condition if you want to see, she documented her condition as soon as we got here, picked up the phone and made an appointment with OFD.
Anyway Mum says you want me to be your far away kid, I am 7 yrs old. I was very thin when I got here but Mum is fattening me up with soup 2 times a day every day. I did not like soup at first but boy I love it now! I am sending you some pictures of me when I got here, thin I am.
Mum says she will get some pictures of me for you with me fattened up. I am blind so Mum lets me out in the smaller play areas so it is not so hard for me to find the food and water when I need it. I bump into walls and furniture a lot when I am in the bigger play areas.
Thanks for picking me to be your far away kid, thanks for sending green papers that work to buy food. I look forward to hearing from you - may I have a picture of you and far away dad for my cage and web page please?
May 3, 2014:
She is a cutie and coming along nicely. I thought we might lose her after Coco left but she seems to be happy to hang out. I keep her in the smaller rooms, play pen, bathroom and living room so she can find food and water more easily. She has cataracts.
April 6, 2014:
New fur kid Zelda has had a milestone, she got up and was waiting for me to get her out of her cage when I went into the room. I have been offering her soup off the dropper all week, she likes it but was not interested in eating out of the bowl, while I was feeding her this morning Spike had finished his bowl so I set Zelda down in front of the bowl while I put Spike away. Zelda started licking the bowl so I added more soup and she ate what I gave her. She has started to wander and investigate more. She is doing well and adjusting to her new home.
The picture attached was taken the day after she got here. I have been up to my ears in post-op and sick kids so no new pictures have been taken.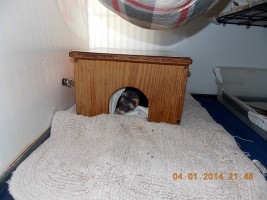 April 5, 2014:
Zelda is adjusting well, she has been introduced to Duck soup and likes it. She will only take it off the dropper at this point but in time she will want to have it out of the bowl. She is learning the shelter ropes as they say. She seems happy enough and has not shown any adverse signs of losing Coco. I know she knew Coco was gravely ill.
April 3, 2014:
Zelda got her shots and a clean bill of health today. Coco died yesterday afternoon. Doc was pleased with Zelda's condition considering he got a look at Coco's condition, I took her body with me. He said had he gotten Coco 4 months ago he may very well have been able to fix her, however the condition she was in now there would have been nothing he could do to help but euthanize her. She left on her own yesterday afternoon.
April 2, 2014:
Goodbye my sweet girl!
You came into our lives, hurt, scared and sick. You found a safe place to sleep with food and warm blankets; a good night kiss on the top of your head until morning.
Your life here with us was not to be long, but to be loved for the remaining day you had in your lifetime. You stole my heart the minute you came through our doors, you mistook my hand as an enemy, and yet found no retaliation, just love and understanding.
I wish you could have stayed longer to know the love in my heart for you, to know that not all humans allow our precious souls to suffer the way you suffered. It was not to be! You took that piece of my heart with you on your journey to Rainbow Bridge.
You were and are love pain and suffering no longer, fly high little one you will be missed.
I do love you.
Your Shelter Mum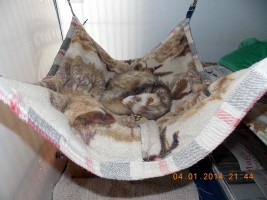 March 31, 2014:
The girls from NJ got here about 12:30. Neglect is not the word for the condition Coco is in. She has a mass on her bottom under her tail between her back legs the size of a walnut. Before the person that dropped her off got the paperwork filled out I was on the phone to get her into Doc. I expect Doc is going to tell me she needs to be euthanized.
The mass is bleeding, she is so scared and uncomfortable she bit me, I have 10 puncture wounds in my hands. When she was able to get a good hold she would not let go. I am handling her with gloves for now. Her cage mate Zelda is thin but seems to be in decent shape, she was more sociable and allowed me to handle her with no problems. I got them into the cage and settled they seem to be sleeping peacefully for now.
I got Thursday off to take them to Doc for a 9:15 am appointment. I expect if she can be fixed with surgery she will get it done that day.
---
Initial Contact, March 01, 2014:
Dear, Ferret Mum
I would like to make this as short and as sweet as possible. Due to the current living conditions in my mothers house. Complete remodeling of the upstairs my parents have had little to no money extra to get my ferrets the medical attention they need. I have done extensive research as to finding out what is wrong with my Cocoa and I am fairly certain she has a tumor, beyond certain! My parents have brought her to the vet but, after getting a biopsy for her tumor they realized they do not have the kind of money to get it removed surgically they chose the cheaper method of applying some sort of topical medicine to reduce and in hopes to eventually remove the tumor. Long story short my two very loving ferrets Cocoa and Zelda need to be rescued for the physical care for them, short of their cage being cleaned is all the attention anyone in this house pays to them. I have just returned home from living at my father's for a month to see what condition they are living in and it isn't the life I want for them Cocoa has become sickly and no one cares to do anything for her. Zelda cocoas' sister sleeps all day and is very lethargic due to inactivity. I don't want to see them die I love them!

Sincerely,
Francesco

P.S. If I must bring them to you via my own transportation I will, They need a better place to have love and to live! sorry for the run on sentence!
March 01, 2014, Shelter Mum's response:
Where are you located? Where is the tumor located? What vet saw your Cocoa? When would you want to surrender the girls? With all this vetting check up did the girls get their vaccines? How old are they?

Francesco's response: Located in Asbury Park, New Jersey. The Tumor is located on her rear. She was seen by a ferret specialist at the local veterinarian hospital: Oakhurst Veterinary Hospital.
Any day that I am off work. Yes, they both had their shots. both are seven years old. Cocoa is a biter but, she gradually stopped unless provoked just to give some info there I neglected to add in the initial Email.

Shelter Mum's response: You say they have had their shots, recently? They are required yearly. If we are going to take on 2 medically challenged ferrets we need all of their medical records to come with them. It sounds like sooner than later is what needs to happen. When is your next day off? Did you check with Tails and Scales? Succa Suna NJ?
I am not trying to get out of taking them just wondering why you are looking out of state...

Francesco's response: Yes I can provide the medical record of both of the ferrets. The number 1 reason why I chose you is the fact on your webpage it says you have experience with ferrets who bites. Your web page looks the most friendly and welcoming. You can contact me anytime. I am available Monday through Friday.

Shelter Mum's response: Okay then we need to determine when the girls are coming to Naples so I can have things ready for them. Everything they own needs to come with them please.
March 16, 2014, Francesco's response:
Dear Brenda, I have tried very hard to convince my parents to surrender the ferrets. However my father and mother are too stubborn to realize they need a better home. I hope I can sway them to understand the importance of the situation there currently in which isn't good. Thank you so much Brenda for contacting me back I do so wish to be able to give Coco and Zelda a better home.

Shelter Mum's response: Okay we are here if you need us just drop me a line when they are ready to allow them to get much needed medical attention. - Brenda

Francesco's response: Indeed I will Brenda thank you so much for all your help I really hope of they will understand sooner than later.

Shelter Mum's response: Agreed; unfortunately later is at the detriment of their lives. - Brenda

Francesco's response: Dear Brenda I would like to inform you that I could love to surrender the ferrets and will but we have one issue which I have not addressed and that is I cannot attain the medical documents you have requested please get back to me as soon as possible with any chance of still being able to save them.
March 17, 2014, Francesco's response:
Dear Brenda long story short my step father and my mother all the ones who have financially taking care of these parents over the years and also physically I have been there as well but I've been mostly preoccupied with school and work and other things. They feel so stubborn to the fact that they will not surrender them until they can get the proper medical attention but they are so caught up with other financial problems that they don't have the time and they rather wait then get the medical records for me so I can give them to you and bring the ferrets to surrender them over. It is very hard for me to convince them and I am very discouraged. I hope they will see the error of their way sooner than later because I know Coco and Zelda don't have all the time in the world. Sincerely Francesco

Shelter Mum's response: Let's hope they change their minds. Keep me posted as you can. - Brenda
March 17, 2014, Francesco's response:
Dear Brenda sorry for sending you an email so late after you asked for the information about the ferrets. I have finally convinced my parents that surrendering cocoa and Zelda will be the best thing for their lives to continue. Tomorrow I hope to get the medical documentation. Sincerely Francesco
March 19, 2014, Shelter Mum's response:
Great - that will tell us if they are up to date on vaccines, they need to be - thanks.
March 23, 2014, Francesco's response:
Dear Brenda my mother and my step father have insisted on bringing Coco and Zelda to their personal veterinary. I suggested a specialist and I am sure he will say the same as I have. According to what you told me they need to have shots and recent medical documents. I hope to have all the necessary information after they come home from the hospital. Thank you for your patience and I hope I can make a date to come to Naples as soon as you have all the necessary information and vice versa. Sincerely Francesco
March 24, 2014, Shelter Mum's response:
That is fine let them get them vetted by their vet they will have documentation. This is a big step for your parents towards helping the fur kids let them make it. Thanks for all you are doing to help these ferrets. - Brenda

Francesco's response: Dear Brenda I have specific medical documents here in my hands. There's detailed information as to what is wrong with Coco. I do not know if I can get her vaccination done because of her severe medical needs. Please let me know of any other options. She is getting worse every day and I am at wits end.
The documents say under attitude bright active responsive aggressive. Under oral it says grade 1/4 dental disease fractured upper right under the rest of the categories they look normal it says no hair loss No enlargement or asymmetry etc etc cetera. Now under the next page it says I did not know this she is 9 years old I stand corrected. It says perivulvar mass -r/o apocrine gland vs. other benign vs. malignant. They cocoa with meloxicam one milligrams and Baytril 10 milligrams. This was January 11th 2014 the documents are from March 17th. So since then the mass has grown I assume now she is a lot worse off then when the mass was first noticed. Please help me I don't know what else to do my financial situation is preventing me from giving her the care she needs. Thanks again sincerely Francesco

Shelter Mum's response: Get them here we will deal with it, they need intervention. as long as your parents are going to let them go let's get them here so we can take care of their medical needs. - Brenda

Francesco's response: Yes I agree I am tired of all the waiting. She needed medical attention a long time ago and my parents were too stubborn to let them go. Now they are finally ready and I hope that's not too late. I will pay for the vaccinations if needed as for any other medical expenses I am unsure whether or not I can. I know waiting any longer could be in severe detriment to their lives especially Coco's but I do not have free time until Thursday.
March 26, 2014, Shelter Mum's response:
Okay tell me what Thursday looks like for you, I do not remember where you live bring me what belongs to them. Once I know what your Thursday looks like I can better tell you when I am available to take them in.

Francesco's response: Dear Brenda my step father is still being stubborn and wants to take her to doctor on Friday. I have been griping about this forever and supposedly Monday he and I we'll come up to Naples with both the ferrets and their belongings. Please tell me if this day is open for you at your farm. Sincerely Francesco

Shelter Mum's response: Monday works what time do you think you will get here? As long as he is getting them vetted we will have a better feel for what they need and all the paperwork I need. That will help me determine the next step for the attention they need. - Brenda

Francesco's response: I asked him what time Monday he said he is unsure. I am just as frustrated as you are with this and I hope I get an actual response to what time. I have been pressing them for weeks to get on with this. It's been way too long. I will contact you again as soon as possible with the exact time Monday we are leaving and expect to arrive. Sincerely Francesco

Shelter Mum's response: Please explain to him I work outside of the shelter so I need to know what time you are coming so I can be here when you get here, you can tell him I will show him though the shelter so he can see they will be well cared for. - Brenda

Francesco's response: Thank you Brenda I completely understand and I will talk to him tonight. Hopefully you will be receptive.

Shelter Mum's response: I'll see you tomorrow - safe travels. - Brenda

Francesco's response: Brenda I hope this isn't short notice. Tomorrow I would like to bring Coco and Zelda to the farm. I would plan on leaving here in Asbury Park New Jersey. Most likely around 6 or 7 a.m. It will take me at least 4 hours to get there.
I have a rough idea where Naples New York is but I would like more specific directions from you so I don't get lost.
Thank you very much sincerely Francesco

Shelter Mum's response: Okay that puts you here between 11 and noon according to Google it is more like 5 hrs https://maps.google.com/maps?q=42.637929,+-77.383405 this is our address according to Google this is our physical address 7835 State Route 21 Naples NY Phone is 585 374 8393 make sure you speak into the machine if you call I screen all calls.
March 31, 2014, Francesco's response:
Sorry to email you this at such short notice I may not be able to leave my house to make the trip up there until 8am. Possibly earlier thank you so much Brenda.