Welcome to Lakeroad Ferret Farm Rescue/Shelter, Inc.
Chloe & Izzy

• Surrendered to the Shelter on July 30, 2009.
• They found a forever home on February 21, 2010!

• Chloe was a brown sable female. She left for the Rainbow Bridge in July, 2013.
• Izzy was a light silver female, more on the DEW side than silver. She left for the Rainbow Bridge August 6, 2014.
• They were born at Triple F Farms in Sayre, PA in 2007.

• Read about how these two arrived at the Shelter by clicking here, or read their latest updates below.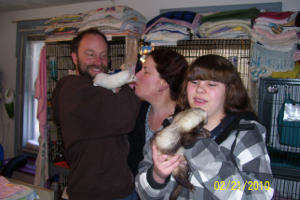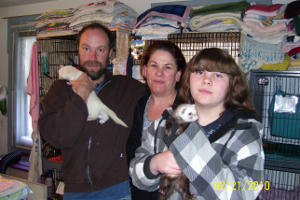 August 07, 2014:
Brenda,
I am sending sad news about Izzy. She passed away yesterday afternoon. Dr G at Southtown Vets has had her on medication for adrenal disease for more than a year and a half. She had done very well until lately.
We took very good care of her and she passed peacefully and naturally. She and Chloe will always occupy a very special place in our family's hearts. They were truly the very best pets. Caring for and loving them brought our family closer together.
Thank you for giving us the opportunity to love and care for them.
We will be contacting you in the near future about donating back all their cool stuff (washed and clean of course).
I hope all is well with you and the shelter.
Sincerely, Pam and Julia Greg and Zach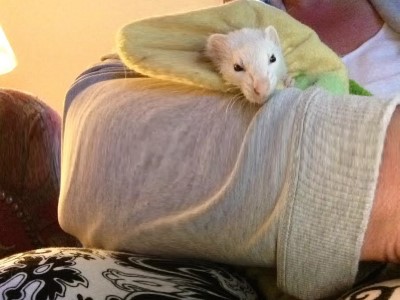 January 31, 2014:
Hi Brenda, as you can see Izzy is still going strong. Hope all is well.
Pam & Julia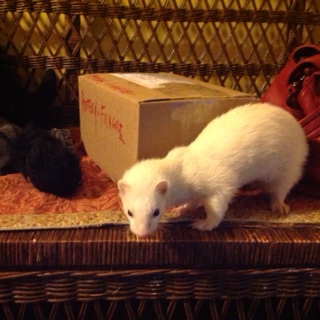 September 19, 2013:
Izzy in the morning. She is as frisky as ever.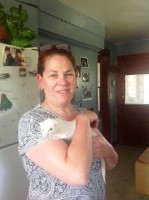 August 8, 2013:
Hi Brenda, I am sending sad news...we lost Chloe two weeks ago. She was not feeling well on Sunday , kind of slow and not wanting to eat, So I fed her some duck soup and she was eating a little bit, but on Sunday night she was gone.
It has been sad for our family.
Izzy is well and seems to be unaffected by the loss. We buried Chloe next to our dog Buddy who we lost two months ago. It has been a shock to loose Chloe like that. It brings tears to my eyes even now. She had been slowing down and sleeping a lot but other then that I cant think what happened to her. Izzy had surgery on her teeth last September and had two infected teeth removed. She is taking Diazoxide for low blood sugar. She is her regular inquisitive self.
They have been very loved little creatures.
Pam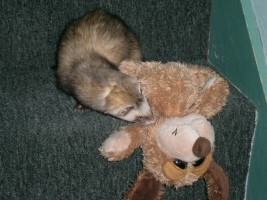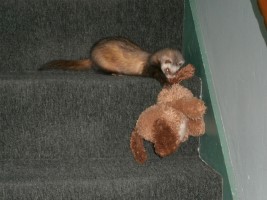 January 1, 2013:
Happy New Year! With love from izzy and Chloe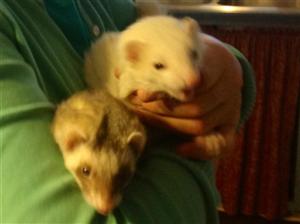 June 15, 2011:
-Oh, Brenda, I don't know how you keep as much together as you do! But anyway , Julia and I want to thank you for Clinic Day. We had lots of fun and so- enjoyed visiting with the fuzzies and their humans. Chloe and Izzy slept on the way home, and slept for the rest of the day!
Pam
March 2, 2011 - Camp:
Hi Girls, we hope all is well with you. Have you worn out Aunt Brenda yet? She is the busiest person we know! We are still having lots of fun in Fla. but we all miss you so much. We will be leaving on Sun. morning and will just drive through the night. If all goes as planned we will be home Mon. night and will come to pick you up on Tues sometime that works for Aunt Brenda. Lots of love from your devoted humans. Pam, Julia, Greg and Zach

Nope she is wearing us out - Yep it took us a day to remember that her feet never stop moving – that we had to stay away from them – good thing she watches out for little fur kids on the floor. We miss you too but we are having lots and lots of fun - Okay we will tell her – Tuesday the 8th Aunt Brenda says she gets home from work at 8 am goes back out to work at 1 pm We love you too – take a look where Aunt Brenda was letting us sleep – that is up here in her space – we love you Chloe and Izzy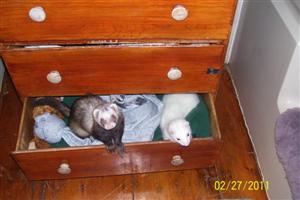 February 27, 2011 - Camp:
We are so glad that Aunt Brenda has an incredible patience for you, "little fuzzy butts"! It is summer here and there are lots of Palm trees. We miss you and love you lots! Please keep up the adorable behavior and remember... no chewing!
Lots of love to you sweet girls, Tell Aunt Brenda we are so thankful she could let you come to camp.
Love, your family, Pam Julia Greg and Zach

Yeah another sleep in day – we did not get up till 4:30 – must be Aunt Brenda is being a slug this weekend.
No I have not been chewing anything – Aunt Brenda is giving me the sticky stuff too!
We love you too!
Izzy and Chloe
February 26, 2011 - Camp:
So Aunt Brenda let us sleep in till 4:30 this morning, she has us up here with her right now. We are bouncing off the walls and furniture. Izzy is scooping out the trash can while I write to you. We are having so much fun, we hope you are too!
We love you
Chloe and Izzy
January 21, 2011:
Hi Brenda, I hope all is well with you and all the ferrets. Izzy and Chloe are doing just great. Chloe is still running off with my sponges, and this morning Izzy joined in on a really big one. They were a tag team until I caught them in the act! So as you can imagine they really liven up life for all of us. The cats have come to accept them . Mostly they ignore the girls. Our dog Buddy actually plays with them in a gentle way. He is a good sport about it even when Izzy is sticking her whole head in his ear or biting him. I'm sure you have heard all these kinds of antics from other ferret families.... It has been about a year since our first visit. No regrets to be sure.
We have planned for a trip to Florida this next month and we are hoping they we can bring the girls for a stay? We will be gone from Feb 19 through March 8. I hope you have room for them. I f its a go I would like to bring them on Feb 18.. Please let me know.
Many thanks! Pam
July 29, 2010:
Hello Brenda~
All is well here. A busy summer, but we are enjoying it. Pam will get back to you shortly with a written update. In the meantime here are a couple of shots of the girls out for a walk in the yard.
All the best
Greg

Hi Brenda, Well these little girls are doing just great! They really like being outside, sliding through the grass and occasionally digging in the dirt. I wanted to be sure to send you a couple of photos because they are so cute.
Hope all is well
Pam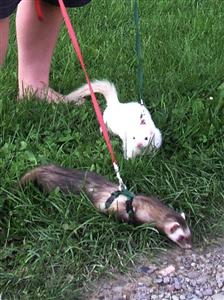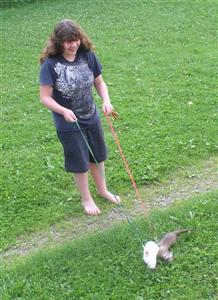 April 23, 2010:
Hi Brenda, The girls are continuing to thrive in the land of their room under Julias supervision. They continue to get lots of love and attention from all of us! We went away for four days and were fortunate to have a wonderful neighbor ,Karen to care for them. She had a great time with them. I could hardly wait to get home to them. They have been very good about going on the paper lately. Sometimes they get to visit other places in the house under close watch. We plan on visiting and having check ups on clinic day. We will send the form in next week. Hope you are well. Pam
March 17, 2010:
Hi Brenda, Hope you got the photos that Greg sent. Last night our electric went out, so I want able to send you a message about Cloe and Izzy. They are still doing great! Lots of play time, visitors and family interaction. Cloe does still have that cough, but she seems to be just fine otherwise. We have been cleaning the room 2x a week just to be sure its not allergies?? They love the big red squeaky ball you sent along and they love to hide it away from each other. I got them a rice box with 20 lbs rice (need another bag to add) and that is a bit entertaining to them. Need to get a tube for the rice box so its easier for them to get in and out. Cloe is very tidy with pottying but Izzy struggles to make the paper sometimes. But that's just fine. Greg cut their nails. Izzy's were long. that went well. Do we need to clean ears like the book says? Know that they are adored by our family! Pam
March 16, 2010:
Here are the girls, happy at home!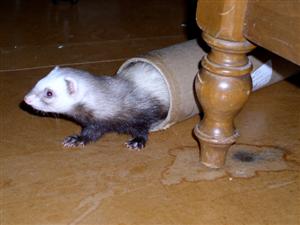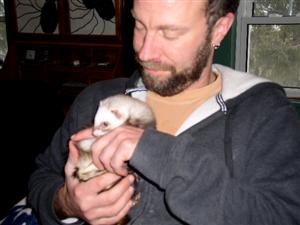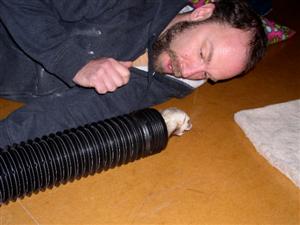 February 25, 2010:
Hey Brenda. I missed taking photos today, just too busy working. Our friend Karen is coming over for a visit tomorrow... Will get the camera out. I'm still learning computer stuff (duh) Those girls sure like to sleep. The book is so helpful because Greg read that they sleep 20 hours a day.
Maybe we are wearing them out. But they sure are lively! The vitamins in the tube, this is also for the hairballs? They really like it. How much should they have of that.
Thanks for all your help and generosity...you are the best! Pam

Yes 18 to 20 hrs unless there is a human to play with them. Then they will stay up for longer periods of time, so the more inter action with them the better.
No that is just vitamins, it may help some but not like real hair ball stuff. It should tell you on the box I expect no more than 1/3 tsp.
You are welcome. I am thrilled the girls picked such a perfect home. Brenda
February 23, 2010:
Yes we will take photos tomorrow. Julia will be snow boarding this afternoon so Greg and and I are in charge of the afternoon shift. She has a schedule to let them out at 6:30 am to 7:30am off to school and then at 4pm she is home from school and in bed at 10pm. They go in and out of the cage at this 4-10 time. The best part of it all Brenda is that I get to enjoy them and don't have to clean up! She has been very tidy with them. Izzy and Cloe are using the bottom of their cage for their pooping and peeing. They kind of go on the paper when they are out. Greg said he is enjoying them more then he thought he would. They are such fun to watch and play with. Julia does not like they idea of leaving them alone in the room .. while they are out, and I understand this till she knows where they could get into trouble. Pam
February 21, 2010:
The girls have a new 4-ever home!!!

Thanks for the photos. They have so far made a beautiful transition. They have eaten, drank and pooped. Lots of jumping climbing and exploring everything. What fun they are. They are in for the night now resting comfortably. Let you know more tomorrow. Thank you for everything Brenda. Zachary, our son is also excited and thinks they are fun. He is reading the book you sent with us. Pam
January 29, 2010:
Hi Brenda,, Julia Ricciardiello mom (Pam) here. Greg is away for a couple of weeks. Julia and I would like to come visit Izzy and Chloe on Sunday if possible. We miss them. Thanks Pam
January 26, 2010:
Hello Brenda~ Thanks for the visit a couple of weeks ago. I think we have Julia's room in order for you to come visit us. Let us know when you can come. We have taken up the carpet secured the door, outlets, removed the curtains. We are looking forward to the new family additions.

Hi, sorry, I have been up to my ears lately. I took in 2 rescue kids; one of them needed immediate medical attention so between getting her to and from the hospital twice and keeping her stable after surgery I have had my hands full.
I need from you what times work best; I will not be able to come for at least the next 2 weeks meaning Jan 31st and Feb 6th. It would be easiest for the shelter and I if I can leave here around noon on a Sunday. That gives me time to get 1st shift put away, and second shift up and allows me ample time to get the cages and things settled so all I will have to do when I get home is get 2nd shift put away, 3rd shift up and their cages cleaned before I have to do meds. Phew I am tired already and I have not gone any where. If that time frame works for you then that is how I will plan it. If not then please tell me what will work.
What have you put down on the floor anything? I look forward to hearing from you. Brenda
January 20, 2010:
Hi Brenda it's me Julia, We ripped up the carpet and got the curtains out mom is putting in the barrier thing for the door. Dads gonna email you soon also... Thanks for letting us come Sunday
January 6, 2010:
Hello Brenda, Its Julia Greg and Pam's daughter. I was wondering if we could come Wednesday, Thursday, or Friday at all? So that's pretty much it...just get back to me :)
January 3, 2010:
Good morning~ I am looking at the weather and it does not look promising. We are debating it today...its a long drive and seems like it may not be a safe day to come out. G
January 2, 2010:
Hello Brenda and happy New Year,
We wanted to let you know how much we enjoyed visiting with you and the fur kids last week. It was a great experience, as I had never been around a ferret before. Pam and Julia were equally impressed. Julia has been around them at school. This is where she got the bug and felt the need to adopt. We are being fully supportive of her interest and will help as much as necessary with the critters. As she is financing the operation we need a ballpark figure as to the adoption costs. Obviously, Chloe and Izzy were the pair we were really taken with, they are quite special. The paperwork has been filled out, but I did not mail it. We would like to come back tomorrow (your regular open hours) for another visit and will bring the papers with us. We plan on being there about the same time 1- 1:30, baring a weather event, but I think its going to be ok out that way. Let me know if this is ok. Thanks Greg
December 21, 2009:
Hello Brenda- Thanks for getting back to us. We plan on coming out this upcoming Sunday then, 12/27 ( unless we have some major weather event). Let me know if that is ok with you.
Thanks, Greg
December 12, 2009:
Hello~ We live in Allegany County and are looking to bring a ferret or two into our home as pets. We came upon your site and it would seem a better way to do this than what we have encountered at the pet store. We prefer a younger one or pair, but It will depend on a number of things I guess. Julia, was very much liking Weezley and Bear.
We have a large two story cage already. Can you tell us the best way of proceeding? Thanks.
---
Arrival Story, July 25, 2009:
Hello my name is Tara K. and I was wondering if you adopt ferrets. I have two and I love them but I'm going away to college in a few weeks and my mom doesn't have time to take care of them. I want them to have a good home where someone can give them the attention they deserve.
Any information you can give me would be appreciated. Thank you very much!
Tara
Shelter Mum's Update:
The girls came in from Williamsville, New York. Their owner was going off to college and had no one in the family willing to keep and care for the girls.
Their owner took them to our favorite Doc for check up and vaccines, Miss Stephanie met them there to get them to me. We met in Avon for transfer to the shelter.
The girls struggled with being left here for a week or so but have decided this is a pretty cool place to hang out. They are doing well and thriving at this time.