Welcome to Lakeroad Ferret Farm Rescue/Shelter, Inc.
Frenchie, Rizzo & Sandy

• Surrendered to the Shelter on May 28, 2012.
• Frenchie was a female blaze wannabe, with mittens and bib. She left for the Rainbow Bridge December 15, 2014.
• Rizzo was a silver female. She left for the Rainbow Bridge June 3, 2015.
• Sandy was a dark silver female. She left for the Rainbow Bridge May 1, 2016.

• Frenchie has a far away mom and fur cousin in Greenacres, FL.
• All three have a not so far away, far away family in Camillus, NY.

• Read about how these three arrived at the Shelter by clicking here, or read their latest updates below.
May 1, 2016:
I am attaching a picture I took of Sandy yesterday, checking out the Sofa Dr Sandra sent the kids. I was doing meds tonight, when I discovered Sandy had not finished her morning soup. I stuck my hand into her hammock to get her up, so I could give her, her meds with a dropper, I discovered she was dead. She had been for several hours because she was cold. I am guessing she died shortly after she had what soup she wanted because she still had soup on her chin. I did not see this coming at all.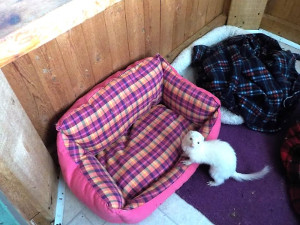 November 2, 2015:
Sandy is back to herself, she is eating soup without forcing.
November 1, 2015:
Sandy is back on track, the Pred is doing the trick.
October 31, 2015:
Sandy is much improved. She is now on Pred one time a day for the time being, she is back to eating kibble and her soup.
June 3, 2015:
I called Brockport this morning. I was told Doc got Rizzo down to her actual weight 1# 6 oz with the Lasix he was doing surgery this afternoon. Doc called about 12:45 to say Rizzo is gone. She was full of cancer. He said it had started in her liver and there were masses all over her insides. He said it was just a short time before she started showing signs of this so we let her go on the table. He will bring her home when he comes on Saturday.
May 31, 2015:
I have a ride for Rizzo, Donna Z is on her way to Naples to pick her up to take her home. She will spend the night with Donna and then she will take her to Doc in the morning. I will worry about how to get her home when it is time to do so. I just got off the phone with Donna so I am going to go pack her up to get her ready to go.
May 28, 2015:
I spoke with Doc he said keep Rizzo on Moxy see how things go till Monday then get her in if there is no improvement.
May 27, 2015:
I gave Rizzo her second dose of Moxy she is bright and alert ate all her soup. I thought her tummy felt a bit softer but that may be wishful thinking. It seemed there was more wet on the poo pad too. Time will tell. Mary Ellen offered to take the day off to get her to Doc. I want to see what the Moxy does first. As I said she is bright and alert so she is not in any pain or discomfort at this time.
May 26, 2015:
Something is up with Rizzo, she was acting funny this morning so I watched her, she acted like she was having trouble walking. I picked her up to look her over; her belly is big and hard. Her eyes are bright she was eating treats, the poo pad was full so I know they are both pooing okay. I can't take another day off for a vet run… I started her on Moxy she ate the entire bowl of soup with the Moxy so I will do a 10 day coarse. If she gets so I think she needs to see Doc I will have to figure out how I can get her up there. For now I will see what if anything the Moxy will do.
February 1, 2015:
Mum finally got our Christmas stuff in our cage...take a look...Thanks Far away Mom Mary Ellen.
We love you,
Sandy and Rizzo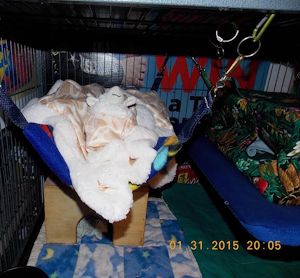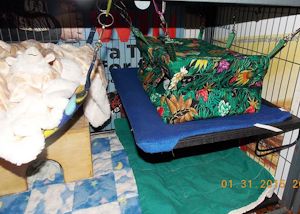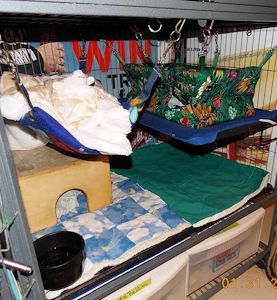 January 2, 2015:
Dear Far away Mom...we got to open our presents today take a look. I (Jenkins picked the blue blanket, see me opening the plastic bag)?
The girls got to open theirs when I was done, they went nuts. Bouncing all over the place. Girls; they are crazy!
Thanks for our wonderful Christmas far away Mom and thanks for helping us take care of our Mum with the Amazon Prime we love you!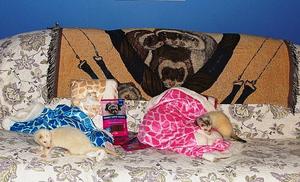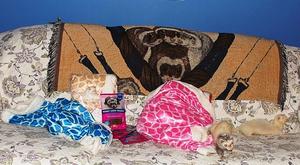 December 15, 2014:
Frenchie has not touched her soup today, she is not doing well, she is unresponsive tonight.
December 13, 2014:
When I was doing cages this morning I got the Syracuse girls up, Frenchie is winding down. She can no longer get over the poo box side and is having trouble standing. Her color is very pale. I brought her up to the sick pen.
She is refusing her soup so it is just a matter of time before we lose her. I am keeping her comfortable.
December 7, 2014:
Frenchie and Fluffy Ginger are both struggling. You can see every bone in Frenchie's body although she is eating, drinking and moving about.
December 1, 2014:
Frenchie is just skin and bone. she can't weigh a pound. She is eating, drinking and gave her sissy Rizzo a good fight over an N-bone this morning. She looks awful but hanging in. I had a heck of a time getting one of them to let go of the N-bone so I could give the other, one of their own. Frenchie won that argument.
November 27, 2014:
Santa Debbie and Butch, sent Sandy her Christmas she was finally able to open her presents. As you can see she loves them! Thank you so much for helpen Mum take care of us.. thanks for all the really cool stuff you sent Sandy!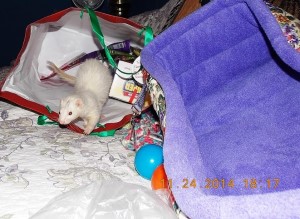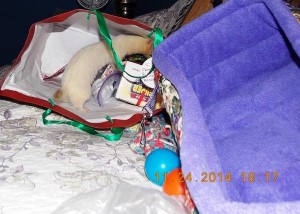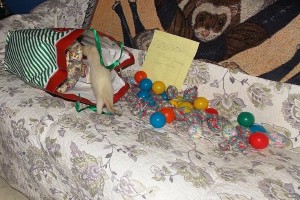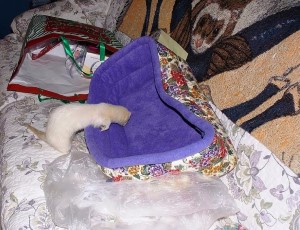 August 28, 2014:
Frenchie and Jenkins came home with us, Doc is not so sure surgery is the way to go with their prolapse so they each got a long lasting steroid injection, if that does not help with my continuing the Prep-H then he will re-evaluate in 3 to 4 weeks.
June 14, 2014:
when Doc saw Frenchie we discovered she has a prolapsed rectum if it does not respond to Preparation H ( I will need to go get some this morning) She will have to go in for surgery.
June 13, 2014:
Dear Frenchie, Rizzo, Sandy, Jenkins, and Shelter Mum,
Good night to my sweet loves and all their friends at the Shelter! God be with everyone (and especially with Sarah) until morning – X!
I have a surprise for my sweet girls! I brought your harnesses to Camilla's Embroidery on Erie Blvd. and asked if she could embroider your names onto the harnesses. She wasn't too sure at first. She had never been asked to embroider on an area so small before. She took Frenchie's name (since that was the longest) and used her computer to put it in different fonts. The trick was she had only an inch and a quarter of area to work with. The smallest we could get Frenchie's name was an inch and a half. She tried one more font and that was the one that worked. The only drawback from her standpoint was that the named could only be in all caps. I said that was fine and I gave her my cell phone number to call me when the harnesses could be picked up. Mom went back to work by way of the McDonald's drive thru and just as she was sitting down to enjoy her lunch, her cell phone when off and it was Ms. Camilla. She was done with the three harnesses and they were ready to be picked up.
When I did stop in to her shop to pick them up, I also grabbed a handful of her business cards so if any of the other ferret owners would like this service done, they will know where they can go for it.
Ms. Camilla also asked if I would take some pictures of the harnesses empty and with their intended occupants as well so she can give them to her son and he can post them on her website. She told me that doing this project has shown her that she can handle small area embroideries and this now opens up a whole new market for her. If anyone else with a pet would like some piece of pet clothing embroidered, she now knows she can do it and she would like to tell the world.
I have taken some picture tonight and I am sending them along to my sweet girls because I am so excited and thrilled at the work Ms. Camilla did I can't wait until Saturday! I have to show my girls what they beautiful new pink dresses look like right now.
I am so certain that my sweet girls will want to write Ms. Carmella a thank you note for all her hard work and effort that I don't even need to mention my sweet loves sending something like that. It would certainly be something else to do besides getting underfoot while Mum is trying to get the Shelter ready.
Sweet dreams, my sweet loves! FA Mom loves you all so very, very much!
Love,
Far Away Mom Mary Ellen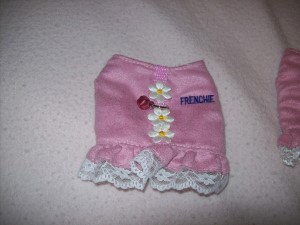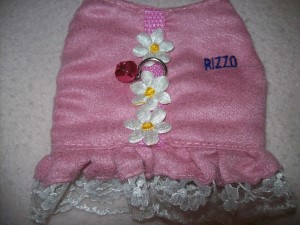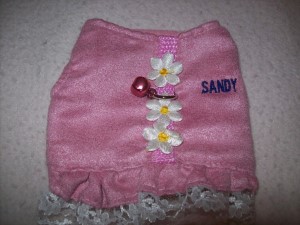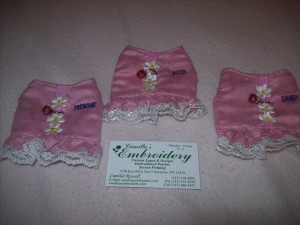 March 24, 2013:
Dear Far Away Mom,
Thank You, thank you, thank you, thank you! Thank You, thank you, thank you, thank you! Thank You, thank you, thank you, thank you!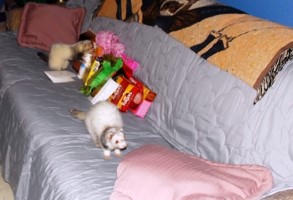 Dear Frenchie,
I wish I could be there to hug on you and give you lovin. Glad you like the little gifts I sent! :-) You look so beautiful in your picture!!!
Ask your Mum to give you and extra hug for me, and then you give her one back for me!!!
Love and Hugs for you and Mum
March 17, 2013:
Hi Brenda -
I just caught up on all that the girls have been enjoying the past 10 months. They look like they've gained some weight in the photos. I'm so glad Frenchie's surgery was simple and uneventful and that they have multiple sponsors. I hope all is well with you and all your crew as we're well into 2013 now. Your sanctuary really is the best thing for these three ladies to be able to experience.
Best,
Kate board member of The Humane Association of CNY.
February 24, 2013:
Thanks far away mom, I feel so much better with all the treats you sent us. We love you Jenkins, Frenchie, Rizzo and Sandy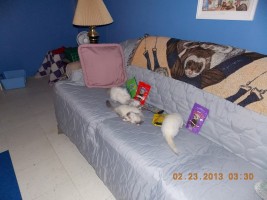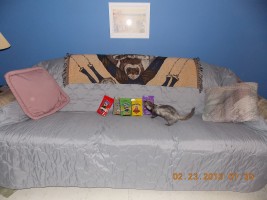 January 24, 2013:
We are home; Frenchie is with her sissy's in the up stairs bathroom I will set up a pen for them to keep an eye on her. I got kids moved in and out; I am going to put Jenkins away, I gave him the kitchen for a bit he got stuck in the play pen for the entire day, then get cages cleaned for the kids I just got up.
We walked in the door at Doc's about 8:15 – the roads were nasty traffic bumper to bumper – We had plenty of time so I stayed away from the crazies that were on the road.
As you know Doc let me bring Frenchie home, we left BP about 2 – the weather was 100% better coming home than it was going in, she is up and bouncing around – her surgery was a simple removal however I requested stitches not cauterized – I will keep her penned for a day to make sure she does not undo the stitch she has in her tail, she is with her 2 sissy's – attached is the after surgery look – I have 2 cage groups of kids that did not get their shift so I have the gate up at the stairs, Titch gets the kitchen, Snowy and Marshmallow have the library. Below is the picture of the tail before the Chordoma was removed.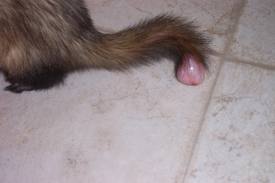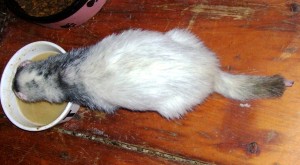 January 23, 2013:
Good morning – kids are out, playroom cages cleaned and put back together. The pans are washed and drying for the 3 cages that are waiting to be put back into the clean cages. I have this report to get out then I will get the carrier put together and ready for Frenchie to go in it.
I don't usually bring the carrier into the house but I did not want to put her into a cold carrier. Bringing it in it will be warm when she goes into the van – hopefully she will stay warm – I will start up the van to warm it before we head out.
I am going to discuss with doc the possibility of bringing Frenchie home today; if I can I will stick around Brockport to do so. it will mean I am gone longer but it will also mean I do not need to go back to Brockport tomorrow. 3 hr staying in Brockport or driving to and from tomorrow is still 3 hours.
December 28, 2012:
Hey far away mom, look what Mum did for us today. She put the new hut in our cage for us, take a look. Thank you for helpen Mum take care of us!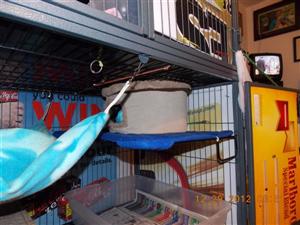 December 24, 2012:
Thank You, thank you, thank you, thank you! Thank You, thank you, thank you, thank you! Thank You, thank you, thank you, thank you!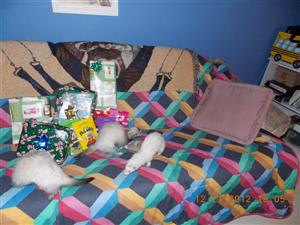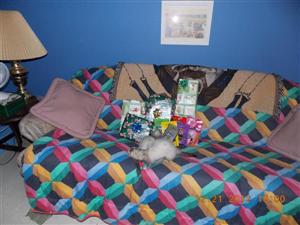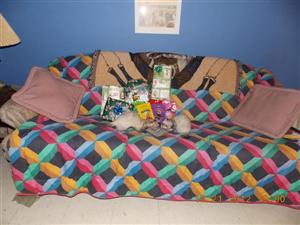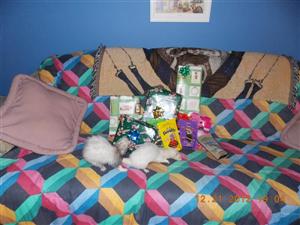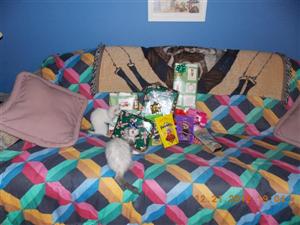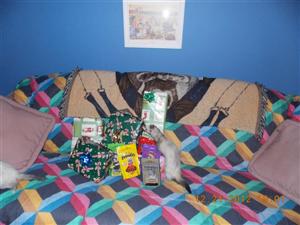 December 19, 2012:
Hey far away mom, the box got here! I cannot wait to open my presents. Mum says you have been really quiet what is going on?

Hello far away child! Lol
Sorry if I have been quiet. Just feeling really tired, I guess! I had another Benlysta IV infusion yesterday--so , maybe that will help! :-)
Glad to hear your box arrived safely. It WAS a big box--sorry if it gave your Mum troubles handling it! My brother helped me get it to the post office to mail. Not heavy so much as just awkward big! Hard to get your arms around! LOL
Took Buddha to the vet for ear cleaning today. I have mastered nails with the Ferrettone, but the ears are off limits as far as Buddha is concerned. He was a good boy for the vet. He weighs 1356 grams! He loves his food!
&nbsp:Not much else new. I finally got around to taking some photos of the ornaments I have been painting. I will send them to you to see , once I get them downloaded, uploaded, or whatever loaded it is! LOL
Warm Florida Hugs--it is 78 degrees today and sunny~

Dear far away mom, Mum let me open my presents this morning. She let me get into them first then once I had looked at them a while I told my sissy's to come see what I got, I will share with them is that okay? You can see the Chordoma on the end of my tail Mum says it is time to have it removed you can see dings in it from me dragging it. she says she will see about getting me in over vacation.
Thanks far away mom – I Love you,
Frenchie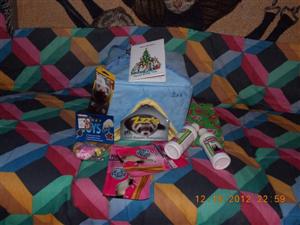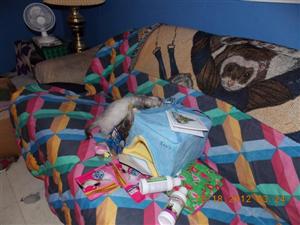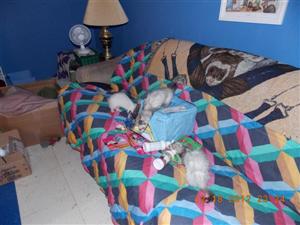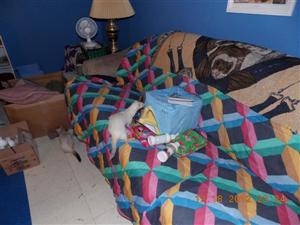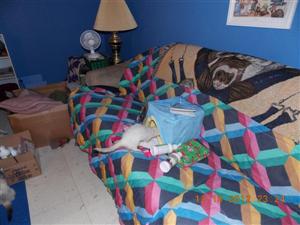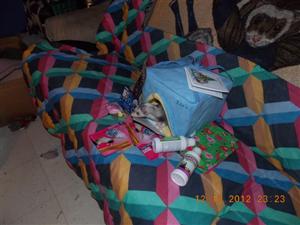 May 31, 2012:
The 3 new girls got to play on the porch this morning for the first time, they had a ball.
May 30, 2012:
The new girls are adjusting well; they got to have the kitchen first this morning. I wanted to get them weighed; I've caught 2 of them. They dance away from me when I want to pick them up, I suspect they are afraid they are going to get put away in a cage and they are not ready. They are a decent weight considering they were feeding them just Marshall Farm's food.
May 29, 2012:
The girls had a really good night, they got to play with the family that was here Sunday and stopped again yesterday. The girls were up peaking out the cage bars when I went in the room at 4 am – they are now out and about playing in the rice box.
May 28, 2012:
Here they are where I found them sleeping. (see top picture)
---
Initial contact, April 02, 2012, Kate:
Hi Brenda -
I wanted to write to you to see what your policy and availability would be to take in 3 ferrets from the Syracuse area. I am a board member with the Humane Assoc of CNY. We are a not-for-profit no-kill shelter funded by the public. We have had 3 female ferrets - Sandy, Rizzo and Frenchie - since last April and we're unable to find them homes, either together or separate if there is another ferret in the home already. They came to us in pretty shabby condition - skinny and in a dirty 10 gallon bucket - but aside from that they came spayed, descented, and friendly as can be. They are around 4 years old now so they're senior ladies, but we just can't seem to find them a forever home. We are primarily a dog and cat rescue and while the staff are doing their best to properly care for these ladies, they would definitely be best in a home or at least a shelter which specializes in ferrets.
So I'd like to know more about what you require from someone looking for your help to take in ferrets. Without approval from other board members, I can't exactly say we're ready to say goodbye to these ladies, but I'd like to know what options are before presenting this idea to the board at our meeting next week. Please let me know if there's any other information I can provide for you.
Thank you Kate
April 02, 2012, Brenda:
Good Morning Kate
Of course we will take them – are they living in the same cage or are they multiple groups? You found a place for them to go, they can come here to live out their lives with us – maybe they will find a family to love and get a new 4-ever home. We would be honored to take on their care.
You can tell the board that we are a non-profit no kill shelter that specializes in ferrets only, we have room for them – we have 8 play areas for maximum enrichment – the ferrets that live here waiting for a new 4-ever home get 6 to 8 hours out of cage time a day. Our web site is www.ferretfarm.org we have many pictures of our facility and fur kids on there for your board to see how we care for our fur kids here.
I have added 2 of our shelter helpers to this post – Wendy lives up your way, and has in the past picked up fur kids for us, Mindy is our co-director and does a lot of picking up and meeting ½ way to get fur kids that need to come to us.
Brenda
April 02, 2012, Wendy, Shelter helper:
I can help with transport.
April 02, 2012, Kate:
Brenda -
Thank you for the speedy response. The info you provided will definitely help make this an easier decision. After next week's meeting, I will be in further touch. I should have mentioned that these ladies are housed together and are a very bonded, lively trio.
Kate
April 02, 2012, Brenda:
Then if they come here to live they will continue to live together and stay together – our policy is – if they come in as a business of 3 they go out as a business of 3 – no exceptions.
Brenda
April 11, 2012, Kate:
Hi Brenda -
I just wanted to let you know that we're going to give the ferrets one more big push in the neighbors section of a local paper this week. Hopefully that finds them a home. Either way I will be in touch later in April and if you still have room to take the ferrets, the board has agreed that your rescue is the next best thing for them.
I'll be in touch!
Kate
April 11, 2012, Brenda:
Good Morning Kate, thanks for the update – good luck finding them a home – pushing to get the business of 3 into the same home correct?
Brenda
April 11, 2012, Kate:
Yes, the same home.
May 2, 2012, Kate:
Hi Brenda -
I haven't forgotten about our trio of ferrets. They should be in today's paper for their final adoption push. After that we have a board meeting in mid-May when the board will decide as a unit if we are ready to surrender them to your facility. It certainly isn't anything against you or the good you do, we just have made it our mission to be the final rescue facility for the animals that come to our door and surrendering to another rescue is not something we've done. This is a special case scenario though and I hope to be able to drive these ladies out to you in late May. You'll hear from me in a few weeks. Thank you for being patient with this process.
Kate
May 3, 2012, Wendy, Shelter helper:
Thanks for updates....Wendy
May 16, 2012, Kate:
Hi Brenda, Wendy, and Mindy - Thank you so much with your patience with us while we try to place the ferrets we have on our own. We have been unsuccessful in our recent final pushes to find them homes and would like to take you up on your offer to let them live at your shelter (and hopefully find a home through you).
I would like to drive them out myself so that you have a face to associate with our group and vice versa.
The earliest I could drive them out is Memorial Day.
If you are busy BBQing and enjoying the start of summer, I completely understand and could drive them out the following Saturday, June 2nd instead.
Please let me know what works best for you.
Thank you again for waiting while we sorted things out.
Kate S
May 16, 2012, Brenda:
I have several families coming to see the fur kids we have here, so there is a good possibility that they will find a 4 ever home We would be honored to have you stop in, that sounds like a wonderful idea. We love to show off our facility and the way we do things around here.
That day works great; I had planned on hiding out so having you stop by with the fur kids that day will mean you get my undivided attention. Do you have a time frame so I can plug you into my calendar? The 28th works perfectly Now I have a question for you, are these kids vetted and up to date on their shots? Not a problem, thank you for making sure they get the best care possible.
Brenda
May 16, 2012, Kate:
Let's say early afternoon on May 28th between 12 and 1pm. The ferrets just went to the vet's for shots, but I don't know what typical ferret vaccines are. I can bring their paperwork too. Looking forward to meeting you, seeing your facility, and giving these ferrets a better life :)
Kate
May 17, 2012, Brenda:
Sounds like a plan, we will see you on the 28th of May. Distemper and rabies are required here at this facility yes we do need the paper work for their file.
Awe thanks. We are looking forward to meeting you as well.
Brenda
May 28, 2012, Kate:
Hi Brenda - I just realized I only have your PO Box. What street address am I going to today? See you in a few hours.
Kate
May 28, 2012, Brenda:
OOPS that won't work will it? 7835 State Route 21 Naples – There is a big sign out in the yard with a ferret on it.