Welcome to Lakeroad Ferret Farm Rescue/Shelter, Inc.
Brian, Princess, AKA Sophie & Stewart

• Surrendered to the Shelter on August 2, 2008.
• They found a forever home on May 27, 2009! Read their recent updates below.

• Brian was a silver mitt male with dipped tail. He left for the Rainbow Bridge on June 3, 2013.
• Sophie was a DEW female. She left for the Rainbow Bridge on April 25, 2012.
• Stewart was a silver male. He left for the Rainbow Bridge on September 25, 2012.
.

• You can view videos if these three here.
June 04, 2013:
Brenda: Sad news. Yesterday we had to help Brian cross to the other side of the Bridge. He is now with Sophie and Stewart. Lisa and I are both absolutely heartbroken. He had been diagnosed with a large abdominal tumor about six weeks ago, and it was obvious at the end that the cancer had spread throughout his poor body. He was such a gentle soul, and the last of the three that we brought home 4 years ago. He will be greatly missed.
Pete and Lisa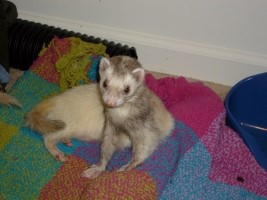 May 20, 2013:
Hi Brenda: I've been meaning to get an email off to you for some time to let you know how the kids are doing. It has been a pretty hard day today. Lisa and I just got home from Dr. Chris's a short time ago after having Chris help Ziggy, the Hudson Valley Rescue kid, cross the bridge. Ziggy was diagnosed with insulinoma, a number of months ago, and several weeks ago we discovered a significant amount of blood in his urine. He had been in and out of Dr. Chris's office and had been going down hill. The last week his appetite started to go and by Friday he was really fighting be hand fed. By yesterday we knew that he was ready to go to be with his brother Stinky (the other Hudson Valley kid). It has been sad letting him go, but Lisa and I know that we gave him a good home, especially since he was a biter and had been returned to the shelter at least twice. We also know that he was a senior ferret, and are happy to know that we gave him two very good years.
Brian (of Stewart and Sophie) has also had significant health problems as of late. Several months ago we noticed that he was having some problems peeing. We were fairly certain that he was adrenal, but after further x-rays and examination it was determined that he has developed a mass in his abdomen. We talked with Dr. Chris about doing an exploratory surgery on him, but decided not to because of his age. We really did not think it was fair to cause him to suffer if the results were not promising. We have him on pred. and he seems to be his normal self and doing fine. Though the size of the mass has increased his appetite is very good, poops are good, and his peeing has not gotten any worse. He is also still the boss of all the other kids.
Buddy will be six at the end of the summer and is now adrenal. About three months ago we put a des. implant in him and the hair that he lost off his butt has grown back and he seems to be doing very well.
Ella, the youngster that was found in one of my apartments is still a firecracker, and Boscoe and Sookie, the kids you sent our way from the guys down in the Hudson Valley are in fine shape.
It is my plan to be at clinic day this year, and depending on the weather I am hoping to bring up Boscoe and Sookie.
Pete
December 13, 2012:
Hi Brenda: We received your package yesterday and promptly hung the calender up in the kitchen. All the kids are doing well (as well as me and Lisa) and the new kids from down state have settled in, though there still some pecking order issues being addressed. Thank you for the gifts and treats.
Merry Christmas
Pete, Lisa, and the whole gang
September 25, 2012:
Brenda: We helped Stewart cross the bridge this afternoon. He had been going downhill for a few months, and on Sunday he stopped eating soup on his own. This morning he let us know that he was ready to go, and this afternoon we had Dr. Chris help him out. We are broken hearted, but we are happy that we were able to give him a good home. He is now with Sophie and the others waiting for us. We will be giving Brian extra cuddles.
Pete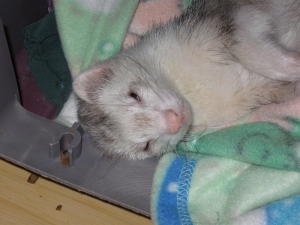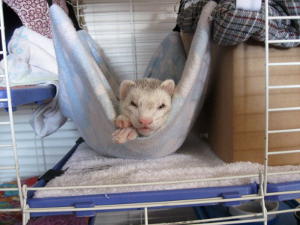 April 25, 2012:
Brenda: This afternoon Lisa, Dr. Chris and I helped Sophie across the Bridge. She had been in decline (as I mentioned when I dropped off the kids from Brooklyn) for several months and this Sunday it was obvious that it was time. I will forever recall how she took to me when I was first introduced to her over three years ago at your place and how she would let me hold her and carry her around with me. She would let me do this to the very end, and this afternoon it was absolutely heartbreaking knowing that I was doing it for the last time. As hard it is letting her go, I have no doubt that we did the right thing, and I am comforted in knowing that we were here for her when she needed us most. Pete
April 11, 2012:
Hi Brenda: Attached are a couple of photos of Daisy and the kids. The first is of Daisy and Sophie, the second is Daisy, Brian and Stewart, and the third is Daisy (looking a little exasperated) and Stewart. Enjoy. Pete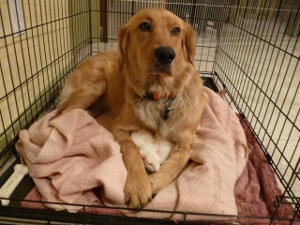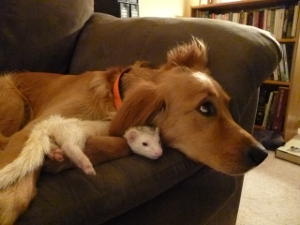 January 19, 2012:
Dear Possum, Sarah, and Gang: Tell your mum that we got the box yesterday. What great Christmas gifts! We were all so excited by the treats, toys, blanket, hammock, and bed. Baby Ferris was sound asleep later on under the blanket and in the bed. Our cousins Bootsie and Cinders came to stay with us two weeks ago for about a week.
They are both doing very well. Sophie got a tooth pulled by Dr. Chris on Tuesday. She had an infection that would not go away with amox so she went in and Dr. Chris pulled it out and cleaned the rest of them up. Stinky (Hudson Valley kid) had a Des implant put in a few months back, all his fur has finally grown back and he is now a 3 lbs. up from 2' 2". mom and dad call him the "Waddle Monster" because of the way he moves his bulk around. Zoey is now being treated for lymphoma is still very active and has a very good appetite. Mom and dad discovered a 1 cm lump under the tissue down a little above her hip and Dr. Chris found two more smaller ones up close to her shoulder area on her underside. She is now on prednisone and will get lots of extra TLC. Baby Ferris is still gimpy and blind as a bat, but she gets around eats well and is still the sweetest little thing. Brian, Stew, Buddy, and Ziggy are all doing good. Thanks again for everything.
luv,
The Gang
p
December 2, 2011:
Buddy and Zoey are both doing very well and we are very pleased that Buddy gets along very well with his brothers that came from Hudson Valley. We were worried that Buddy would be forever bullied by any males he mixed with and are happy to know that this just isn't the case.
August 23, 2011:
Hi Brenda: Everything is going very well with all the kids.
Baby Ferris is still the sweetest little girl. She has bonded very well with her new brothers Stinky and Ziggy, who came from the Hudson Valley Ferret Rescue, and still gets along with her other two cage mates, Zoey and Buddy.
Brian, Stewart, and Sophie (formerly Princess) are all doing fantastic spending their days sleeping, and getting ready for the weather to cool down so they can go outside and do a little exploring.
Take care,
Pete
October 14, 2010:
Dear Brenda and kids: Thanks for the card welcoming all of us to our new home.
Ferret proofing has been much easier than with our last place. The house is only two years old, is all on one level, and has no heating ducts.
The only problem is that there are so many new comfortable sleeping spots that we make mom and dad bonkers when they are trying to locate us.
We are now living in the country so mom and dad are able to get us outside to sniff the autumn air and play in the grass. They say that they need to be very careful with us though because of hawks and other hazards.
Next spring we may even get our own playyard.
Dad is doing well with his medical stuff, he has only four weeks left before he is done with his treatments. He is hoping to come over soon for a visit.
We are all doing very well, and will be seeing our cousins Bootsie and Cinders this weekend.
Take care, The whole gang.
April 12, 2010:
Hi Brenda: I've been meaning to get a note off to you for a while now to let you know that Brian, Stewart on Sophie are all doing well. Sophie is growing back a beautiful coat, and everything seems to be going very well since her second adrenal surgery. Though she is still very slim, she is slowly gaining back muscle mass, and her energy and appetite are good. Lisa and I are keeping our fingers crossed in the hopes that she will not need Percorten. Brian has turned out to be a large lovable lunk. His weight topped out this winter at 3.25 pounds of mellow charm. Stewart has started to shed his winter coat and though he can still be a little timid we know that he knows he is and always will be home. Pete
February 27, 2010:
Hi Brenda: I spoke with Dr. Edwards today about Sophie today. He thinks she should have grown hair back by now so we are going to take her up next Thursday for some exploratory surgery (poor girl) so that we can find out what might be going on. Pete and Lisa
February 25, 2010:
Hi Brenda: We are back in town after being away for a few days, I have noticed that Sophie's (princess) hair has thinned a little more on the back of her shoulders and on her lower back. Her vulva shows no enlargement and everything else seems fine. Should we be concerned? Or is she just blowing her winter coat (what little there was), and getting ready for spring. Pete and Lisa
January 29, 2010:
Hi Brenda: Lisa and I met Ed's kids last night. He contacted us a couple of weeks ago to ask we would take care of them while he was out of town next weekend. Ed is great, and his kids are wonderful. Cinders got his stitches out and is regaining his strength, while Bootsie is full of energy and a real lover. All of our kids are doing well, though I wanted to get your thoughts on regrowth (or lack thereof) of Sophie's (Princess's) fur. Sophie had her adrenal surgery back on December 3rd. I originally thought that her fur was beginning to come in, but this does not seem to be the case. Where she was shaved for surgery it looks as though no fur has regrown unless you take a very close look. If you do you can see very short and very fine fur. Her shoulders and the rest of her body is pretty much unchanged since the surgery. I guess that the good news is that she has not lost anymore fur since before the surgery, is full of energy and has a good appetite. What I have read is that she may not regrow until the springtime and her next coat change, so Lisa and I are thinking that this is probably the case, and are not overly concerned. Please let me know what you think, and say hi to all the kids.
Pete
January 18, 2010:
Hi guys: mom and dad are doing well. Dad spent the day today cleaning all the hard to get to ferret spots. Sorry that dad has not got a note off to you sooner. We are all doing well. Sophie has turned into a regular dook monster bouncing around and harassing Brian and Stew. She is still a bit of a skinny mini, but she seems to be doing well. Say hi to all our cousins and tell your mom to stop worrying.
Baby Ferris
December 16, 2009:
Hi Brenda: Sophie slept in the same cage with her brothers last night. After the stitches came out yesterday afternoon Lisa put all three together in the living room and they all got along just fine. We put them to bed a little early last night so we could keep an eye on them and she had no problem with Brian and Stewart being in the hammock with her. Sophie is fairly thin and is not very interested in playing. She mostly just wants to find a comfortable place to curl up and nap. Up until Sunday we were giving her soup in the AM and PM in order to get the Amox into her. Since Sunday she is just getting PM soup with the rest of the kids. She has been eating a little bit of dry food but not too much. Her belly looks fine and we have even noticed a small amount (very small) of fur beginning to grow back. We will continue to keep a close eye on her, and I will let you know how things are progressing.
December 15, 2009:
Hi Brenda: Princess AKA Sophie goes in to Dr. Chris's to get her stitches out tomorrow. She seems to be doing very well, though I would like to see her eating a little more solid food. We are allowing her to do more exploring around the apartment (of course under our watchful eyes). The big concern we have now is that she is not acting very favorably towards Brian and Stewart. She has gone after both of them in much the same manner that she has in the past gone after the other three. When I first reintroduced Brian to her about six days ago she went after him and I figured that it was probably that she was just still sore. We tried again Saturday night with Stewart, and again this morning with Brian and both times she was very aggressive. We are hoping that this is just a temporary thing because she has been through a lot and is just being scared and territorial. Please let me know what you think and if it is common for kids to turn on there cage mates following adrenal surgery.
Thanks,
Pete
Dec. 5, 2009:
Sophie is doing really well. I fed her a little bit of soup (watered down a bit) when we got home about 4:00 this afternoon. I just got through feeding her soup again a few minutes ago (after her evening meds). Between this afternoon and tonight she has had about 2/3 of a cube of soup, so Lisa and I are both overjoyed with how good her appetite is. She is without a doubt sore, but she does like to be held in her dad's arms. She is really "daddy's little girl". When Ferris had her surgery she did not have near the appetite, and really just wanted to be left alone. I fear that Sophie will really start to be a handful long before she is healed enough to play. Poor girl.
Pete
Fri, Dec 4, 2009:
Hi Brenda: I just wanted to keep you in the loop. Sophie (Princess) had adrenal surgery yesterday at Doc Edwards. She is doing well and I will be heading up there to pick her up this afternoon. Doc E said that she is a very healthy ferret (other than being adrenal) and surgery would be the best course of action because of her youth.
The report last night was that it was the right gland (eek), and there were no complications. I am glad that we could provide her with a home that has the willingness and ability to find the resources ($$$) for her care.
I know that all of our kids are very lucky. Brian and Stewart seemed to miss her last night.
They are both doing very well and have beautiful winter coats. I will keep you updated over the next ten days to let you know how Sophie is progressing.
October 13, 2009:
All of the kids are doing well except for Sophie (Princess). It now seems to be (Lisa and I believe) that are fears of her being adrenal are being confirmed. Her swollen vulva that she had when we brought her home slowly subsided a couple of months ago and is now very close to normal size. Unfortunately, her hair on her shoulders and the end of her tail has become very thin. Also, she does not seem to have much of an undercoat, and though not sickly, she is thin. Her appetite and energy level are both very good, and she is still extremely playful spending her mornings and evenings dooking, playing with her brothers, and sleeping on her mom and dads laps. Brian and Stewart are both doing very well, they are active and very healthy.
October 8, 2009:
The kids are all doing well. Baby Ferris is doing very well. She has gained back a lot of weight and except for some sparse patches on her tail she has regrown all her hair. Hopefully the tail will fill out as she gets more of her winter coat.
We are still running two groups and probably will be for some time to come. We let them interact for short periods of time, but I worry about them getting too stressed. The only two that are great friends are Stewart and Baby Ferris (our Universal Ferrets). Princess still cuddles with both Lisa and me, and Brian just loves his humans.
Take care,
Pete
July 4, 2009:
Princess will still spend long stretches of time curled in her Dads (and Moms) arms, and Brian and Stewart seem to be very happy having a forever home.
Pete
June 20, 2009:
Hi Brenda: Princess, Brian, and Stewart are all doing very good. They are enjoying bouncing around the apartment and dooking up a storm. They especially love wrestling in the peanuts. Their appetites are very good and seem to enjoy kibble, and are now having soup in the evenings. They did not take to soup rights away, only a little taste at first, but are now slurping down about 30 ml each in the evening. We have not tried to do any more introductions and I do not see a reason to do any for the immediate future. Brian's toe infection has cleared up with the amoxicyllin, but there has been no change with Princess's vulva. The plan with Dr. Chris is to wait a few months with Princess before doing any further inquiry regarding possible adrenal disease.
Rascal has been sick with a G/I problem for the last week. She has always been a little prone to short term bouts of light green slimy poop. These bouts usually last only two or three days, and then she is back to normal. Her latest has been more severe, and it was necessary to take her to Dr. Chris this morning. Last night she stopped eating and her water intake really dropped off. Dr. Chris is taking a look at her now, starting her on something like carafate ( Sucralfate?), amoxicyllin, and subcutaneous fluids. We are thinking and hoping that it is nothing more than a bug. I will be talking with Dr. Chris in a couple of hours and the plan for right now is to let her spent the day at the hospital, take her home tonight, and bring her back in the morning for further evaluation. Brenda: When we got up this morning Rascal's was unresponsive and with very labored breathing. We met with Dr. Chris a short time ago and ended her suffering. She is now at the Rainbow Bridge with Arnold waiting for us. Lisa and I are both broken hearted. We know that we did the right thing.
Pete

Baby Ferris will be going in for her adrenal surgery on June 25th. We will be doing the surgery at Dr. Edwards office in Brockport. Originally we were hoping to do the surgery with Dr. Chris and Dr. Edwards here in Ithaca, but scheduling between the two docs made it impracticable.
Pete
June 7, 2009:
Brenda: I just wanted to get a quick note off to you to let you know that Princess, Brian and Stewart have settled in just fine. All are eating kibble and drinking plenty of water (poop looks normal). The boys are fine with all the other ferrets, but Princess wanted to go after the girls. So, for the foreseeable future we will be running two groups and will not be trying anymore introductions until everyone is use to the new living arrangements. We don't see any need to stress the new kids, the old kids, or mom and dad for that matter. Now that we have everything but the kitchen open for ferrets, we have plenty of room for all kids to be out of their cages and still be able to run in two separate groups.
Pete
June 6, 2009:
Brenda: We all made it home without incident, except the realization ten miles south of Naples that we left the paperwork and box on the shop counter. We will pick it all up when we next visit you. Princess, Brian and Stewart are settling in and making themselves at home. They are all drinking plenty of water and Stewart wasted no time chowing down on kibble. The other two have only shown interest in doing a little nosing around and a whole lot of snoozing. Lisa, Buddy, Baby Ferris and I had a great time today. Thank you for once again giving Arnold a home. I will write more tomorrow.
Pete