Welcome to Lakeroad Ferret Farm Rescue/Shelter, Inc.
Braveheart

• Arrived to the Shelter November 5, 2003.
• Braveheart was a sable male. He left for the Rainbow Bridge January 29, 2006.

• Braveheart was Sponsored by friends in Saratoga, NY and in Los Angeles, CA.
Braveheart - January 29, 2006

A Special Place

You have a special place, Dear Lord
that I know you always keep.
A special place reserved for ferrets,
to peacefully fall asleep.

A place with fluffy pillows,
and a yard for hiding toys.
With a little babbling creek,
that rushes over joy.

With wide green fields and flowers,
for those who never knew,
of running, playing freely,
under a sky of perfect blue.

Lord, I know you keep this special place,
and so to you I pray,
for one oh so special ferret,
who came to you today.

He was full of strength and love,
and so very, very wise. The ferrety look he once had, this morning left his eyes. He will be dearly missed, Dear Lord, This special love of mine.
But, now he'll dook and play,
in your land that's so divine.

Speak to my baby softly, please
with a hug and a warm hello.
He's a special gift to you, dear Lord,
from me-who loved her so.

unknown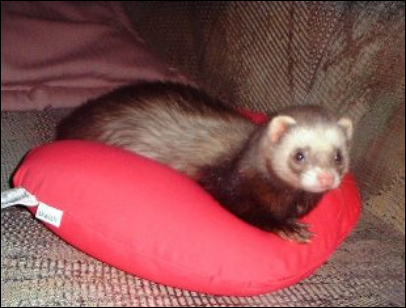 Braveheart arrived at this Shelter November 5, 2003, he was approximately 12 week old. Brown Sable, he is here for rehabilitation and physical therapy. Braveheart can not stand or use his hind legs. He is paralyzed and incontinent. The picture you are looking at is of him opening one of his Christmas presents. I was going to move the box for him, he is telling me he wants to play in the box. He is a sweet, loving, talking, little boy. He has seen our favorite Doc. we are not sure how much if any use we will get him to have with the PT and the ability to run around to play but we are hoping that he will get the use back eventually.
January 29, 2006:
Mum found him not well at 6:30 pm, she known he was in trouble so she called our Aunt Mary. Mum did what she could and had him set to meet Doc at the hospital at 9 am Sunday morning. Stinky Boy, Doll Face, Braveheart could not wait for our favorite Doc, he left for Rainbow Bridge laying in Mums arms while Mum loved him through his last breath.