Welcome to Lakeroad Ferret Farm Rescue/Shelter, Inc.
Bootsie, Cinders & Nala

• Surrendered to the Shelter on June 1, 2007.
• They found a forever home on October 13, 2007!

• Bootsie was a DEW female. She left for the Rainbow Bridge on July 21, 2013.
• Cinders was a sable male. He left for the Rainbow Bridge on June 14, 2012.
• Nala was a sable, blaze wannabe female. She left for the Rainbow Bridge on July 14, 2009.

• Read their latest updates below.
These fur kids were removed from a neglect situation in Tonawanda, NY.
---
July 24, 2012:
Brenda: Bootsie had been staying with us, but Ed was finally going to be able to bring her home in early August. On Tuesday morning I noticed that she was not doing well. Lisa kept an eye on her the rest of the day and by late afternoon we knew that we needed to get her into see Dr. Chris. We contacted Ed and the three of us met down at Dr. Chris's, where Dr Chris discovered an undetermined abdominal mass. Bootsie spent the night with Ed, and by morning it was necessary for him to take her back to Dr. Chris in order to let her go. She was a really great ferret. Lisa and I, as well as I am most certain Ed, are pretty brokenhearted. I have attached some pictures for you taken earlier this month.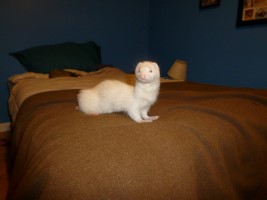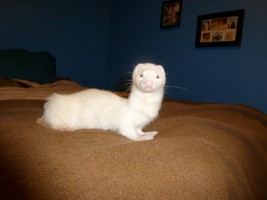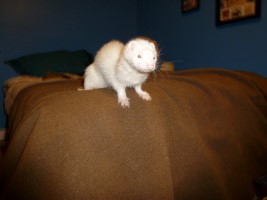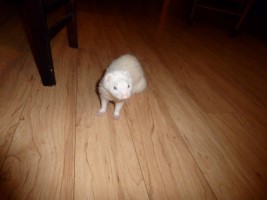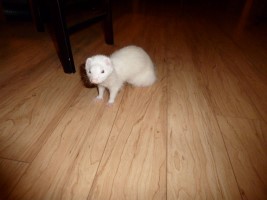 June 14, 2012:
Sad to say, Chris helped Cinders cross over this morning. - Ed

Ed: Sad news indeed. What a beautiful mellow soul he had. Lisa and I will greatly miss taking care of him. My heart goes out to both you and Bootsie. Attached are a few photos that were taken of him two summers ago. Pete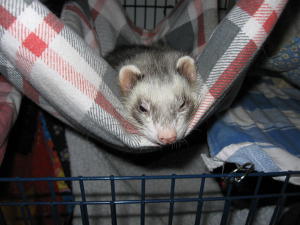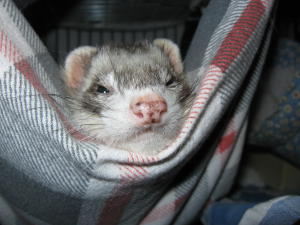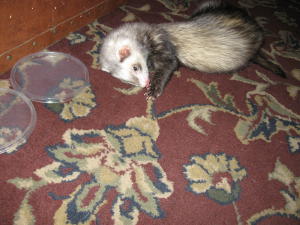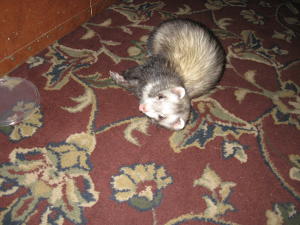 January 19, 2012:
Dear Possum, Sarah, and Gang: Tell your mum that we got the box yesterday. What great Christmas gifts! We were all so excited by the treats, toys, blanket, hammock, and bed. Baby Ferris was sound asleep later on under the blanket and in the bed. Our cousins Bootsie and Cinders came to stay with us two weeks ago for about a week.
They are both doing very well. Sophie got a tooth pulled by Dr. Chris on Tuesday. She had an infection that would not go away with amox so she went in and Dr. Chris pulled it out and cleaned the rest of them up. Stinky (Hudson Valley kid) had a Des implant put in a few months back, all his fur has finally grown back and he is now a 3 lbs. up from 2' 2". mom and dad call him the "Waddle Monster" because of the way he moves his bulk around. Zoey is now being treated for lymphoma is still very active and has a very good appetite. Mom and dad discovered a 1 cm lump under the tissue down a little above her hip and Dr. Chris found two more smaller ones up close to her shoulder area on her underside. She is now on prednisone and will get lots of extra TLC. Baby Ferris is still gimpy and blind as a bat, but she gets around eats well and is still the sweetest little thing. Brian, Stew, Buddy, and Ziggy are all doing good. Thanks again for everything.
luv,
The Gang
March 25, 2011:
Cinders had a BG test today. He got a 78. Could be worse I guess.
November 18, 2010:
Brenda, Time to order more soup! Got about a week left. Also, Dr. Armao asked me to order an extra packet for her so she could have some at the office, so can we make it three?
The kids had their annual check up a few weeks ago. Cinders BG was 108! They both look good and Bootsie has an amazing winter coat (along with some winter weight gain that feels like all muscle).
Ed
July 4, 2010:
Brenda, Here is an update on the kids.
Bootsie and Cinders spent the end of June and much of July at "Hotel Bentkowski" while I recovered from surgery. I think they had a grand time while over there. Cinders had his blood glucose tested today (Aug. 3) and he did just fine. Sometimes when I watch him he seems to be slowing down. But maybe Pete has the right explanation - any ferret is going to look lethargic if they are compared to Bootsie!
Ed
May 31, 2010:
Bootsie is ADD (even by ferret standards) as always. Cinders has had two glucose tests since his surgery and they were both borderline, but I (and Chris) have decided not to start him on pred yet. They still play together every day and when he is active he really parties.
January 29, 2010:
Hi Brenda: Lisa and I met Ed's kids last night. He contacted us a couple of weeks ago to ask we would take care of them while he was out of town next weekend. Ed is great, and his kids are wonderful. Cinders got his stitches out and is regaining his strength, while Bootsie is full of energy and a real lover. All of our kids are doing well, though I wanted to get your thoughts on regrowth (or lack thereof) of Sophie's (Princess's) fur. Sophie had her adrenal surgery back on December 3rd. I originally thought that her fur was beginning to come in, but this does not seem to be the case. Where she was shaved for surgery it looks as though no fur has regrown unless you take a very close look. If you do you can see very short and very fine fur. Her shoulders and the rest of her body is pretty much unchanged since the surgery. I guess that the good news is that she has not lost anymore fur since before the surgery, is full of energy and has a good appetite. What I have read is that she may not regrow until the springtime and her next coat change, so Lisa and I are thinking that this is probably the case, and are not overly concerned. Please let me know what you think, and say hi to all the kids.
Pete
January 5, 2010:
Brenda, Well I guess we knew it was a matter of time. I have been suspicious of Cinders the last week so I took him to see Chris today. ased onb his blood glucose (and my observations) he probably has insulinoma. A date in Brockport is probably in his near future.
Is it still possible to order dry soup from you? I got a feeling that at some point I am going to need to make it more often.
Best wishes,
Ed
October 26, 2009:
Bootsie and Cinders had their annual physical and rabies shot with Dr. Armao last week. They got a clean bill of health. Bootsie's coat is probably the nicest and thickest it's ever been.
July 14, 2009:
I am broken-hearted to write that Nala died tonight. She stopped eating not long after we got back from camp. By the end of the week we had switched to an all soup diet. A week later Dr. Armao, in consultation with Dr. Edwards started treatment for IBD. For about five days it really seemed to help. She even ate sold food a few times. But this Friday she stopped eating anything. Wasn't interested in any food or treats. It was all downhill after that until the end tonight. :(
Ed
ps - Bootsie and Cinders look fine.
October 21, 2007:
Everybody is looking good now. Lots of running around and ferret mayhem. They discovered that they could get underneath the big throw rug today. Quite amusing to see some real carpet shark action.
October 19, 2007:
Thanks for the info. Tuesday's vet visit and shots really knocked the daylights out of the kids. They didn't play at all that I observed yesterday and showed all kinds of symptoms of stress. About the only thing positive I saw was that I did see all of them eat! By this morning Bootsie and Nala were at about 3/4 speed with Cinders at about 1/2 speed. This evening Bootsie is fully reloaded and Nala is about where I think she will normally be. She definitely gives up before the other two and is not so inclined to run around like crazy for long periods of time. Cinders looks like he is still only about 3/4 recovered - but he did go long enough to have a long spirited battle with Bootsie. Cinders does not seem to handle stress very well. He is also the only one to do flat ferret sometimes. I guess I'll find out over the next few weeks whether or not that is his normal behavior.
October 17, 2007:
Yep, we saw Dr. Chris today. They all got their shots (Distemper this time) with no problem. She found ear mites in Nala and is treating all three of them. Otherwise they seem to be in good health. We going back in three weeks for the rabies and last ear treatment. She did request that I ask you two questions. 1) How sure are you about their ages? 2) How long did you have them? Actually, I would be interested in more details of the back story of their rescue. Bootsie is the first one to claim a toy. Actually, she has claimed three. None of them have really taken to thievery.......yet........
October 15, 2007:
Everybody looked pretty good today. Looks like there are no signs of stress anymore. However, they are not sleeping on the same schedule. Nala hardly bothered waking up this morning, while Bootsie only woke up long enough tonight to make it clear she wanted me to leave here alone and let her sleep. Of course this morning and this afternoon she was totally off the wall and didn't want to stop for anything!
October 14, 2007:
They are out playing right now. Actually, Nala is eating while Bootsie and Cinders play. I was a little concerned about Cinders yesterday as his poop looked terrible. But everything looks fine from last night and this morning. Bootsie still feels compelled to bite, though no blood drawn, so she can't be too serious. As I recall, both Ak and Dak did this in the beginning. Wish I could remember what the trick was to make them stop. She is also the most independent and I am pretty sure she will be the one to get into trouble first!
October 13, 2007:
Well, their all asleep now. One of them is a talker, but I haven't figured out which yet. Nala actually crashed early, and then Cinders bowed out before Bootsie. She was still going when I decide it was time for all of us to go to sleep.
zzzz.......
Just had to tell you about Bootsie's computer skills. While I was cleaning the cage today I saw that Bootsie had gotten onto the computer desk. I didn't worry about it since there is nothing there she can hurt herself with and I could see how she got up and how she would get down. I knew she would walk all over the keys, but what was the chance she would actually do anything that mattered?? After they all went back to sleep I went to the computer. Everything looked normal until I started walking. My computer was talking to me!! Every time I did something the computer told me what I was doing! Turns out that the computer has a feature that allows people who have trouble seeing the screen to hear what the computer is doing. It says things like "Closing Safari" (Safari is the apple web browser). It was very spooky at first. It's actually pretty cool. Seems that Bootsie turned this feature on. Maybe she is secretly a computer genius?
They all look pretty good these days. I put up pictures of them on my Cornell web page: http://www.math.cornell.edu/~ebs