Welcome to Lakeroad Ferret Farm Rescue/Shelter, Inc.
Bandit III & Snowball

• Surrendered to the Shelter on November 21, 2015.
• Bandit III was a dark silver female. She left for the Rainbow Bridge December 12, 2015.
• Snowball was a DEW male. He left for the Rainbow Bridge September 9, 2017.

• Would you like to Sponsor these two?
• Read about how they arrived at the Shelter by clicking here, or read their latest updates below.
September 9, 2017:
Snowball is gone.
September 8, 2017:
AM: nowball is still with us. I offered him some soup with a dropper he was not interested.
September 7, 2017:
AM: Snowball is still with us, I've put him in the playpen so he has more room to stretch out if he wishes.
PM: Snowball is still with us, he is not interested in eating, or soup, keeping him comfortable is all that is left.
September 6, 2017:
Snowball is in Hospice mode from today forward. He is not interested in eating or drinking. I will keep him comfortable and stop poking him with needles and forcing meds into him.
September 5, 2017:
I found Snowball not doing well this morning, no pee or poo on his pad, I put him in the playpen and gave him a Dex shot I am not sure if that will help. He has not been eating all his soup, I am guessing something more is going on. We will keep him comfortable.
September 2, 2017:
Snowball and Pickles were alert and ready for soup this morning.
August 31, 2017:
Snowball was doing better this morning but he's not looking so hot tonight, I have him up here with me to keep an eye on him.
August 30, 2017:
I found Snowball in a crash this afternoon, I caught it soon enough that he had some soup and came around, he was doing better when I gave him his soup with meds tonight.
June 5, 2017:
When I got Snowball up yesterday he was in a crash, I did a BG, it read "low" I gave him a Dex shot, then Hannah and Jack held him while he had a bowl of soup. He seemed better this morning but I will get him on soup, tonight I will do another BG - Dex stays in the system 12 hrs. I want to get close to a true read so I know how much Pred to start him on.
March 15, 2016:
Hey far away Mom I got to open my presents and Mum got pictures of me doing it. Thank you thank you I just love my new bedding. You're the best far away mom in the world. I love you
Snowball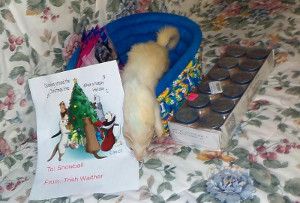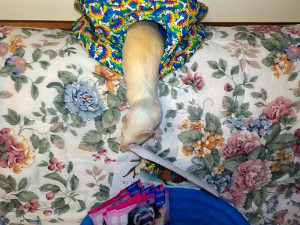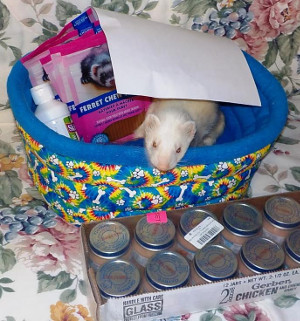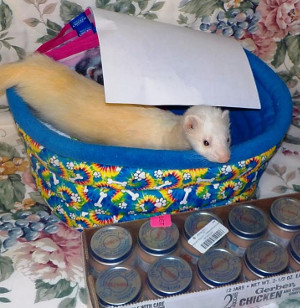 March 15, 2016:
Hey Far away Mom, I got my new bedding.. take a look, Mum got it in my space (cage) I love it so much.. Miss Sandy makes the best bedding in the world and you make sure I get it! I love you far away Mom.
Thank you, thank you, thank you for helpen Mum take care of me!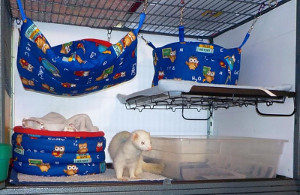 March 15, 2016:
Mum gets asked a lot how she knows which one of us fur kids is which.. she uses a lot of different ways to keep track of us, she uses cage tags, ID tags and sometimes some of us look so much alike she color codes us. Mum colored Snowball with a blue stripe.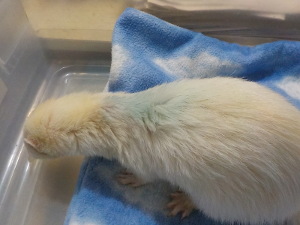 December 16, 2015:
Previous owner: I just read that she had passed coilf you please tell me what was wrong the vet said she looked great. How is casper doing

Shelter response: You told me his name was Snowball - Good morning - yes we lost Bandit. the daily updates are posted as to what went on and how.
Truth - she stressed from the move and being sent to the shelter, that caused her BG to get low, I had not yet taught her to like soup so she had to have meds without soup. That can and did cause an ulcer that I could not stop. I did all the things Doc taught me to do, she gave up and we lost her.
December 11, 2015:
Bandit III left for the Rainbow Bridge.
December 11, 2015:
Bandit III is still with us. She is leaving bloody poo, but fighting she is doing. I added Baytril to her meds I think it is working some, now if I could get the ulcer to stop pleading. As long as she is willing to fight I will continue her treatments.
December 7, 2015:
I started Bandit III on fluids yesterday, I added Dex in her fluids to get her BG up. This morning she got more fluids and Carafate. She was up sniffing her food when I went to get them up. I put her and her brother in the playpen. She fought me getting fluids, that I hope is a good sign that she is starting to feel better.
December 6, 2015:
Bandit III: I was getting icky sticky poo from her yesterday, I think I have it under control, it looked a bit better this morning. She still looks like she feels like garbage but getting her back on track with Carafate seems to be helping. She did not want meds in soup so I was giving her liquid Pred straight, that is was caused the ulcer. Now that it looks like I have that on the mend I will start her on Moxy this morning, then give her Pred after Carafate. I hope I can keep her going I was not so sure I was not going to lose her yesterday.
December 3, 2015:
This morning Bandit III was gagging when I got her up so I did a BG on her this morning, her numbers are 51.
November 26, 2015:
Bandit III, her eye is looking better but I suspect she has a bad tooth, below the eye is swollen, she jerks her head back when I try to touch it.
November 25, 2015:
I found Bandit III right eye swollen this morning partially closed. I washed it out with warm water and started her on Moxy.
November 22, 2015:
The two new kids got through the night with no problems, they had been eating during the night. They left nice poops and a 1/2 full dish of food. They are out and about this morning checking the shelter play areas out.
---
Initial Contact, Owner, October 28, 2015:
I just had a phone conversation with you regarding my ferrets. My daughter was given two ferrets I felt as though their cage was two small and they weren't getting enough interaction with people. I took them and gave them love that they craved and a much bigger cage. They are very loving and love to play and be out in the open. I have to give them up because I also have cats as well as recently having children placed into my care so I have not been able to spend much time with them.
Shelter Response:
We have an opening at this time, where are you located? This link will explain all that is required to surrender your ferrets to us. The ferrets must be current on vaccines with documentation. I did go to the web site of Doc Edwards that link is working.
New York State requires ferrets to be vaccinated with the rabies vaccine yearly, a more important vaccine is distemper. The distemper shots that are given to the ferrets before leaving the breeder are null and void as the FDA label states this vaccine does not work on kits under 8 weeks of age. The kits being moved from the breeder to the stores are 6 weeks when shipped.
Our web link includes ferret knowledgeable veterinarians available to get this done if you do not have a veterinarian of your own. Current means 8 months or longer before the ferrets need to be vaccinated again. As the web site states everything that belongs to the ferrets comes with them up to and including the cage.
We do not separate cage mates so it is imperative that if you decide you are surrendering your ferrets to this facility you keep us informed so we keep an appropriate opening for you. We work on a first come first serve basis.
The shelter directors work schedule varies on a day to day basis so we need to determine a time that fits both yours and her schedule.
Surrenders generally take 45 min to a hour to complete.
I look forward to hearing from you.
Owner's Response:
Very interested spoke with you they have an appointment to get everything done on November twenty first early in the morning at Dr Edwards clinic. Everything where I live did not seem to have the distemper virus on hand. Thank you and I am so happy you will not separate them.
Shelter Response:
I have you on the calendar for Nov 21...what time is the appointment? Will you be bringing them right after seeing Doc?
Owner's Response:
Yes right after my appointment is at eight fifteen.
Owner's Response, November 3, 2015:
Did you receive my message regarding the date of appointment.
Shelter Response:
This was our conversation back on October 29, you stated you will be bringing them to Naples immediately after their check-up with Doc tomorrow morning. Our address is: 7835 State Route 21, Naples NY 14512.
I will see you, Snowball and Bandit tomorrow mid morning.