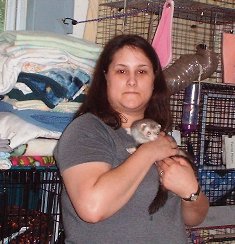 DOB April 01, 2006
Arrived at the shelter on June 07, 2006
Sweet Pea earned her wings on May 31, 2009

Has a new 4-ever home August 31, 2006

I was on my way out to go get Kay this morning when I was met in the driveway. This woman says to me I was at a friends house they had this ferret and they do not want it any more. She opens the back of her truck. There in this starter cage is this tiny little ferret. I told her I was on my way to go take care of an elderly woman, I needed paper work from her she would have to stay and wait for me to get back. This is what I found out.

A family with 2 young children in Hornell bought this little girl from a pet store 4 weeks ago. They had her in a starter cage. They were treating her like a hamster. The family thought she was a rodent. When the woman that brought her to me told them she was not a rodent and needed some run time they informed her they did not know she was going to be so much work, that she bites and they were just going to let her loose out doors.

Fortunately Bonnie told them she would not survive but the thought she knew someone that could take her. She drove from Hornell to Naples hoping to find me at home. Come to find out she is a pen pal of Kay's so that is how Bonnie knew about me, that is why she took the chance to come to Naples. Kay knew about this little one before I did. LOL Bonnie stopped in to have coffee with Kay. The family that bought her did not even give her a name.

So I am guessing she is 10 to 12 weeks old, I named her Sweet Pea. The picture attached is taken after I gave her a couple of hours to run off all that energy she had pent up. She was really pooped, her little eyes were so heavy. After she got her pictures taken I put her to bed. I had to do some shuffling of cages, I moved Jack and Jill into the shelter out of the isolation room, so I had a place to put her away from the main part of the shelter. She is defiantly a kit! Plays like Tigger, bounces from one thing to the other.

Update: May 31, 2009

Just wanted to let you know I found Sweetpea dead in the playpen this morning. I am not sure why she seemed the past three days to have been getting better. She had been eating soup on her own so last night I put it in the playpen with her and went on with doing other things in the house and this morning it looks like she had not touched any of it.

Steph
Update: February 14, 2009

Sweetpea is with her buddy Max. They have a ball bouncing around when they 1st get out for the day. I suspect that she has adrenal disease. She did not get the nice fluffy winter coat like Max did. It is kind of sparse. It doesn't slow her down though. She likes to climb everything.
Update: August 16, 2008

They are doing well, healthy and happy. But I can not get Sweet pea to get along with other ferrets. I keep telling her she would have lots of buddies to play with but she apparently does not want any other buddies.
Update: August 10, 2007
Warning!! Brenda Johnson has been adopting spider monkeys re-packaged as ferrets!! They will get into any and everything in your house. The first time in over 10 YEARS, Sweet (not ) Pea opened our appliance cupboard and trashed it in about 15 seconds. If there is something she canít or wonít climb. I havenít found it. Warning!! Spastic ferrets for adoption! She also just pulled the garbage bag out of the closed lid garbage canÖ I canít figure out how, but she did it. It has a step on pedal, but she pulled it and the coffee filter and grounds out through the top with the lid closed.

Lord help us.

Update: September 11, 2006
The kids are great. The two of them were made for each other. They both are still a little skiddish. Max is a little better than SweetPea. He will allow you to walk over to him and pick him up now. But she I think is still doesn't want to be put back in the cage, she still runs for the hills when you walk towards her. She does play with us though just still does not want to be picked up and held. Must be because she is a busy little girl. They get twice as much time out than the others. I have some cute pics I will e-mail to you when I get a chance. She picks some weird places and ways to hide when they are playing sometimes.

Update: July 31, 2006
Well we are home safe. Sweet Pea had a ball after she got familiar with the house she was running and bouncing and playing with toys. And ran and played with Tom when he got home. She is settled in to her cage now and Max is out and about they said hi to each other through the cage. I do think she is going to be happy here.

Update August 2, 2006
They are doing good. I had them out together last night for a little while. They like playing in the tube together. It's funny she will follow him around but as soon as he figures it out she runs the other direction. So it's like, (I am ok with you as long as you don't know I am here.) I think after a few weeks they will be best of buddies. They are so alike in some ways! They both were wagging their tails in the tube when playing. They were kind of bouncing together also but it did not last long. I figure I will let her have time alone for about an hour then let him out with her for a little bit and then let him have his time out alone. He is usually more calm when he 1st gets out. After about 20min of being out he gets really rambunctious. Sweet Pea has been eating the food I have here. I even was able to do her nails yesterday they really needed it.