Welcome to Lakeroad Ferret Farm Rescue/Shelter, Inc.
Shasta

• Surrendered to the Shelter on December 3, 2016.
• Shasta is a dark silver female.

• Shasta has a far away Mom in Canton, NY!
• Read about how Shasta arrived at the Shelter by clicking here, or read her latest updates below.
April 11, 2017:
Shasta was out yesterday I could not catch her, M and M were in the same room. They checked each other out and started playing. I will not put them in the same cage but I will allow them to play together. They are out right now running around tussling and chasing each other.
February 12, 2017:
Hey cyber friends and shelter supporters - Once again we got a message from SCAT Inc; they were having their own Lonely Hearts Club this Valentine's Day. Miss Sharon asked Mum to send her the names of 3 of us that would like to have receive Valentine gifts. Mum sent the three of us newest fur kids that have come to the shelter. The Box of things SCAT Inc sent got here this week… Mum got pictures of us checking out the stuffs. Thanks Miss Sharon for helpen our Mum take care of us… Here is their Facebook page.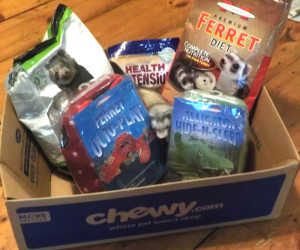 December 12, 2016:
I think I am going to call the new little girl Shasta - she is sassy little girl full of bounce.
---
Initial Contact, December 01, 2016:
We found a ferret in our garage and we don't know where it came from. We have had it for about a week now, and all we have for it is food. We don't know how to properly take care of it. We thought we might keep it, but we realized we have to many pets. We don't know if it has its rabies or distemper shot. Please contact us if you can by any chance take the ferret.
Shelter Response, December 02, 2016:
Where are you located we will take the ferret. We are on route 64 about a mile south of Bristol Mountain. I am on my way out to work - I will be back in at 8 am I will call you when I get home.