Paco aka Joey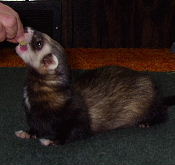 Joey has a new home as of July 11, 2002.

Joey earned his Wings on July 12, 2005

Paco, now known as Joey, went to Bloomfield, NY with her momster after having been dumped at Lolly Pop Farm. Lolly Pop called us here at the Lakeroad Ferret Farm to come get him. We went to go get the little bugger of 9 months old, stopped in to see Deb and the rest is history! He is now loving life in Bloomfield.

Update July 11, 2005
Well, we brought him home-alive. Talked to Doc, talked to Mary, but it came down to the fact that when we took him outside and put him down, he tried to get around. He was alert, responding and totally a different ferret than Saturday. It may be tomorrow, next week, next month, he's still going to have to cross the bridge some time soon, but at least he gets to be home again, and with his brother and cousins. I cut a towel in a strip to help him walk, and am going to find the ferret magazine that had the story about the cart in it, and we'll see. We cried our eyes out trying to figure out what to do. If he had been like he was Saturday, I would have put him down in a second, but he's trying so we're going to try to. I hate this. Good luck with your seven, D

Update July 09, 2005
I've had Kodi and Joe up to Doc's a lot lately, this morning was Joe's turn. He hurt his knee a couple of weeks ago and had an enlarged spleen. We thought we had them fixed but he's gotten really bad this week so ran him back up. Doc ran all the normal blood tests and they came back normal so did an x-ray. He found something none of us expected, Joe has bone cancer in his left side of his pelvis. Obviously, not good. Doc's trying steroids over the weekend and may be bringing him home for a while, but he doesn't have long to live. If the drugs don't make him comfortable, we'll put him down. I don't want another week like this last one, he hurts. Thought you would like to know as he came from you. Sam I Am so far is ok.