Welcome to Lakeroad Ferret Farm Rescue/Shelter, Inc.
Helping to make a difference in our little part of the world!
See what happens when you dream, share the dream and
make others a part of your dream. You make a difference!



Lakeroad Ferret Farm Rescue/Shelter, Inc.
USPS address: P.O. Box 698
UPS and FedEx shipping: 7835 State Route 21
Naples, NY 14512

ferretfarm@frontiernet.net

This shelter is located in the Finger Lakes region of upstate New York.
a 501c3 nonprofit charitable organization

We would like to extend our thanks to all who've helped during 2014!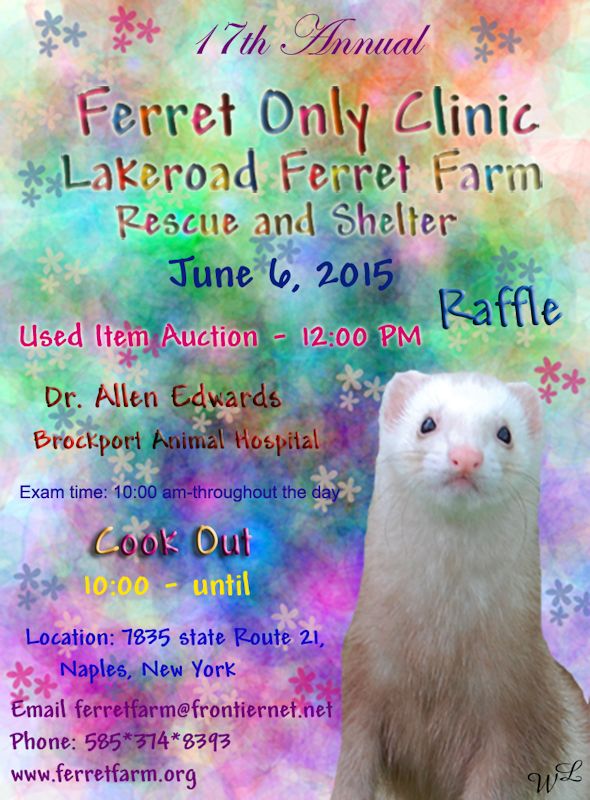 Join us on Saturday June 6 for our Annual Clinic Day! Registration forms can be found here in PDF format or as a Word Document.
We urge you to join us for a day of fun, food and lots of ferrets hanging out in the back yard. Join us even if you just want to give your ferret run time in our play yard. Seeing Doc is not required.
Doctor Allen Edwards of the Brockport Animal Hospital is coming to the Lakeroad Ferret Farm for Clinic Day again this year! Exam times start at 10 AM with exams being done throughout the day. The used items auction will begin at noon. Enclosed is a registration form that is needed to participate for checkups and inoculations. Please send your registration forms back to us as soon as possible; time slots are filling fast. If you have a time need that is crucial, please call ahead so that we can place you in the best possible time for you.
Due to the number of ferrets that did not show for their appointments in past years, there will be a $25.00 non-refundable deposit per ferret registration. No phone registrations will be taken. The registration form must be filled out in full, and in our shelter mums possession, before it will added to the appointment list. Total amount for a complete exam and distemper vaccine is $50.00 if you wish to also add the rabies vaccine it will be an additional $10.00 (New York State requires all ferrets to receive yearly rabies vaccines).
Your deposit will be applied to your bill when you arrive for your appointment. If you do not show, the deposit amount of $25.00 will be donated to the shelter.
If you do not plan to have your ferret examined by Doctor Edwards, there is no need to send in a registration form. However, please feel free to participate in the afternoon activities. Lunch will be available and, as usual, there will be lots of games and fun for your fuzzies and their humans.

Many thanks to the following:
- Those who donated raffle items
- Drs. Foster and Smith
- Marshall Pet Products
- Pet Threads
- Rodent Pro
- Wysong
- Kathy C and Marilyn H
- Anna Walker
- Patty Saville
We are a no-kill ferret shelter that maintains the highest standard of care. No ferret will be turned away due to illness, age or condition. Approximately 50 ferrets live here, some awaiting adoption and some enjoying their whole lives here.

For more information on the Adoption Process, please click here.

If you would like to come hang out with the fuzzies at the Shelter; we are open to the public on Saturdays and Sundays, Noon to 4PM (except holidays). Appointments are not necessary, but to be assured that we are here and not at an adoption event or some ferret emergency has not occurred forcing closure of the Shelter, email Shelter Mum that you plan to come and what time you expect to arrive.
If weekends do not work for you then an appointment will be necessary so we can work you into Shelter Mum's busy work day.
You can view the Shelter's photo album or join our Forum. Our newest Shelter video can be viewed here. Other videos of the Shelter can be found here, here and the Forever Home video is here. Thank you Miss Margaret & Mr. Harry P!





Join our Mailing List!

You can see the ferrets opening their Giving Tree gifts here.
Thank you to all the far away Santas for making Christmas special for our Shelter fur kids!
Lakeroad Ferret Farm Rescue/Shelter, Inc.
USPS address: P.O. Box 698
UPS and FedEx shipping: 7835 State Route 21
Naples, NY 14512
Email: ferretfarm@frontiernet.net

©2015, Lakeroad Ferret Farm Rescue/Shelter, Inc.
All rights reserved. Illustrations by Sue Burda.

For issues or suggestions with the website, send an email here.